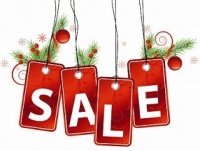 Rolling for Initiative is a weekly column by Scott Thorne, PhD, owner of Castle Perilous Games & Books in Carbondale, Illinois and instructor in marketing at Southeast Missouri State University. This week, Thorne reviews some of the items he's stocking for holiday sales.
Since the holiday season has hit full bore (though statistics from past years indicate that the next two weeks will show average sales before ramping up again around the 10th), I was happy to see good items for Christmas selling hit the shelves in time for customers to notice them prior to the week before Christmas. The chocolate dice set from Dice Candies has attracted a lot of attention and, at a $7.99 price point, I see it as a great stocking stuffer for gamers. We posted a picture of them on Facebook and the store Website and over 30 people shared it with others within a couple of hours (normally, we only see numbers like that with
Cthulhu-related pictures). Your dice aren't rolling well for you? Well just eat them (that'll show them).
Another great stocking stuffer, this time from Rio Grande Games, is the set of 6 mini expansions for
Carcassonne
. Of course, since each one has one tile from the
Crop Circles Carcassonne
expansion included, anyone buying one will probably want all six, so be certain to point that out to anyone you see just buying one.
Rio Grande Games is also responsible for one of the higher ticket items that came in time for Christmas, the current edition of the
Dominion Big Box,
this one including the basic game, Prosperity and Alchemy. The big boxes are usually good sellers at Christmas and I expect this one to do well (though not as well as if it were a set of expansions alone since most people interested in it likely already have the core game). Rio Grande Games has also announced a
Carcassonne Big Box,
but we will likely pass on it, unless it hits shelves within the next week or so. Too much closer to Christmas and people will overlook it.
A nice looking game that we ordered heavily on is the
Marvel Comics Memory Challenge
from Usaopoly. At $24.99, it is a good price point for a gift, suitable for age 8 and up, playable by one to eight players, and has Marvel characters and the Marvel Comics logo on the cover, which catch the customer's eye right away and are much more recognizable than, say, a Killer Bunny (though we do have people coming in looking for them as well). A nice touch would have photos from the various Marvel movies on the cards, as those would appeal to a much broader class of customers than the Marvel Comics cover art. Still, the game is an opportunity to introduce another generation to classic Marvel cover art.
Finally, Games Workshop released
The Hobbit Strategy Battle Game.
Notice that they don't call it a miniatures game as customers outside of a fairly narrow demographic would have no idea what a "miniatures game" is. Strategy battle game, more people can relate to and understand. Coming out just before the movie releases, with the rights to use the film's logo on the box, guarantees people will at least take a look at it (we had customers inquiring about the copies we held back for the official Saturday release date). The $125.00 price point does concern me though as that is fairly steep, even for a Games Workshop product, so we ordered comparatively lightly on the initial ship. The holidays will tell if we chose rightly.
The opinions expressed in this column are solely those of the writer, and do not necessarily reflct the views of the editorial staff of ICv2.com.