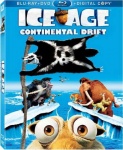 A trio of high profile theatrical releases hits including Ted, Ice Age: Continental Drift, and The Bourne Legacy all hit disc this week along with a spectacular new edition of Christopher (The Dark Knight Rises) Nolan's first film, the latest season of Futurama, plus new releases for the kid-targeting animated series Ninjago and Kaijudo along with a couple of elaborate "complete series gift sets."
Theatrical Releases
There are three potent theatrical movies that are due on disc this week and the battle for sales supremacy could go to any one of them though Ice Age: Continental Drift (Fox, "PG," $29.98, BD/DVD Combo $39.98, 3-D BD $49.99) is the likely winner given the popularity of animated features on disc. But this popular anachronistic animated franchise is definitely losing its appeal here in the States even as these prehistoric characters gain greater acceptance overseas. Animation purists don't like the fact that the Ice Age movies are very dialogue-heavy, but these characters do resonate with a lot people.
This year's most popular "R-rated" comedy is Seth MacFarlane's Ted (Universal, "R," $28.98, BD/DVD Combo $34.98), which should benefit from MacFarlane's TV-driven (Family Guy) popularity, and might end up doing surprisingly well on DVD. MacFarlane's raunchy humor will keep his fans happy, but Ted, which is definitely not for everyone, also contains a surprising amount of heart along with another solid performance by Mark Wahlberg.
Action movie fans will likely enjoy The Bourne Legacy (Universal, "PG-13," $29.98, BD/Combo $34.98), which features Jeremy Renner (Hawkeye in The Avengers) taking over for Matt Damon in this latest iteration of the Robert Ludlum saga about a highly-skilled black ops veteran at odds with the service that trained him. Those who enjoyed the previous films in this franchise will also find The Bourne Legacy, with its spectacular final chase scenes, quite entertaining.
TV on DVD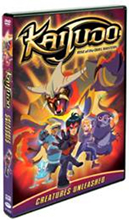 Animated offerings and elaborate gift sets dominate this week's TV on DVD releases.
Futurama Vol. 7
(Fox, 286 min., $29.98, BD $39.99) includes the 13 most recent episodes of the revived animated series that now airs on Comedy Central. Though it is set in the far-flung future, this science fiction animated series does a better job of satirizing the foibles of contemporary 21st Century America than any other animated series with the possible of exception of
The Simpsons
, which like
Futurama
, was created by Matt Groening.
There are two major animation releases for younger audiences including Ninjago: Masters of Spinjitzu—Rise of the Green Ninja (Warner Home Video, 154 min., $14.98), which includes the first seven episodes of the second season of the hugely popular animated series that airs on the Cartoon Network and is based on an even more popular line of toys from Lego.
Another multi-media property that targets tween boys is
Kaijudo: Rise of the Duel Masters-Creatures Unleashed
(Shout Factory, 110 min., $14.97), which includes the first five episodes of the revived
Duel Masters
cartoon series. Wizards of the Coast is simultaneously trying to establish a new version of the
Duel Master Trading Card Game
and this DVD comes with a "Kenina" card with exclusive art that is fully playable in the trading card game. Cartoon series based on trading card games would seem to be a dicey proposition, but given the longevity of
Pokemon
and
Yu-Gi-Oh!
it is clear that once established the animated versions remain popular with kids in their target demos.
Testing the limits of 1980s nostalgia is evidently the purpose of the release of Police Academy: The Animated Series, Vol. 1 (Warner Bros. 658 min., DVD-R $29.95), which collects 30 episodes of the 1988 animated series produced by Ruby-Spears and based on the comedic "law and disorder" Police Academy franchise that was situated just North of "Porky's" on the list of the sleaziest examples of 1980s comedy properties.
A far better option for those with nostalgia on their minds is Ultra Seven: The Complete Series (Shout Factory, 1140 min., $49.97), which is the third entry in the Ultra series of tokusatsu (special effects-heavy) science fiction TV shows. Ultra Seven was the follow-up to Ultraman and it aired on the Tokyo Broadcasting System in the late 1960s.
Gift sets of complete series due this week include JAG: The Complete Series: Collector's Edition (Paramount, 9534 min., $379.99), which includes all 227 episodes of the military action series on 56 discs. The special "Collector's Edition" comes with a 40-page manual, a JAG Challenge Coin Replica, and exclusive bonus disc of extras.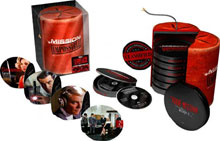 Also of great interest to some is
Mission Impossible: The Complete Television Giftset
(Paramount, 10,314 min., $379.99), which contains all 206 episodes of the classic espionage TV series on 56 separate discs. With its torn-from-the-headlines Cold War plotlines and its
James Bond
gadgetry,
Mission Impossible
was one of the biggest TV action hits of the 1960s. This massive set includes all seven seasons of the original series as well as the two seasons of the show's 1980s revival.
Far less well known are Bordertown: The Complete Series (Echo Bridge, 1716 min., $24.99), which collects the complete run of the Canadian-produced series that originally aired from 1989-1991, and Chiller: The Complete Series (Synapse Films, 265 min., $29.95), which includes a five-part British-produced horror anthology that aired in 1995.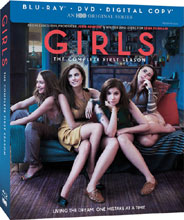 The top contemporary series due this week is Lena Dunham's
Girls: The Complete First Season
(HBO, $39.99, BD $49.99), a popular "dramedy" that follows the loves and adventures of a quartet of women in their 20s who are trying to survive and prosper in New York City.
Girls
is a slice-of-life drama that takes on the serious issues faced by today's college grads who have to fight their way into a tough job market that exploits them with cruel torture devices like "unpaid internships."
Other drama releases include Law and Order: Criminal Intent—The 9th Year (Shout Factory, 690 min., $44.99) and Gunsmoke: The Seventh Season, Vol. 1 (Paramount, 859 min., $36.99).
Fans of vintage sitcoms might well enjoy Hazel: The Complete 4th Season (Shout Factory, 500 min., $34.93), which features the incomparable Shirley Booth as the title character in a gentle series that was based on the popular series of cartoons about a housemaid that appeared in The Saturday Evening Post.
Classics on Blu-ray & DVD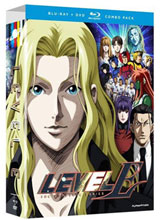 Those who enjoy Christopher Nolan's
Batman Trilogy
might want to check out Nolan's first film,
Following
(Criterion, "R," BD $39.95), a complex thriller from 1998 that shows plenty of directorial promise and manages to hold its own as a competently-made indie thriller. In this latest version,
Following
gets the deluxe Criterion treatment, which makes it an excellent gift for those who love Nolan's
Batman
movies.
Also due this week is the Blu-ray debut of Warren Beatty's 1990 comic strip-based movie Dick Tracy (Disney, "PG," $26.50). Beatty made the mistake of thinking that the success of the comics lay in their primary color-heavy look, which he painstakingly recreated in the lavish, studio-bound Dick Tracy film. Unfortunately Beatty neglected the genius of Chester Gould, which found expression in the contrasting characters of the bland, steadfast cops and the highly individualized personalities of a masterful rogue's gallery of villains.
Anime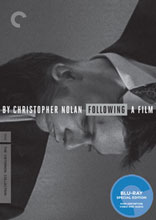 The top new offering this week is
Level E Complete Series Ltd Ed.
(Funimation, "14+," 325 min., BD/DVD Combo $64.98), a 13-episode 2011 TV anime series from Studio Pierrot that is based on the science fiction comedy horror manga by Yoshiro Togashi, the creator of
Yu-Yu Hakusho
and
Hunter x Hunter
.
Level E
is the saga of an alien prince who crash lands on Earth and takes up residence with a high school student. This contemporary series looks especially good on Blu-ray--and
Level E
has a lot of the charm that made anime so popular here in the late 20th Century.
Equally interesting is the Bleach Uncut Box Set 15 (Viz Media, "13+," $44.82), which includes episodes 218-229 of the long-running series based on the manga by Tite Kubo.
Also due this week is the Tegumi Bachi: Letter Bee Collection 1 (Sentai Filmworks, "13+," 325 min., $49.98), which includes the first 13 episodes of the 25-episode Studio Pierrot series that aired on TV Tokyo.

--Tom Flinn

The opinions expressed in this column do not neceessarily reflect those of editorial staff of ICv2.com.