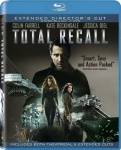 Twas the week before Christmas (and after the release of The Dark Knight Rises) so everybody and his brother is putting every possible film on disc. The result is a movie for nearly everybody this week ranging from the big budget sci-fi of Total Recall to the smart torqued-up chase scenes of Premium Rush, to the gentle heartfelt drama of Trouble With the Curve, the tween-targeting slapstick of Diary of a Wimpy Kid: Dog Days, the charming college musical Pitch Perfect, the slick financial thriller Arbitrage, and the gory, bloody, tasteless cult film candidate Killer Joe
Theatrical Movies
With almost everyone staying out of the way of The Dark Knight Rises last week, the final barrage of films for the holidays appears to be a very extensive one with movies for nearly every taste. For science fictions fans there is Total Recall (Sony, "PG-13," $30.99, BD $35.99, BD/DVD Combo $39.99), a remake of the 1990 Arnold Schwarzenegger film that hews a little more closely to the original Phillip K. Dick story ("We Can Remember It For You Wholesale"), though the 2012 version also includes elements added to Dick's original story in the 1990 film. Those who enjoy action-packed sci-fi blockbusters will find a lot to like in Len Wiseman's film, which is better than its 30% positive rating on Rotten Tomatoes would indicate. The action scenes in Total Recall are deftly done and the film is well-paced—just don't expect a ton of character development.
An even better bet for action movie fans is Premium Rush (Sony, "PG-13," $30.99, BD $35.99), an exciting chase film about a bike messenger (well-played by Joseph Gordon-Leavitt) who is being chased by dirty cop desperate to intercept a message. The movie dresses its simple plot up with a complex narrative structure, but proves once again that there is just something basically cinematic about a chase, no matter if it involves horses, cars, camels, or bicycles.
While Premium Rush will naturally appeal to the young and the hip, Robert Lorenz' Trouble With the Curve (Warner Bros., "PG-13" $28.98, BD $35.99) will find its most welcoming audience among older moviegoers. Trouble is an old-fashioned comedy-drama about a cantankerous old baseball scout played by Clint Eastwood with a set of baseball beliefs that is quite the opposite of those espoused by the sabermatricians celebrated in Moneyball. But this film is only tangentially about baseball. It's really all about Eastwood's aging scout coming to terms with his estranged adult daughter played extremely well by Amy Adams. Trouble With the Curve is a heartfelt film that occasionally strays into the sentimental—those with an allergy to cornpone should be forewarned.
Paul W.S. Anderson has made a career out of fashioning films out of the Capcom survival horror game Resident Evil. The five Resident Evil films use the characters from the game, but little else. The latest in the series, Resident Evil: Retribution is a rather typical science fiction action film as Alice (Milla Jovovich) attempts to escape from an underwater base in the Arctic run by the evil Umbrella Corporation. While this series doesn't have the budget of a Total Recall, it does have a devoted coterie of fans who enjoy this brand of unpretentious sci-fi horror.
Fox targets its inexpensively-made Diary of a Wimpy Kid movies at the same YA demographic that buys Jeff Kinney's hugely popular quasi-graphic novels. The third installment in the series, Diary of a Wimpy Kid: Dog Days (Fox, "PG," DVD only $28.98) is a solidly made comedy that will provide some laughs for parents as well as their offspring. An embarrassing scene in a swimming pool is reminiscent of Buster Keaton's classic The Cameraman, proof that the creators of this film have at least some working knowledge of slapstick, an element that makes Dog Days one of the better films targeting tweens produced in Hollywood in recent years.
Pitch Perfect (Universal, "PG-13," $28.98, BD $34.98) stars the amazingly talented young actress Anna Kendrick in a surprisingly effective drama about a college freshman who joins an all-female a cappella group. Think Glee crossed with Bring It On, but with lots more comedy—Pitch Perfect, which earned a well-deserved 79% positive rating on Rotten Tomatoes, is one of the (pardon me) "unsung" delights of the year.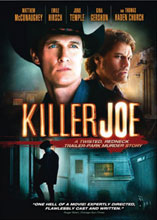 Those with a stomach for stronger stuff will want to sample
Killer Joe
(Lionsgate, "Not Rated," $19.98, BD $24.98), a powerful return to form by director William Friedkin (
The French Connection
), a dark, twisted noir comedy that is as raunchy, lurid, and vile as you want to be. The film boasts a wonderfully skuzzy performance from Emile Hirsch, and an edgy, nasty turn by Matthew McConaughey as the eponymous hitman, a Dallas detective who moonlights as a murderer. Originally shown with an NC-17 rating, this film is strong stuff, so be forewarned. It also has the clear makings of a sure enough cult classic with a strong 77% positive rating from Rotten Tomatoes and more than enough kink and snap to please the most jaded devotees of black comedy.
Nicholas Jarecki's Arbitrage (Lionsgate, "R," $19.98, BD $24.98) stars Richard Gere as the head of a New York-based hedge fund whose entire empire is teetering on the brink of disaster. Those who think Killer Joe's Dallas drug dealer milieu a little too downmarket, just might find this slick thriller a bit more to their liking, especially since it manages to deal seriously with issues of morality in the world of banking and investment that certainly have a lot relevance in today's world. Certainly the critics loved this movie, which earned a sterling 85% positive Tomatometer rating.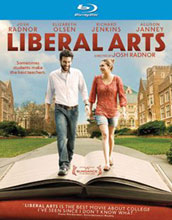 Another film that the critics like (69% positive) is Josh Radnor's
Liberal Arts
(MPI, "Not Rated," $24.98, BD $29.98), a slice-of-life comedy drama about Jesse, a 35-year-old played by Radnor (
How I Met Your Mother
), who returns to the campus of his alma mater when his favorite professor retires. While on campus Radnor meets Zibby, a 19-year-old coed (Elizabeth Olsen) and they strike up a wary relationship that involves handwritten letters. Zibby's enthusiasm and zest for life inspires Jesse, who seriously considers having a relationship with the willing coed in spite of the difference in their ages. Though this might seem like some thirty-something male's wet dream, it's actually handled much more sensitively than that.
Liberal Arts
proves to be about more than the flirtations of man approaching middle age. Jesse's mentor, the history professor well-played by Richard Jenkins, is the best-drawn of the secondary characters. His rather dismal fate, which includes what turns out to be a forced retirement preceded by one of the most dismal celebratory dinners on film, represents the desiccating potential of the academic future awaiting Jesse who is an admissions officer at NYU. While
Liberal Arts
can be a bit slow at times, its portrait of the small liberal arts college rings true (with the exception of the character played by Alison Janney who never quite manages to get past the stereotypical nature of her part as the predatory English professor). Radnor shot the film at Kenyon College where he (and Paul Newman) went to school—and those who enjoy serious films about the academic life will find much to enjoy in
Liberal Arts.
For those who love indie films, Woody Allen, and NPR there is Sleepwalk With Me (MPI, "PG-13," $24.98, $29.98), a Sundance winner co-produced by Ira Glass of This American Life. Mike Birbiglia stars in this film that is based on his life and his stand-up routines. It's hard not to be reminded of the early work of Woody Allen, since Birbiglia's neuroses form the basis of this surprisingly entertaining film's narrative.
TV on DVD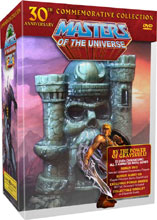 The key release in this category for fans of 1980s animation is the massive
He-Man and the Masters of the Universe 30th Anniversary Commemorative Collection Limited Edition
(Mill Creek, 4293 min., $99.98), which includes all the episodes of the long-running Saturday morning cartoon series from the 1980s, plus
The New Adventures of He-Man
from 1990 and the 2002 revival of
He-Man and the Masters of the Universe
. All this comes with a number of extra features including documentaries and interviews with the key players in the production of the cartoon series and the Mattel toys that went along with it.
Animation fans in search of something a little more adult should check out The Life and Times of Tim: The Complete 3rd Season (HBO, $29.98), a ground-breaking slice-of-life series created by Steve Dildarian that follows the adventures of an apparently normal 20-something who is trying to get by in the Big Apple.
Those looking for more adult and more contemporary fare will find it this week in several pay cable releases this week including House of Lies Season One (Showtime, 347 min., $42.99), which collects the first 12 episodes of the Showtime series starring Don Cheadle (Iron Man) and Kristen Bell (Veronica Mars) in a no-holds-barred saga about a group of business consultants who will stop at nothing to get their big deals done.
Even more outré is Showtime's Shameless: The Complete 2nd Season (Warner Bros., 600 min., $39.98 BD $49.99). This U.S. series , which is based on U.K. comedy drama about the dramatic doings of the underclass, has been transplanted from a housing "estate" ("project" in U.S. parlance) in Manchester to Canaryville on Chicago's South Side. A strong cast headed by William H. Macy and Emily Rossum manages to keep this series from sliding into the easy trap of class-based condescension (at least most of the time).
Sarah Silverman remains this generation's most acerbic TV comedienne and her fans will definitely want The Sarah Silverman Program: Series 3 (Shout Factory, 780 min., $19.93), which collects the third season of the idiosyncratic Comedy Central series.
Fans of sketch comedy and improv should also definitely check out Funny or Die Presents…Season 2 (HBO, 300 min., $29.98), which collects the half-hour sketch comedy series produced by Will Ferrell, Adam McCay, and Chris Henchy that provides an outlet for some of this country's top comedians to do their thing.
Other contemporary series due this week include Californication: The Fifth Season (Showtime, 341 min., $45.99), the hard-hitting cable series that stars David Duchovny, and the ABC Family series Army Wives: The Complete 6th Season—Part 2 (Disney, 430 min., $29.98).
Vintage TV releases include the classic crime drama Quincy, Medical Examiner: Season 4 (Shout Factory, 1110 min., $39.97), which collects 23 episodes of the mystery drama starring Jack Klugman, a selection of three choice episodes from the 1950s western series The Life and Legend of Wyatt Earp: Fan Favorites (Inception Media, 90 min., $9.98), and Here's Lucy: Season 6 (MPI, 720 min., $29.98), which collects a lackluster season from what was definitely not Lucille Ball's best TV series.
Anime
With Christmas set for next Tuesday there is a plethora of anime releases set for this week including Steins;Gate, Part 2 (Funimation, "14+," 300 min., BD/DVD Combo $69.98), which includes the final 12 episodes of the 24-episode series created in 2011 by White Fox that is based on the visual novel/science adventure game developed by 5pb and Nitroplus that is the sequel to the popular Chaos;Head visual novel. The strong visual style of this anime comes through especially well in Funimation's sparkling Blu-ray edition.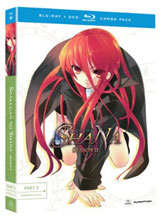 Also new and well worth catching on Blu-ray is
Shakugan no Shana Season 2 Part 2
(Funimation, "14+," 300 min., BD/Combo $64.98), which contains episodes 13-24 of the anime series produced by J.C.Staff that aired in Japan in 2007 and 2008. Also available is the previously released
Shakugan no Shana Season 2 Part 1 Limited Edition
(Funimation, "14+," 300 min., BD/Combo $69.98), which contains episodes 1-12 plus a special box that will also accommodate
Part 2
of the second season of the anime series based on the light novel series by Yashichiro Takahashi about a high school boy who becomes embroiled in the age-old conflict between the balancing forces in the universe when he meets the sword-wielding Shana, a fighter for the balancing forces.
Another new Blu-ray release is Legend of Heroes: Trails in the Sky (Sentai Filmworks, "14+," 81 min. BD $39.98), which collects two OVAs anime episodes based on the Legend of Heroes: Sora no Kiseki manga, which is in turn based on a series of role-playing games developed by the Nihon Falcom Corporation.
Due for the first time on Blu-ray in North America is the Tenchi Muyo Movies Limited Edition (Funimation, "17+," 250 min., BD $69.98), which includes a special art book plus the anime films Tenchi Muyo in Love, Tenchi Muyo in Love 2, and The Daughter of Darkness, and the Tenchi Muyo: OVA Series Limited Edition (Funimation, "17+," 325 min., BD $69.98), which includes 13 OVA episodes plus a special art booklet.
North American fans of the long-running One Piece anime will also have a pre-Christmas treat in store with One Piece Season 4: Part 3 (Funimation, "14+," 300 min., $39.98), which includes the American debut of episodes 230-241.
This week's one re-priced re-release is The Kobato Complete Collection (Sentai Filmworks, "13+," 600 min., $69.98), which collects the two Koboto releases from 2011 that had an MSRP of $49.98 each).

--Tom Flinn

The opinions expressed in this column do not necessarily represent the views of the editorial staff of ICv2.com.