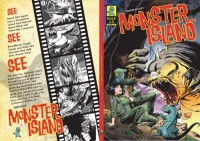 Confessions of a Comic Book Guy is a weekly column by Steve Bennett of Super-Fly Comics and Games in Yellow Springs, Ohio. This week, Bennett talks about his tablet experience and Monster Island.
From this I learned two things: one, everything else I owned wasn't worth stealing, and two, a seven inch screen just wasn't cutting it when it came to reading comics. So I decided to go a size up and after the usual amount of obsessive Internet research came to an informed opinion... which I completely ignored it when I saw something on sale. A Toshiba Excite 10, a brand I didn't know existed the day before, and along with being a closeout special it was also the only floor model. So the store knocked another $50 off the price and I ended up getting a 10 inch tablet for what I had paid for the Nexus 7.
This one I managed to hold onto for roughly eight hours. From a floor model closet I expected a few "quirks" but after a couple of hours setting it up I turned it off upon which it entered into (in the words of the tech guy at the store, who also used the phrase "I've never seen that before") a " mid-boot up loop. " Which sounds innocuous enough but the effect looked amazingly like The Eye of Mordor boring its way into my soul.
It was at this point that I began to despair that I wasn't meant to own a "other electronic device,", but I dutifully took it back and exchanged it for yet another brand in my price range that I had never heard, of, a Lenovo (which sounds like behavior modification method used in A Clockwork Orange) IdeaTab. I didn't even know that anyone made a 9 inch tab, but not wanting to delay gratification any further I took it home.
And it was everything they promised. I never thought I'd consider the phrase "blazing fast" to be anything more than advertising hyperbole but the IdeaTab is, in all seriousness, blazing fast. As well as having a camera, video, video camera, eReader and a GPS digital comics are both better looking and reading on a nine inch screen, and it's definitely the perfect size for reading modern comic strips. In short it's the very thing that I would wanted for Christmas 1965, though I doubt young me could have conceived of an electronic device that was operated by repeatedly poking at it.
As to what any of this has to do with anyone other than me, as the price of these tabs continue to drop the more people you'll see adopt them. Ultimately it's the availability of the devices to read them on as much as it is the cost of the digital comics that will determine the growth of the digital comics readership. Price will be the tipping point, so let's see what their SRP will be by next Christmas.
One of my favorite comic books of the 1990's was Monster Island, a one-shot from Compass Comics, written and drawn by one of my favorite artists, Graham Nolan, someone who's work I've enjoyed on everything from Detective Comics and Rex Morgan, M.D. It was a spiffy, all-ages, old fashioned adventure strip that stranded USAF pilots Lt. Tommy "Duke" Mitchell and Lt. "Mac" Macgruder on your standard issue mysterious island. Naturally its inhabitants included dinosaurs, aliens, monsters and every other imaginable 50's/60's science fiction trope. It was really, really good and like a lot of things that I liked a lot it seemed to disappear without a trace.
But happily that's not the case. Pulp 2.0 Press has re-released Monster Island as a 80 page graphic novel that includes the original 48 page story as well as 30 brand new pages, the never before seen Monster Island comic strip, background and commentary on the creation of the book and an interview with Nolan. It's well worth your time.

The opinions expressed in this column are solely those of the writer, and do not necessarily reflect the views of the editorial staff of ICv2.com.