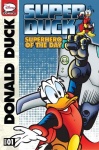 Confessions of a Comic Book Guy is a weekly column by Steve Bennett of Super-Fly Comics and Games in Yellow Springs, Ohio. This week, Bennett talks about Disney Comics, the Munsters Reboot, and Dark Shadows.
I'm still happily (there's no other word for it) playing with my new iPad and still finding out all sorts of interesting things, some of which might actually interest somebody else. For instance...
I'm just old enough that it seems kind of unnatural that except for the magazines (
Phineas & Ferb
,
Cars
,
Fairies
) there are no Disney Comics being printed in America anymore. But as much as I wish Marvel would publish a line of comics featuring their classic characters it's become pretty clear that just isn't any room for them in today's marketplace. But it's just as clear some titles have a better chance as digital downloads, which is why I was happy when I discovered comiXology was selling Disney Comics.
They range in price from 99 cents to $2.99 and the lineup of titles is a nice mix of classic Disney characters (Arizona Goof, Mickey Mouse & Friends) and movie-ties (
Tangled,
Cinderella
,
Up,
Cars 2
). They should appeal to be a wide readership, For example, I immediately picked up the
Epic Mickey
graphic novel. But I think someone should tell Archie that Disney is also publishing a version of
Papernik
(a superhero incarnation of Donald Duck that's popular in Europe) under the title
Superduck
--which might sound familiar because Archie owns a sadly neglected character with a similar name, Al Fagaly's Super Duck, the Cockeyed Wonder. This is particularly odd given that in 2010's Disney's
Ultra Hero Squad
, Ultraheroes the character was known in America as "The Duck Avenger"--and the site also sells
Ultraheroes
comics.
This of course led me to the Disney Comics app for the iPad and I discovered a store that sold even more new Disney comics, including some featuring Disney TV characters like
Kick Buttowski
and
Phineas & Ferb
. But the biggest surprise was
X Mickey,
a.k.a.
Mickey X.
It's a popular European series where MIckey becomes a paranormal investigator that I've been hoping someone would translate into English for literally years (see 2006's
"
Confessions of a Comic Book Guy--This Just In--Comics Not Gum
"). The first issue, In the Mirror, is available for free and after having read it I can say, if you're at all interested in the Disney characters, you should do so as well.
In short, Disney has done a fine job of getting digital versions of their comics someplace kids might actually find them. I just wish Time-Warner could do something similar with comics featuring the
Looney Tunes
characters.
In case you missed it NBC decided not to go ahead with its $10 million pilot reboot of The
Munsters
reboot 1313 Mockingbird Lane (see "
'Munsters' Reboot Dead
"), which I'm bringing up since I've repeatedly mentioned it here. First I went out of my way to praise the Bryan Fuller project as "the right way to do a reboot" (see "
Confessions of a Comic Book Guy--This Is How You Do It
"). Then, sight unseen, took it back when I learned that this version of
The Munsters
ate people (see "
Confessions of a Comic Book Guy--You Heard It Here Because I'm The One Who Said it
").
Well I finally saw it and when I say it "finally" I mean I missed it when NBC showed it on Halloween then missed it again when it unexpectedly popped up on Time-Warner's On Demand. But it's still on the NBC website (if you look hard enough that is) if any of you still want to see it, and it is worth seeing. It is a beautiful re-imagining of the concepts full of great special effects and witty moments (my favorite, Grandpa using a plumed quill as a stylus for his iPad), but ultimately it's an expensive failure. Because a significantly large enough audience just was never going to sympathize or empathize with characters who want to kill and eat them.
And, finally, I have to confess that after saying
Dark Shadows
was the one movie I wanted to see last summer, I only got around to seeing it the other day thanks to Netflix. Lots of people were worried about the film's tone, but Tim Burton actually handles the sudden shifts between humor and horror pretty well. Where it falls apart (even before a third act that throws absolutely everything at the wall in hopes something will stick) is that the script actually acknowledges the major weakness of
Dark Shadows
. That being just how unsympathetic a protagonist Barnabas Collins is. He's just so cool that even we who used to rush home to watch it on TV tend to forget that long before he became a vampire he was (in the character's own words) "neither a good nor gentle man." This being the case it's a little hard to get overly worked up over how his love life will work out.
The opinions expressed in this column are solely those of the writer, and do not necessarily reflect the views of the editorial staff of ICv2.com.