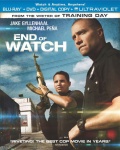 It's kind of a light week for home entertainment releases, but there are a few excellent choices including the gritty cop drama End of Watch, the rather daring political movie about the 2008 elections Game Change, and the eye-opening documentary Searching for Sugar Man.
Theatrical Movies
David Ayer, who wrote Training Day, returns as both writer and director of End of Watch (Universal, "R," $24.98, BD $34.98), a gritty cop movie set in South Central L.A. with very strong performances from Jake Gyllenhaal and Michael Pena as ordinary beat cops who accidentally run afoul of powerful Mexican drug cartels. Like Training Day, End of Watch is a powerful, downbeat police drama that mixes action movie violence with an art house appreciation for character, mood, and setting.
Those who enjoy sweaty over-the-top Southern Gothic melodramas might like Les Daniels' The Paperboy (Millennium, "R," $28.98, BD $29.99) which is based on a Pete Dexter novel about two reporters who attempt to exonerate a swamp rat (John Cusack) convicted of murdering a corrupt sheriff. A strong cast that also includes Matthew McConaughey, Nicole Kidman, Zack Efron, Scott Glenn, and David Oyelowo can't quite salvage the steamy proceedings, which earned just a 39% positive rating on Rotten Tomatoes.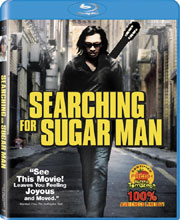 This week's release with the highest Tomatometer reading (95% positive) is the documentary
Searching for Sugar Man
(Sony, "PG-13," $30.99, BD $35.99), the true story of Sixto Rodriguez, a talented singer/songwriter from Detroit who recorded a single album in 1971 (back in the day when record companies were actually looking for new talent). While Rodriguez' record did nothing here in the States, and provided the artist with only a tour of Australia, a bootleg version of the singer's protest songs became a huge hit in South Africa where he was considered a peer of Bob Dylan and John Lennon, and where his songs helped inspire the anti-Apartheid movement. Not only was Rodriguez unaware of his popularity in South Africa, his fans there actually believed that he was dead, believing unconfirmed reports that he committed suicide on stage.
TV on DVD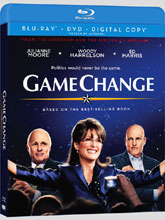 The most interesting release received by ICv2 this week was
Game Change
(HBO, "Not Rated," $19.97) a feature film about the 2008 presidential campaign that is based closely on the book
Game Change
by Mark Halperin and John Heilemann that examines John McCain's decision to choose the relatively unknown Alaska Governor Sarah Palin as his running mate. While some on the right might consider this a political hatchet job by Democrats, Halperin, who founded the Bush Administration-friendly
The Note
at ABC News and currently writes a Republican-leaning political column for
Time Magazine
, is anything but a lefty. It appears that much of Halperin and Heilemann's "insider" account of the campaign came from McCain advisor Steve Schmidt, who praised the movie highly, so
Game Change
is more of a Republican establishment "hatchet job," than a Democratic one. At the center of the political firestorm of course is Palin, who is played with fierce intensity by Julianne Moore. Those who remember Palin's fiery acceptance speech and her disastrous interview encounters may well find this film provides some answers to the question of how someone so apparently talented could be so clueless about the major domestic and foreign policy issues of our day, and more importantly how someone like that could receive the nomination of a modern political party. But the most sobering aspect of film is its message that television has turned politicians into performers, and that "acting ability" and "charisma" are more important than knowledge and good judgment.
Animation fans, who enjoy TV cartoons based on superheroes, can choose between the single-disc (3 episode) Marvel-based Iron Man Armored Adventures: Season 2, Vol. 3 (Gaiam, 66 min., $14.93) and the DC-based Cartoon Network offering, Young Justice: Season 2 Vol.1 (Warner Bros., 220 min., $19.97), a two-disc set that provides 10 full episodes.
The History Channel's 2012 series The Men Who Built America (Lionsgate, 360 min., $29.98, BD $39.99) does provide some balance in its portrayal of the late 19th Century titans of industry whose names remain recognizable today (Ford, Rockefeller, Carnegie, Morgan, Vanderbilt), but leans way too far in the direction of hagiography in its portrayal of these ruthless entrepreneurs whose penchant for monopoly was disturbing and whose legacy is decidedly more mixed than portrayed here.
For pure entertainment this week's best bet may be the lightweight, but typically enjoyable Scarecrow and Mrs. King: The Complete 4th Season (Warner Bros., 968 min., $39.98), which collects the final season of the espionage drama and sees the series-long romance between the two protagonists finally come to fruition.
Anime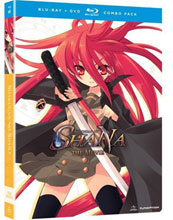 The top releases this week are both Blu-rays,
Shakugan no Shana: The Movie
(Funimation, "14+," 90 min., BD/DVD Combo $34.98) and
Shakugan no Shana S OVA
(Funimation, "14+," 110 min., BD/DVD Combo $34.98). Both releases feature anime productions from J.C. Staff based on the popular series of light novels by Yashichiro Takahashi about a teenage boy who befriends a sword-wielding fighter for the balance between light and darkness. The flame-haired protagonist of this supernatural romance saga is a Flame Haze girl whose job is to protect humanity from the Denizens of the The Crimson Realm. The 90-minute
Shakugan no Shana
anime feature was released by J.C. Staff in Japan in 2007, while the four OVA episodes in the collection appeared in 2009 and 2010.
Also of interest this week is the Saiyuki Gaiden Complete Collection (Sentai Filmworks, "14+," 90 min., $49.98), which collects 3 OVA episodes that were known as Saiyuki Reload: Burial when they were released in Japan in 2007. Fans who are familiar with Journey to the West, the classic Chinese novel that inspired the Saiyuki series (in addition to Dragon Ball, etc.), will want to check out these OVAs, which take up the saga when the protagonists of Journey to the West enter heaven to rescue a comrade.

--Tom Flinn

The opinions expressed in this column do not necessarily reflect the views of the editorial staff of ICv2.com.