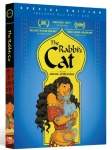 This week's offerings include
The Rabbi's Cat
, one of the best animated films ever made from a graphic novel, plus the taut Tom Cruise thriller
Jack Reacher
, a collection of the 2010 Doctor Who spin-off
K-9
, the better than expected old school chiller
Mama
, a very Hitchcockian Scandinavian noir thriller, the final season of the cult TV series
Fringe
, a 30-disc
Superman TV Collection
and a solid group of anime releases led by a new series from the creators of
Cowboy Bebop
.
Theatrical Releases
This week's most advertised release is
Jack Reacher
(Paramount, "PG-13," 130 min., $29.99, BD $39.99), a modestly-produced Tom Cruise action film based on the character from the popular series of novels by Lee Child. Some fans carped about the physical differences between Child's hulking fictional creation and the diminutive Cruise, but this movie, which was directed by Christopher McQuarrie (who wrote the new
Wolverine
film), delivers the action-movie goods and managed to get a 61% positive rating on review aggregator Rotten Tomatoes. Plus Cruise gets superb support from a cast that includes old pros Robert Duvall and Richard Jenkins, as well as a wonderful bit from movie director Werner Herzog, who has lots of fun as an over-the-top villain.
Even more interesting to many is
The Rabbi's Cat
(New Video Group, "Not Rated," 89 min., $29.95, BD $34.98), a superb adaptation of Joann Sfar's graphic novel, which is set in Algeria in the 1930s and manages to be lush, entertaining, thought-provoking, and filled with wonderful Jewish and North African lore. Here's an animated feature that is clearly aimed at adults, and the extra features including a 12-page excerpt from the graphic novel, and a wonderful featurette on artist/creator Joann Sfar.
Also of interest to genre movie fans is
Mama
(Universal, "PG-13," 100 min., $29.98, BD $34.98), an old-school horror movie produced by Guillermo del Toro that benefits from a number of strong performances including a key effort from Jessica Chastain, who demonstrates considerable range in this better-than-average supernatural thriller.
Also better than might be expected is
The Oranges
(Fox, "R," 91 min., $22.98), a suburban family comedy drama with an excellent cast headed by Hugh Laurie (House). Its narrative might have been too conventional for the critics (the film only received 32% positive rating on Rotten Tomatoes), but
The Oranges
is better made than most films in its genre, and those who enjoy Hugh Laurie's performances will definitely want to see it.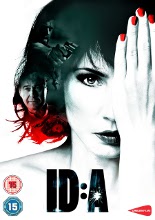 Those who enjoy the thrillers of Alfred Hitchcock with their existential narrative elements and sudden shocks should be sure to check out
ID:A
(Shout Factory, "Not Rated," 100 min. $19.97) a superior Scandinavian noir from the producers of the original Danish series
The Killing
. Tuva Novotny (
Eat Pray Love
) plays a Danish woman who wakes up battered and bruised on the shores of a French river with a duffel bag containing two million Euros next to her and no memory of who she is or how she got there. She has to piece together her identity while avoiding a trio of Dutch gangsters who are following her intent on snatching the money.
ID:A
is a gripping thriller that is extremely well shot and acted by its multi-lingual cast. With its echoes of
Spellbound
,
ID:A
is a film that will appeal to those who like the classic Hitchcock films as well as to those who enjoy the modern Scandinavian noir films like
The Girl With the Dragon Tattoo.
TV on DVD
There are lots of releases that should appeal to geek viewers including the final season of the cult series
Fringe: The Complete 5th Season
(Warner Bros., 572 min., $39.98, BD $49.98) which deals with a world controlled by the Observers and the Fringe Team has to take one desperate gamble in a final battle to protect our world.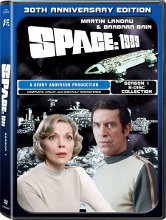 Equally interesting is
Space: 1999—The 30th Anniversary Edition Season 1
(A&E, $29.98) and
Space: 1999—The 30th Anniversary Editions Season 2
(A&E, $29.98), 8-disc and 9-disc sets respectively that collect the classic space opera produced by Gerry Anderson (Thunderbirds) that starred Barbara Bain and Martin Landau. If you can get past the absurdity of the Moon (and Moonbase Alpha) streaking through space so the Moonbase team can experience all sorts of different planets and creatures,
Space: 1999
delivers plenty of old-school 20th Century sci-fi goodies.
Also of great interest to
Doctor Who
fans is
K9: The Complete Series
(Shout Factory, 330 min., $29.97), which collects the science fiction comedy spinoff from the popular
Doctor Who
series that features the Doc's canine companion and aired in 2010. Though the K9 series was produced for younger viewers, hardcore Whovians will still need to have this one.
Contemporary shows due this week include
Rookie Blue: The Complete 3rd Season
(eOne Entertainment, 546 min., $39.98), a police procedural that features five talented young actors playing rookie cops including the very fetching Missy Peregrym (
Reaper
), the
Grey's Anatomy
spin-off
Private Practice: The Complete Sixth Season
(Disney, $39.99), the freelance doctor in the Hamptons saga
Royal Pains: Season 4
(Universal, 689 min., $39.98) and the Canadian-produced police procedural that appears on the Ion cable network,
Flashpoint: The 5th Season
(Paramount, $39.98).
Vintage releases include the first Blu-ray release of the second season of the classic sitcom,
The Dick Van Dyke Show: The Complete 2nd Season
(Image Entertainment, 900 min., BD $59.98), the classic western
Gunsmoke: The 8th Season Vol. 1
(Paramount, 962 min., $49.99) and
Vol.2
(Paramount, 962 min., $49.99), the equally intriguing vintage oater
Have Gun Will Travel: The Sixth and Final Season, Part 1
(Paramount, 406 min., $29.98) and
Part 2
(Paramount, 406 min., $29.98), the J.J. Abrams-produced
Felicity: Season 3
(Lionsgate, 760 min., $19.98) and
Felicity: Season 4
(Lionsgate, 971 min., $19.98), which are now available at bargain basement prices.
With
The Man of Steel
movie set for release this summer, Warner Bros. is releasing
The Superman TV Collection
(Warner Bros., 4380 min., $96.92), a mammoth 30-disc set that includes the first seasons of the classic
Adventures of Superman, Smallville
, and
Lois & Clark
plus the Fleischer 1940 animated
Superman
cartoons,
Superman: The Animated Series
, the 1966 animated
New Adventures of Superman
, 13 Ruby-Spears
Superman
episodes and more.
Also of interest to many is
Popeye the Sailor: The 1960s Classics, Vol. 1
(Warner Bros., 409 min., $29.95), a DVD-R release that includes the 1960
Popeye
cartoons that sort of made up for their limited animation with a bigger narrative focus that allowed some additional
Thimble Theater
denizens like the Sea Hag and King Blozo to make their animated debuts.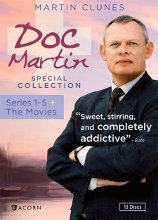 The only U.K. release this week is a great one,
Doc Martin: Series 1-5
(Acorn Media, 1980 min, $124.99), which includes all five series of the popular character-driven comedy series about an irascible doctor, played by the incomparable Martin Clunes, who is forced to practice in a tiny Cornish seaside village, plus two made-for-TV movies that starred also starred Clunes in an early iteration of the character. This series has developed quite a following here thanks to frequent showings on PBS. Give this quirky series a chance and you will become a convert. Due to its extreme popularity on both sides of the Atlantic a sixth
Doc Martin
series is currently in production.
Anime
It's a busy week for new releases headed by
Toriko: Part 4
(Funimation, "14+," #39.98), the fourth collection of the popular adventure/comedy series based on the manga by Mitsutoshi Shimabukuro that is set in a world where the taste and texture of food is everything. The eponymous hero of the series is a Gourmet Hunter, who travels to the ends of the earth in search of rare ingredients.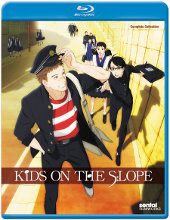 Also new is
Kids on the Slope
(Sentai Filmworks, "14+," 300 min., $59.98, BD $69.98), the 2012 series from Shinichiro Watanabe, the director of
Cowboy Bebop
and
Samurai Champloo
. Yoko Kanno provides the music for this 12-episode series about a shy young man who learns to assert himself as he discovers both jazz and his first true friend. The series is based on a josei manga by Yuki Kodama that won the prestigious Shogakukan Manga Prize.
The protagonist of
Natsuyuki Rendezvous
(Sentai Filmworks, "14+," 275 min., $49.98) is in love with the beautiful owner of a flower shop. After he gets a job at the shop he learns that the spirit of the woman's dead husband is still living in her apartment, but only the lovelorn new employee can see the dead spouse, which makes his attempts to woo the grieving widow even more complicated.
Previously released series include the
Sound of the Sky: Complete Collection
(Right Stuf, "16+," 355 min., $39.99), a 12-episode post-apocalyptic slice-of-life comedy drama set in a world where technology has regressed to early 20th Century levels. This excellent series, which was produced by A-1 Pictures in 2010, is available with its original Japanese soundtrack and English subtitles.
Also available on Tuesday is the
Sekirei Complete Collection
(Funimation, "17+," 650 min. BD $69.98), which includes both seasons of the harem comedy based on the
seinen
manga by Sakurako Gokurakuin on both Blu-ray and DVD.
Tom Flinn
The opinions expressed in this column do not necessarily represent those of the editorial staff of ICv2.com.