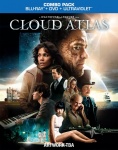 The Wachowskis' epic fantasy (and challenging narrative)
Cloud Atlas
is due on Tuesday along with the DVD debut of a classic
Doctor Who
saga, more of Jim Henson's
Fraggle Rock
, the penultimate season of
Dexter,
and a full slate of anime releases including an award-winning anime feature film.
Theatrical Movies
Directed by the Wakowskis and Tom Tykwer,
Cloud Atlas
(Warner Bros., "R," $28.98, BD $35.99) is a star-studded adaptation of David Mitchell's novel that features six inter-locking stories that span both the globe and the centuries (from the 19th to a post-apocalyptic 25th). With its complex narrative and nearly 3-hour running time,
Cloud Atlas
is a great film to have on DVD, since the movie, which earned a mixed 68% positive rating on review aggregator Rotten Tomatoes, definitely rewards a second viewing for those willing to accept its New Age/fantasy premise about the transmigration of souls across centuries and cultures.
Cloud Atlas
has earned 80% of its worldwide total outside of North America, but it has the intricate fantasy elements, the epic scope, and the iconic stars (Tom Hanks, Halle Berry, and Hugo Weaving) that should enable it to become something of a cult hit on DVD here in the States.
The Chinese film
Back to 1942
directed by Feng Xiaogang is an epic movie about a tragic famine in China in 1942 that occurred as the country was struggling to fight off a Japanese invasion, an exceedingly bloody conflict that had been going on for six years during which the Japanese had destroyed and occupied large parts of the Chinese mainland.
Back to 1942
is based on true events and features Adrien Brody as American newsman Theodore E. White, whose account of the famine did impact the course of events. Although the period details are all rendered with near perfection, there is a little too much of the "history lesson" in this film, which quite understandably has trouble dramatizing tragedy on such a vast scale. Still this is an extremely well-produced film that shines a light on an aspect of World War II that is little remembered in America today.
Horror movie fans will have to make do with
Texas Chainsaw
(Lionsgate, "R," $28.98, BD $39.99), the 2013 remake of the 1974 grindhouse classic,
The Texas Chain Saw Massacre,
which was previously remade in 2003. Unfortunately this latest iteration of Leatherface (in which the chainsaw-wielding killer actually appears more sympathetic than some of the lowlife scum who end up in shreds) earned a miserable 19% positive rating on Rotten Tomatoes. The movie was released as
Texas Chainsaw 3D
and the Blu-ray version also includes a 3-D disc for those who have the proper equipment.
Rock music fans should check out
Beware of Mr. Baker
(Vivendi Entertainment, "Unrated" $14.93), a "warts and all" documentary about rock drummer Ginger Baker (Cream, Blind Faith), who is evidently just as obnoxious in real life as those interminable drum solos that he pioneered with Cream were in concert.
TV on DVD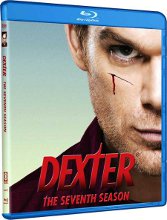 The top release this week is the Showtime series
Dexter: Season 7
(Showtime, $54.98, BD $65.99). The premier episode of
Season 7
on September 30th was the most watched episode in series history with over 3 million viewers. This saga of a forensic specialist who is also a serial killer has developed a devoted following and has been renewed for a final eighth season, which will debut on June 30th, 2013.
Geek viewers might also be interested in a new low-priced edition of
Tin Man: The Complete Miniseries
(Mill Creek, 268 min., $9.98, BD $14.98), the 2007 Sci-Fi Channel production that was essentially a dark revisionist version of
The Wizard of Oz
with Zooey Deschanel as the fetching Dorothy-like character DG.
Also of interest is a trio of
Fraggle Rock
releases. For completists there is
Fraggle Rock: 30th Anniversary Collector's Edition
(Lionsgate, 2367 min., $129.99), which features every episode from Jim Henson's beloved live action series as well as its animated spin-off. Also due on Tuesday is
Fraggle Rock: The Complete Season 3
(Lionsgate, 733 min., $29.93), which includes all 24 episodes plus interviews, and
Fraggle Rock: Meet the Fraggles
(Lionsgate, 132 min., $14.93), an introductory selection of six prime episodes.
Animated and kids' offerings include
Hey Arnold!: Season 4
(Shout Factory, $19.93), the stylish Nickelodeon series created by Craig Bartlett,
Taz-Mania, Season 1, Pt.1: Taz on the Loose
(Warner Bros., 286 min., $19.97),
My Little Pony: Friendship Is Magic-Season 2
(Shout! Factory, 570 min., $34.99), the all-animation
Super Mario Bros
. show from 1990
Captain N & the Adventures of Super Mario Bros. 3
(NCircle Ent., $19.99),
Alvin and the Chipmunks—The Chippettes: The Glass Shipper Collection
(Bagdassarian Productions, 66 min., $14.99), plus the live-action
Power Rangers Samurai—Season 1, Vol.4: The Sixth Ranger
(Lionsgate, 92 min., $14.98) and
V.R. Troopers: Season 2, Vol.1
(Shout! Factory, $19.93).
Vintage series, many of which are available at very low per-episode costs, include
3rd Rock From the Sun: The Complete Series
(Mill Creek, 3148 min., $44.98
), Roseanne: The Complete Series
(Mill Creek, 5273 min., $69.98),
Roseanne: Season 9
(Mill Creek, 544 min., $14.98),
That 70's Show: The Complete Series
(Mill Creek, 4446 min., $69.98),
Combat!: The Complete 2nd Season
(Image Entertainment, 1506 min., $39.98),
Highway to Heaven: The Complete 1st Season
(Mill Creek, 1238 min., $14.98).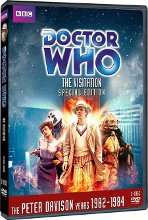 The top U.K. release is
Doctor Who: Story #120: The Visitation Special Edition
(BBC, $34.98), a two-disc "Special Edition," which contains a load of cool extras including a 45-minute documentary that follows Peter Davison (the Fifth Doctor), Mark Strickson, and Janet Fielding as they return to the locations for some of the key episodes from the 19th Season of the series including "The Visitation," a four-part saga from 1982 that is set in plague-ridden 17th Century England, and which is new to DVD. This classic
Doctor Who
saga has been re-mastered into what should be a real treat for fans of the vintage
Doctor Who
series.
Anime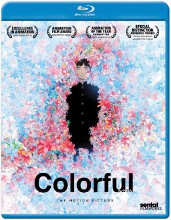 There are lots of great releases in this category this week including Keiichi Hara's 2010 anime feature
Colorful
(Sentai Filmworks, "14+," 126 min., $29.98, BD $39.98), which is based on a novel by Eto Mori and produced by Sunrise. The movie, which deals with serious subjects like suicide in its tale of a dejected soul who gets another chance at life, won the "Excellent Animation of the Year" Award at the Japan Academy event, and also took home the Animation Film Award at the 65th Manichi Film Awards as well as the "Audience Award and Special Distinction Prize at the 2011 Annecy Interntional Animated Film Festival. Here's a movie for those who love anime that tackle subject matter that American animation studios won't touch.
Also due this week is another anime movie,
The Princess and the Pilot
(NIS America, "13+," 99 min., BD $44.99), which was produced in 2011 by Madhouse and based a fantasy light novel by Koroku Inumura. This action-packed aviation romance focuses on a seaplane pilot who is given a nearly impossible assignment of flying 12,000 miles solo to rescue a beautiful princess who is next in line to the throne. This "Premium Edition" release includes a 32-page hardcover book filled with sketches, interviews, and detailed character information.
Fighting is also at the heart of
Kampfer: Fur Die Liebe
(Sentai Filmworks, "14+," 50 min., $19.98), which collects the two 2011 OVAs produced by Nomad that cap off the 12-episode 2009 series based on the romantic harem comedy about a teenage boy who not only has been turned into a girl, but must also join the ranks of the "Kampfer," a group of female fighters destined to brawl with other Kampfers.
New to Blu-ray is
Darker Than Black: Season 2 With OVAs
(Funimation, "17+," 400 min., $59.98), which includes all 12 episodes from the sci-fi noir series from 2009 produced by Bones plus the 4 Darker Than Black: Gaiden OVAs that were produced in 2010. Suffice it to say that this series looks and sounds superb in Blu-ray.
New releases for popular continuing series include
One Piece Season 4: Part 5 Uncut
(Funimation, "14+," 320 min. $39.98), which includes 13 additional episodes of the long-running anime pirate saga that remains the top anime/manga property in Japan,
Pokemon Black and White: Set 4
(Viz Media, "All Ages," 300 min. $19.99), which contains episodes 37-48 from the most recent (in the U.S.) iteration of the long-running
Pokemon
anime, and
Tiger and Bunny: Set 2
(Viz Media, "13+," 300 min.,$44.98, BD $54.97), which includes the second half of the 25-episode anime produced in 2011 by Sunrise. Set in a re-imagined version of New York City circa 1978,
Tiger and Bunny
is a superhero saga that American fans of the genre should certainly check out.
The best deal among this week's re-releases is the
My Bride Is a Mermaid Complete Series
(Funimation, "17+," 600 min., $29.98).
Tom Flinn
The opinions expressed in this column do not necessarily reflect those of the editorial staff of ICv2.com.