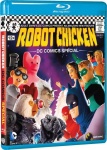 The home entertainment category is mired in its mid-summer doldrums, but there are some compensations including the
Robot Chicken DC Comics Special
, a cerebral revenge thriller from the director of the original
Girl With the Dragon Tattoo
, a teen romance misfire from
Twilight's
Stephenie Meyer, and a better-than-reviewed comedy featuring Tina Fey and Paul Rudd.
TV on DVD
The top geekcentric release this week is the
Robot Chicken DC Comics Special
(Warner Bros., 23 min., $14.98, BD $19.98). What DC hero can survive the Robot Chicken experience with his or her dignity intact? The answer of course is none, but that only makes this Cartoon Network special that much more endearing to DC comics fans. Top vocal talent (Nathan Fillion, Megan Fox, Neil Patrick Harris, Paul Reubens, and Alfred Molina) greatly enlivens this stop-motion animated action figure extravaganza, which contains occasional moments of brilliance such as the recurring "That's Bane" segment.
That hipster's delight known as
Portlandia
also returns with a third season of loose, improvised sketch comedy bits, some of which are as good as the best of any TV comedy these days.
Portlandia: Season 3
(VSC, 242 min., $19.95, BD $24.98) gets great mileage out of its gallery of aging hipsters who appear to be permanently stuck in the 1990s. SNL's Fred Armisen and Sleater-Kinney's Carrie Brownstein excel in this low key slacker series, which excels when they bring their gallery of Rose City eccentrics to life.
For science fiction fans there is
Warehouse 13: Season 4
(Universal, $49.98), which collects the penultimate season of SyFy series about the agents in charge of a warehouse full of supernatural artifacts.
The only animated TV release on Tuesday is
Ben 10: Omniverse, Vol.2: Heroes Rise
(Warner Bros., $19.97), a two-disc collection of ten episodes from the most recent
Ben 10
animated series.
The only other contemporary series is
Unforgettable: Season One
(Paramount, $59.98), which collects the first 12 episodes of the CBS series about a female detective with an eidetic memory, that was cancelled, but later renewed for a second season that will premiere later this month on (July 28).
Vintage series include the late 1970s western
How The West Was Won: The Complete First Season
(Warner Bros. 279 min., $19.98), which collects the first season of the series starring James Arness, Eva Marie Saint, and Bruce Boxleitner. This show, which was based on a mediocre Cinerama movie, began as a 1977 miniseries. But it has become a cult hit in Europe, so it has some potential on DVD.
Other vintage TV releases include
Bonanza: The Official Sixth Season
(Paramount, $59.98), which collects the popular NBC series, which was in the middle of its run when this season aired in 1965 and 1966, plus
Dynasty: The Seventh Season
(Paramount, $79.98), which collects the next-to-the-last season of the prime time soap opera, and the forensic detective series
Quincy, M.E.—Season 6
(Shout Factory, 870 min., $39.97).
Theatrical Movies
The Host
(Universal, "PG-13," $29.98, BD $34.98) is a teen romance/science fiction film based on a book by Stephenie Meyer (
Twilight
). Unfortunately the
Twilight
lightening didn't strike twice as this film only earned $48.2 million worldwide, and its domestic audience was pretty much limited to teenage girls, which is only fitting since the film puts more effort into its high school romance themes than it does into its science fiction trappings. While teenage girls may enjoy the film, other demographic segments will likely mirror the reactions of the critics who gave the film a pitiful 9% positive rating on Rotten Tomatoes.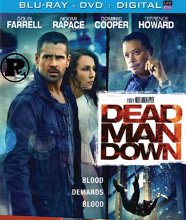 Danish director Niels Arden Oplev (
The Girl With the Dragon Tatoo
) puts a stylish gloss on what ordinarily might just be another revenge thriller in
Dead Man Down
(Sony, "R," $26.99, BD $35.99). This movie may be too thoughtful, too character-driven, and too languorous for those expecting a standard Hollywood revenge flick, and too violent for many art house movie fans, but both Noomi Rapace and Colin Farrell deliver strong, involved performances that are well worth viewing.
Admission
(Universal, "PG-13," $29.98, BD $34.98) is a comedy that is more heartwarming than hilarious, which doesn't sound like much of a recommendation in this irony-soaked era, but Paul Rudd and Tina Fey are among our best comic actors and it is refreshing to see them operating in a film that is not just another frenetic, throw-everything-at-the-wall farce.
For those undoubtedly literate few who aren't familiar with the CV of Kim Kardashian should think about checking out
Tyler Perry's Temptation
(Lionsgate, "PG-13," $29.98, BD $39.99). While it is not one of the prolific writer/director's best efforts, TPT does feature a performance by Kardashian that might set some sort of screen record for whining.
Anime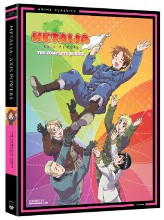 It's all reissues this week, but they are choice. The top release is the
An
ime Classics edition of
Hetalia Axis Powers Complete Series
(Funimation, "17+," 260 min., $34.98), which includes all 52 episodes of the campy series with anthropomorphized characters for all the nations of World War II. Crass stereotypes clash in this wildly inappropriate re-imagining of WWII that became a worldwide anime and manga hit.
For those who love classic anime there is Osamu Tezuka's
Kimba, The White Lion
(Right Stuf, All Ages, 1145 min., $69.99), which includes all 52 episodes of the 1960s anime classic that had a definite influence on Disney's
The Lion King
.
Equally interesting to many is the 1987 OVA anime adaptation of Masamune Shirow's cyberpunk manga
Black Magic M-66
(Maiden Japan, "14+," 48 min., $19.98). Produced by Bandai Visual, this OVA was actually scripted by Shirow himself (he also shares the directorial credit with Hiroyuki Kitakubo).
Tom Flinn
The opinions expressed in this column do not necessarily reflect those of the editorial staff of ICv2.com.