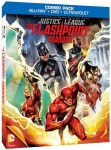 The "Theatrical Movies" category yields
G.I. Joe Retaliation
and not much else this week, but there is the
Justice League: Flashpoint
animated feature, the first season of a hot new crime series from Cinemax, plus new editions of the brilliant English mystery series
Midsommer Murders
, a new 2012
Lupin III
anime series, but the best of this week's offerings could well be beautiful Blu-ray editions of two wonderful ghost stories, Guillermo Del Toro's
The Devil's Backbone
and John Carpenter's
The Fog
.
Direct to DVD
Justice League: Flashpoint
(Warner Bros., "PG-13," $19.98, BD $24.98) is the latest in the series of direct-to-DVD animated features from DC Comics and Warner Bros. Animation
. Justice League: Flashpoin
t doesn't spare the violence as it basically recaps the
Flashpoint
crossover that set up the complete demolition of the old DC Universe and the launch of the "New 52."
Theatrical Movies
The highest-grossing film due out on disc on Tuesday is
G.I. Joe: Retaliation
(Paramount, "PG-13," $29.99, BD/Combo $39.99). John M. Chu directed this sequel, which earned $122.5 million at the domestic box office, which is considerably less than the first
Joe
movie, though it earned $250 million overseas, which means that this film, which is loosely based on the Hasbro action figure and 1980s cartoon series, made money even though it was roundly panned by the critics (only 28% positive on Rotten Tomatoes).
Filly Brown
(Indomina, "R," $19.97, BD $29.95) stars the talented Gina Rodriguez as a Latina rapper, who is faced with trading her true identity for a chance a fame in the brutally competitive pop music world. This cautionary showbiz tale has been told many times before, but it gets a contemporary treatment here.
Assault on Wall St
. (Phase 4, "R," $29.99, BD $29.99) follows the downward spiral of a typical worker who is done in by the 2008 economic collapse and decides to take his anger out on the banker types who ruined his life. This overly simplistic populist message would have been problematic in the hands of even a great director, but in this case helmer Uwe Boll is definitely not up to the task on this film, which could muster only a 14% positive rating on Rotten Tomatoes.
For those who enjoy the sight of hateful married couples going at each other hammer and tongs (are there any
Who's Afraid of Virginia Wolf
fans out there?), there is
Between Us
(Monterey Video, "R," $26.95), which largely wastes the talents of Taye Diggs, Julia Styles, Melissa George and David Harbour in a saga with such predictable symmetry that it could only manage a 40% positive rating on Rotten Tomatoes—a rating that is particularly bad considering that the critics usually love this kind of stage-bound, uncinematic yell-fest.
As you might expect what we are dealing with during these "dog days" of home entertainment releases are films like
Between Us
, and
Assault on Wall St.
that did not receive a proper theatrical release. That doesn't mean that a film is no good, but it is not necessarily a good sign either. Another film in that category is
Black Rock
(Lionsgate, "R," $19.98, BD $24.99), a thriller set on the picturesque Maine coast that actually fared a bit better with the critics (a 49% positive Rotten Tomatoes rating).
TV on DVD
There are a number of key offerings in this category including a Blu-ray edition of
Star Trek: The Next Generation—Season 4
(Paramount, 1180 min., $129.99). This set includes lots of very interesting extras and certainly looks great in its high-def upgrade, though the price is out of line of with what studios charge for other series. It is clear that TV execs are imposing 1990s pricing on
Star Trek
fans simply because they can. In yet another example of exploitation Paramount is releasing
Star Trek: The Next Generation: Redemption
(Paramount, 86 min., $24.99), which includes the cliffhanger finale of
Season 4
and the first episode of
Season 5
together on a single Blu-ray disc.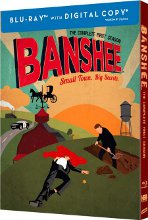 Cable TV and Netflix have supplanted broadcast television as the source for high quality, cutting edge dramatic programming. Pay channel Cinemax has been relatively late in developing its own series, but in
Banshee: Season One
(HBO, 600 min., $39.99, BD $49.99) the network has come up with a crime drama that will have most fans of the genre eagerly following this convoluted tale of an ex-con who comes to a small town in Pennsylvania's Amish country and manages to take over the identity of the area's incoming (appointed) Sheriff. As Sheriff the ex-con has to deal with local crime figures, while watching out for the long arm of a Ukrainian gangster who he ripped off. Banshee careens from one scene to the next in breakneck fashion with a fast-moving plot punctuated by scenes of extreme brutality and cheesy softcore "cable" sex. The formula is way too reminiscent of a certain type of "men's" magazine, but in spite of the pro forma sex and violence, the writers of
Banshee
deserve credit for the creation of the unlikely Amish gangster Kai Proctor as well as a serial drama with multiple points of tension from its numerous plot strands. The photography of Banshee is generally first rate. In spite of an over reliance on hand-held shots, they are well-composed and generally only shaky for effect. The rundown rural rustbelt Pennsylvania setting is well-realized and extremely photogenic.
Also due this week is another Cinemax series
Hunted
(HBO, 480 min., $39.95), an edge-of-your-seat thriller from
X-Files
producer Frank Spotnitz. Melissa George stars as an operative for an elite private security firm, who narrowly survives an attempt on her life that may well have been orchestrated by someone in her own company. When she returns to work and tackles a major assignment, she has to watch out for threats from all sides.
Animated series available this week include
The Angry Beavers: The Complete Series
(Shout Factory, 1320 min., $29.93), a massive 10-disc collection of all 63 episodes of the series that aired on Nickelodeon from 1997-2001. Also due this week is another 1990s series,
Samurai Pizza Cats
(Discotek Media, 1060 min., $79.95), a Saban series that was based on the
Kyatto Ninden Teyandee
anime series produced by Tatsunoko Productions in 1991.
Another Saban series adapted from Japanese source material is getting a release in
Power Rangers: Seasons 4-7
(Shout Factory, 3660 min., $129.99), a humungous 21-disc set that collects the American version of a number of
Super Sentai
series including
Denji Sentai Megaranger
, which appeared here as
Season 6: Power Rangers in Space
.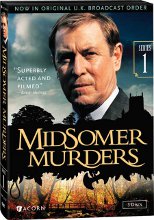 Readers of this column are well aware of its author's undying devotion to
Midsommer Murders
, the superbly-produced series of murder mysteries set in gorgeous English villages. First of all these feature-length sagas are "great" mysteries that keep viewers guessing to the last minute without having to strain credulity to the breaking point. Secondly they are brilliantly acted from the unflappable precision of John Nettles' DCI Tom Barnaby down to the smallest speaking roles. The settings are gorgeous, the crimes ingenious, and generous dollops of humor make for one of the most pleasurable viewing experiences that television can offer.
Midsommer
actually accomplished the near impossible by successfully replacing its key protagonist when Nettles retired after 15 years (and 81 feature-length episodes) on the show. Now Acorn Media is releasing the
Midsommer Murders
in broadcast order in new more affordable versions complete with subtitles, which were not available on the early Midsommer releases here in the US.
Midsommer Murders: Series I
(Acorn Media, 529 min., $59.99) contains 5 feature-length mysteries with a roster of guest stars that includes Emily Mortimer, Jonathan Firth, Anna Massey, Joanna David, Bernard Hepton, Julian Glover, and Nicholas Le Prevost. This week Acorn is also releasing Series 2-5 of
Midsommer Murders
in the new subtitled letterboxed format.
Classics on Blu-ray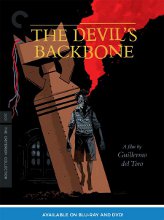 Guillermo Del Toro has been taking a lot of heat for the less-than-stellar debut of
Pacific Rim
, but there is no denying that whatever its box office failings, Pacific Rim is the most visually arresting of this summer's blockbusters. Whatever the subject matter, Del Toro attacks it with an arresting and very personal visual style. Nowhere is that style more evident than in
The Devil's Backbone
(Criterion, "R," BD $39.95), which arrives in a high quality new hi-def transfer personally supervised by Del Toro and cinematographer Guilermo Navarro. Del Toro called this 2001 ghost story/horror film set in Spain in 1939 at the very end of the Spanish Civil War his most personal film and this new Criterion version presents the film in the very best form that any of us are ever likely to view it. The Devil's Backbone is one of those rare films that earns accolades both from highbrow film critics and from the very knowledgeable, if somewhat gore-obsessed folks at horror movie site Bloody Disgusting.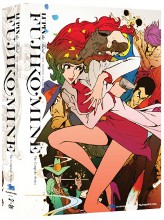 Also out on Blu-ray on Tuesday is John Carpenter's
The Fog Collector's Edition
(Shout Factory, "R," BD $29.93).
The Fog
was made in 1980 and shot for just a million dollars on what was little more than shoestring budget that often involved shooting at low light levels without a lot of sophisticated lighting gear. The special effects were produced on optical printers, which also lessens sharpness, so there is a real difference in clarity when
The Fog
is compared with a modern film shot for hi-def or even a film like
The Devil's Backbone
that was made twenty years later in 2001. So while this is the best home entertainment version of
The Fog
we are likely to see, and Shout Factory did a good job with the transfer, which was supervised by cinematographer Dean Cundley, don't expect a 2013 level of sharpness. That said, this is still a major upgrade for a classic horror film that features a trio of scream queens, Jamie Lee Curtis, Adrienne Barbeau, and Janet Leigh that has probably never been equaled in the history of cinema. When "The Fog" roles in and the ancient mariners rise,
The Fog
is one moody masterpiece that should be in every horror fan's collection.
Anime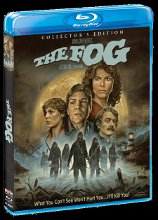 The top release in this category this week is
Lupin the Third: The Woman Called Fujiko Mine
(Funimation, "17+," 320 min., DVD/BD Combo $64.95, Ltd. Ed. $69.95), which collects all 13 episodes of the 2012 anime series created by TMS. This most recent
Lupin III
series focuses on the franchise's heroine, the shapely Fujiko. This series is darker, more serious and definitely sexier than previous
Lupin III
series, and for the first time the primary focus is on Fujiko rather than the master thief Lupin. This series was simulcast by Funimation back in 2012, but is now available with an excellent English language dub. The Limited Edition comes with an art book that fans of the series will definitely enjoy.
Also interesting is
Another
(Sentai Filmworks, "14+," 300 min., $59.98, BD $69.98), a collection that includes all 12 episodes from the 2012 anime series created by P.A. Works, a haunting mystery saga with plenty of "horror movie" overtones that is based on novel by Yukito Ayatsuji that is published here by Yen Press.
Tom Flinn
The opinions expressed in this column do not necessarily reflect those of the editorial staff of ICv2.com.