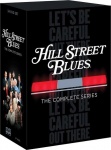 In spite of a very weak slate of theatrical releases, there are some home entertainment items worth your attention this week including a complete set of the groundbreaking 1980s ensemble cop drama
Hill Street Blues
, the BD debut of the fourth season of
Star Trek: Enterprise,
the DVD debut of half the episodes of the 1978 Hanna-Barbera/Toho
Godzilla
animated series, and a remarkably faithful live-action adaptation of the
Space Battleship Yamato
anime.
TV on DVD
Most of this week's most interesting releases are of the vintage variety—the only live-action contemporary release in
Mr. Selfridge
(PBS, 500 min., $39.99, BD $44.98), a rare PBS misfire, a bland drama about the American department store magnate behind one of the UK's greatest 20th Century shopping emporiums.
Far more interesting is
Hill Street Blues: The Complete Series
(Shout Factory, 7200 min., $199.99), which contains all 146 episode of the Emmy Award-winning 1980s ensemble cop series that remains one of the most beloved TV dramas of the 20th Century. "Let's be careful out there" was the motto of this humane cop series that attempted to humanize both its cops and crooks.
The final season of the underrated
Star Trek: Enterprise
is now out on Blu-ray.
Star Trek: Enterprise Season 4
(Paramount, 1009 min., $129.99) includes all 22 tear-stained episodes from the last season of Star Trek prequel series. As usual Paramount is charging too much, but at least the series is now available in hi-def.
Other vintage series of note include
Maverick: The Complete 5th Season
(Warner Bros., 650 min., $34.95), though I should caution folks that this set is for
Maverick
fetishists only, since all 13 episodes it contains feature the relatively talentless Jack Kelly as Bret Maverick's (James Garner) dull brother Bart; the prime time soap opera
Dynasty: The 8th Season
(Paramount, $69.98); and
Without a Trace: The Complete 7th Season
(Warner Bros. 1024 min., $39.95), the final season of the police procedural that aired in 2009.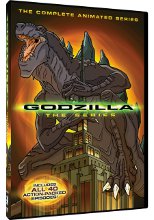 With a new
Godzilla
movie set to hit theaters next month,
Godzilla
fans will definitely want
Godzilla: The Complete Animated Series
(Mill Creek, 720 min., $14.98), which contains all 26 episodes of the Hanna-Barbera/Toho production from 1978. This will mark the first time that all 26 episodes of this series have been available on DVD—and the price is right! The only other animated TV release is the single-disc
SpongeBob SquarePants: You're Fired
(Nickelodeon, 186 min., $14.98).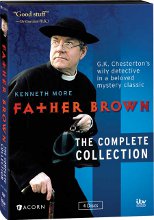 Releases from the UK include
Father Brown: The Complete Collection
(Acorn Media, 671 min. $59.99), which contains all 13 episodes from the 1974-75 ITV series starring Kenneth More as G.K. Chesterton's clever priest/detective. With a new
Father Brown
series airing in the UK last year, now is a good time to check out this classic series, which captures the wit and humanity of Chesterton's original stories. While these episodes do show their age, they will not fail to entertain fans of the traditional English murder mystery.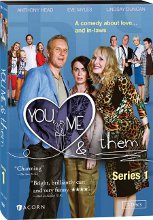 Of considerably more recent vintage is
You, Me & Them: Series 1
(Acorn Media, 185 min., $39.98), a 2013 sitcom about couple Ed (Anthony Head) and Lauren (Eve Myles) who are madly in love in spite of their 26-year age gap, and the fact that Ed's narcissistic delusional ex-wife lives next door. Those who enjoy the clever writing and character-driven narratives of UK sitcoms will find much to like
You, Me & Them.
Anime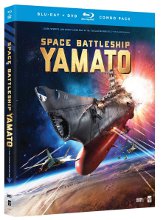 Top releases this week include
Eureka Seven: Good Night, Sleep Tight Young Lovers
(Funimation, "14+," 117 min., BD/DVD Combo $34.95), an anime feature film from 2009 that features
Eureka 7
mainstays Renton and Eureka as the main characters, but is set in a new universe and features a new mythos. Those who enjoy the original
Eureka Seven
world will find this film a very nice addition to the franchise, which adds lots of new elements, but manages to keep the same spirit.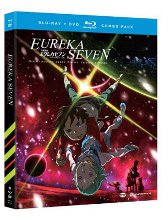 We typically don't review live-action films in the anime section, but
Space Battleship Yamato
(Independent Film, "14+," 138 min., BD/DVD Combo $29.98), is a 2010 live-action science fiction film that is closely based on the classic anime series
Space Battleship Yamato
. Since
Space Battleship Yamato
is such an iconic and seminal anime, it is especially interesting to check out a live-action version.
While there are no other new releases this week there are lots of interesting reissues including a quartet of cool offerings from Eastern Star including Osamu Tezuka's
Unico Double Feature
(Eastern Star, 180 min., $19.95) which includes two Unico anime features,
The Fantastic Adventures of Unico
from 1981 and
Unico in the Island of Magic
from 1983; the superb dystopian science fiction anime film
Jin-Roh: The Wolf Brigade
(Eastern Star, 105 min., $19.95), a 1999 film based on Mamoru Oshii's
Kerberos Saga;
the striking 2006 anthology of short anime films from Studio 4C,
Amazing Nuts
(Eastern Star, 60 min., $19.95); and the classic 1972-74 TV super robot anime
Mazinger Z TV Series Set 1
(Eastern Star, 1150 min., $69.95), which includes the first 46 episodes of the 92-episode series based on the manga by Go Nagai.
Other re-priced reissues include
Cat Planet Cuties Complete Series
(Funimation, "17+," 288 min. BD/DVD Combo, $24.98), and the
Shangri-la Complete Series
(Funimation, "17+," 600 min., $19.98).
Theatrical Movies
It would be hard to imagine a lower rated bunch of releases than this week's theatrical offerings, but ironically the film with the worst critical notices,
The Legend of Hercules
(Summit, "PG-13," 98 min., $29.98, BD $39.99), which stars Kellen Lutz as Herc, but which could only manage a 3% positive rating on Rotten Tomatoes. This is a sword-and-sandal sausage fest that only collectors of
Hercules
films, if any people answering to that description actually exist, would want. Those who enjoy the genre should wait until the Brett Ratner film starring the Rock and based on the
Hercules: The Thracian Wars
comic book debuts on July 25,2014.
'
The found footage horror film
Devil's Due
(Fox, "R," 90 min., $29.98, BD $39.99) wastes an interesting premise and turns into a micro-budget dog's breakfast version of
Rosemary's Baby
that could muster only an 18% positive rating on Rotten Tomatoes.
Not much better according to the critics (only 22% positive) is
Gimme Shelter
(Lionsgate, "PG-13," 101 min., $19.98, BD $24.99), which stars Vanessa Hudgens as a pregnant teen runaway and plays like a typical "movie of the week."
Escape From Tomorrow
(Gaiam, "Not Rated," 90 min., $19.97) is definitely not for everyone. Director Randy Moore shot the film undercover in Disney theme parks. A typical American family man loses his job and then packs the wife and kids off to the Magic Kingdom where the juxtaposition of the white bread fantasy environment and his dire situation leads to a surrealistic breakdown of epic proportions. In spite of its critic-friendly anti-establishment theme,
Escape From Tomorrow
could manage only a 56% positive rating on Rotten Tomatoes—which has to be seen as something of a warning sign that this Sundance darling might not be everyone's cup of tea.
Tom Flinn
The opinions expressed in this column do not necessarily reflect those of the editorial staff of ICv2.com.