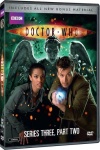 In the midst of the summer home entertainment drought there are a few items of refreshing interest including a lower-priced edition of the third series of the new
Doctor Who
, the Israeli series that
Homeland
is based on, a superb documentary about a great science fiction epic that never was (Jodorowsky's
Dune
), and an action movie with such a frenetic pace and high body count that it "almost" could serve as a reducio ad absurdum for the entire genre.
TV on DVD
The BBC is continuing to put out the modern
Doctor Who
series in two-part season sets with each part retailing for $19.95.
Doctor Who: Series 3, Part 2
(BBC, 315 min., $19.95) includes material that has been available since 2007, but in complete series sets that retailed for $79.98, which means that this excellent science fiction series, which stars David Tennant, is available at half its original per-episode cost.
Of great interest to those who enjoy Homeland is
Prisoners of War: Season 1
(Shout Factory, 500 min., $29.93), which includes all ten episodes of the first season of the Israeli drama series Hatufim (literally "abductees"), which was purchased by Fox and adapted into the critically-acclaimed Showtime series
Homeland
. Shout Factory does their usual excellent job with this set, which contains some excellent extras including commentaries by series creator Gideon Raff as well as an excellent behind-the-scenes documentary about the making of the series.
Another Shout Factory release of interest is
The Soul Man: The Complete First Season
(Shout Factory, 255 min., $19.97), the TV Land sitcom starring Cedric the Entertainer that spun off from
Hot in Cleveland
. This week's only vintage release is
The Big Valley: Season 3
(Timeless Media, 1350 min., $34.93).
Animated releases debuting this week include
Transformers: More Than Meets the Eye, Roar of the Dinobots
(Shout Factory, 132 min., $9.99), which collects six classic
Transformers
episodes, and two single-disc releases featuring the Rugrats,
Rugrats: Outdoor Shenanigans
(Nickelodeon, 71 min., $9.98), and
Rugrats: Reptar Returns
(Nickelodeon, 72 min., $9.98).
U.K. shows debuting in the U.S. include
Vicious: Season 1
(PBS, 210 min., $29.99), the arch sitcom about an elderly gay couple played with great style and aplomb by Ian McKellan and Derek Jacobi. The show debuted in the U.K. in 2013 and on PBS here in the States last month. The barbs fly to and fro as the longtime couple entertains their frequent guests and makes sure that their ancient canine Balthazar is still living.
Also currently appearing on PBS is
Endeavour: Series 2
(PBS, 360 min., $39.98, BD $44.99), the detective drama series starring Shaun Evans as a young Endeavour Morse, a fledgling constable with the Oxford Police, in what is a prequel to the long-running
Inspector Morse
series.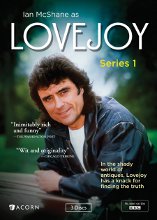 But the best of the imports this week is
Lovejoy: Series 1
(Acorn Media, 530 min., $49.99), which includes the entire first season of the delightful comedy-drama series starring Ian McShane as a somewhat dodgy, but good-hearted, antiques dealer based in East Anglia. Based on the picaresque novels of John Grant (writing as Jonathan Gash), this series, which began in 1986, features a gallery of engaging characters including Lovejoy's hard-rocking apprentice Eric Catchpole, the euphonious Tinker Dill, a tout played to the hilt by Dudley Sutton, and Lovejoy's antagonist the smarmy Charlie Gimbert (Malcom Tierney). While this 30-year-old material doesn't always look great, the new transfer makes this a significant improvement over the older version that was available here, which did not include subtitles, which the new one does. This show is not for everyone, but those who enjoy
The Rockford Files
will find in
Lovejoy
a kindred spirit to their beloved Rockfish, a wised-up con, who is not about to be taken advantage of by anyone.
Anime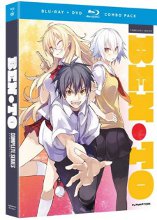 This week's top release is the
Ben-To Complete Series
(Funimation, "14+," 230 min., BD/DVD Combo $64.98, Ltd. Ed. $69.98), which collects the 12-episode anime series from 2011 that is based on a popular series of light novels written by Asaura about an impoverished high school kid who eventually learns how to hold his own in the major struggle to claim the half-price (day-old) bento boxes.
Also of interest is the
Flowers of Evil Complete Collection
(Sentai Filmworks, "17+," 325 min., $49.99, BD $59.99), which includes all 13 episodes of the 2013 anime series from Zexcs based on the manga by Shuzo Oshimi about a teenage bookworm who is caught in the act of stealing the gym clothes of a girl he is in love with by another girl who blackmails him and sets off the events of this wonderfully strange (only in Japan) psychological thriller.
Another new title of interest is the
Sasami-san@Ganbaranai Complete Collection
(Sentai Filmworks, "17+," 300 min., $49.98), which includes all 12 episodes of 2013 anime produced by Shaft based on the fantasy light novel series about a "hikikomori" (voluntary shut-in) who is doted upon by her brother, who is unaware of his godlike powers and the effects of his attempts to please his sister.
Theatrical Movies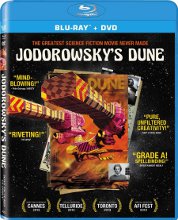 It is a testament to how obscure this week's theatrical releases are that the top offering is a documentary,
Jodorowsky's Dune
(Sony, "PG-13," 90 min., BD $40.99), the sad story of a sci-fi epic that might have been. In 1975 the Chilean director of
El Topo
assembled a cast including Orson Welles, Mick Jagger, David Carradine, and Salvador Dali along with designers H.R. Giger and Jean "Moebius" Giraud to create an adaptation of Frank Herbert's epic novel. Director Frank Pavich does an excellent job of unearthing the full story of what happened to this star-crossed project.
Action adventure movie fans who favor films with a huge body count should be overjoyed with
The Raid 2
(Sony, "R," 150 min., $30.99, BD $35.99). Directed by Gareth Edwards (
Godzilla
),
The Raid 2
is two-and-one-half hours long, though the film's frenetic pace and non-stop action never allows the narrative to flag. As harrowing as the original
The Raid
was,
The Raid 2
ups the ante, both in tension and ultra-violence. While it is definitely not for everyone, even in this supposedly "censored" form,
The Raid 2
is bound to please most hardcore action movie fans with its inventively-staged fight sequences and non-stop momentum. Critics didn't like this film as much as audiences, but it still managed an impressive 80% positive rating on Rotten Tomatoes.
For those who like "R" rated misanthropic comedies there is
Bad Words
(Focus Features, "R," 178 min., $29.98, BD $34.98), which stars Jason Bateman as a 40-year-old who finds a loophole and enters the national Spelling Bee in a film that does to Junior High School competitions what
Bad Santa
did to Christmas. Jason Bateman, who also directs, is fearless in his portrayal of a thoroughly unlikeable character in this black comedy, which features more blue language that the boiler room of a tramp steamer.
Tom Flinn
The opinions expressed in this column do not necessarily reflect those of the editorial staff of ICv2.com.