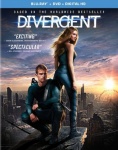 This week's home entertainment releases include the franchise-generating YA novel adaptation
Divergent
, the excellent horror film
Oculus
, the cult favorite single camera sitcom
Community
, more lower-priced modern
Doctor Who
, a three-pack of excellent TV movies featuring Leslie Charteris'
The Saint
, and a new anime short film anthology put together by Katsuhiro Otomo (
Akira
).
Theatrical Movies
This week's most popular release will likely be
Divergent
(Lionsgate, "PG-13," 139 min., $29.95, BD $39.99), a teenage post-apocalypse movie in the mode of
The Hunger Games
(
Divergent
is also based on a popular YA novel series) that stars Shailene Woodley as a teen "square peg" who doesn't fit in with her highly regimented society of the future. Made for $85 million
Divergent
earned $151 million here and $275 million worldwide, so unlike
Beautiful Creatures
and so many other attempts at duplicating the success of
Twilight
and
The Hunger Games
,
Divergent
was successful enough to spawn a sequel, though it was not a hit on the scale of either
Twilight
or
The Hunger Games
.
There have been more faith-based movies released in the U.S. in 2014 than superhero movies, and one of the most direct in its approach to the modern secular world is
God's Not Dead
(Pure Flix Ent., "PG," 114 min., $24.95, BD $29.98), a film that tackles the existence of God as its central issues and marshals its arguments in ways that many believers find very reassuring. Former "Hercules" star Kevin Sorbo stars in the film that alternates between classroom arguments and vignettes.
Horror movie fans get a treat this week with the release of
Oculus
(Fox, "R," 104 min., $29.98, BD $39.99), a clever paranormal thriller that has overtones of Robert Bloch's short story "The Hungry House" and recalls
Psycho
in the way in which it creates tension and chills with relatively brief scenes of violence, rather than the buckets of blood and core that festoon most modern horror films.
Oculus
managed a 74% positive rating on Rotten Tomatoes, a very solid mark for a horror movie of any type, which should give you a clue that this could be a very interesting effort.
Need for Speed
(Disney, "PG-13," $29.98, BD $39.99) is a cross-country street racing movie that is loosely based on the popular series of
Need for Speed
video gamers. Although the film only earned $45.3 million here in North America, it took in $203.3 million worldwide, doing better in China than in the U.S. Critics hated this pulse-pounding fully-jacked thrill fest, which could muster only a 23% positive rating on Rotten Tomatoes.
Need for Speed
is no
Fast & Furious
, but it should appeal to fans of the video game and lovers of the street racing genre.
TV on DVD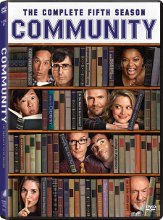 This week's top geek-friendly release is
Community: The Complete 5th Season
(Sony, 325 min., $35.99), Dan Harmon's idiosyncratic single-camera sitcom set at a community college in Colorado. NBC cancelled the series, which is both a critics' darling and a cult favorite, after the fifth season, but fortunately Yahoo! Screen stepped in and ordered a 13-episode sixth season. With its strong ensemble cast, forays into meta-humor, and general pop culture savvy,
Community
remains one of the most innovative comedy series on television.
The other release of keen interest to geek viewers is
Doctor Who: The 4th Series, Part 1
(BBC, 345 min., $19.95), which continues the re-releasing of the revived
Doctor Who
series in lower cost half-season sets.
Other contemporary series due out on Tuesday include the Australian mockumentary
Ja'mie: Private School Girl
(HBO, 180 min., $29.98), which appears in the U.S. on HBO, the gritty New York City crime drama
Golden Boy: The Complete First Season
(Warner Bros., 533 min., $29.95), which was written by Green Lantern scribe Greg Berlanti and deserved a far better fate than its quick cancellation, if only for the exceptional performance of Chi McBride as a veteran police detective, the sketch comedy series
The Birthday Boys: Season 1
(Starz, 230 min., $29.98), the MTV comedy series
Awkward: Season 3
(MTV, 440 min., $26.98) and
Californication: The Final Season
(Showtime, 337 min., $42.99).
Animated TV shows out this week include the popular Cartoon Network series
Ninjago: Season 3, Part 1 Battle for New Ninjago City
(Warner Bros., 88 min., $14.98), and
Transformers Cybertron: The Complete Series
(Shout Factory, 1200 min., $44.99), which collects the complete 52-episode 2005-2007 CGI series produced in Japan by Gonzo. This set has few frills, and was issued previously in 2008, but for Transformers fans
, Cybertron
is one of the most interesting modern series, and the new price is much very reasonable for a 7-disc set.
As for those "might as well be animated" live-action kid series, there are two releases of interest,
Power Rangers in Space Vol. 1
(Shout Factory, $19.95), and the 1995 vintage live-action
Ninja Turtles: The Next Mutation: Turtle Power
(Shout Factory, $14.95).
Vintage TV series releases include the sitcom
Mad About You Seasons 1& 2
(Mill Creek, 950 min., $14.98—each season is also available individually for $9.98), the Fran Drescher comedy
The Nanny
Seasons 1&2
(Mill Creek, 1200 min., $14.98, or individually for $9.98 each), the full color
Perry Mason Movie Collection, Vol. 3
(Paramount, 300 min., $59.99), a sampler from the vintage comic strip-inspired sitcom
Dennis the Menace: Vol. 2
(Mill Creek, 707 min., $12.98), and the most interesting of this week's vintage offerings are the first four seasons of
Naked City Season 1
(Image Entertaiment, 1014 min., $29.98, Seasons 2-4 also $29.98 each), the award-winning police drama that aired on ABC from 1958-1963 and featured a host of actors who later became stars including Robert Redford, Alan Alda, Ed Asner, Robert Blake, James Caan, Diahann Carroll, James Coburn, Bruce Dern, Robert Duvall, Diane Ladd, William Shatner, Rod Steiger, Cicely Tyson, Christopher Walken, Tuesday Weld and Dick York, to name just a few.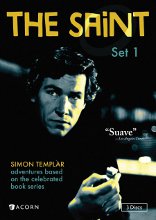 The top U.K. release available here this week is
The Saint Set 1
(Acorn Media, 296 min., $49.99), which includes 3 feature-length adventures featuring Leslie Charteris' Simon Templar. Produced in the late 1980s, this series benefits from great scripts by Anthony Horowitz (
Foyle's War
), and superb location photography. The movies in this set include
The Brazilian Connection, The Blue Dulac
, and
Fear in Fun Park.
Anime
This is a busy week for anime releases with a number of interesting titles including
Dragon Ball Z Season 6 Uncut Blu-ray
(Funimation, "13+," 685 min., BD $44.98), which contains the end of the "Android and Cell Saga," with the original uncut episodes newly updated in glorious hi-def. Yes the image is cropped, but the visuals and soundtracks are upgraded so much that only the most dedicated purists will object.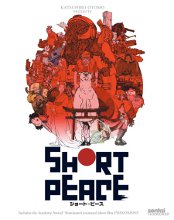 This week's most interesting release is
Short Peace
(Sentai Filmworks, "17+," 88 min., $24.98, BD $29.98), a collection of four short anime films that echoes Katsuhiro Otomo's
Memories
, which was released in 1995. Otomo is behind this collection as well and it contains "Combustible," a powerful tale of love, honor, and firefighting in ancient Japan, as well as the 2013 Academy Award-nominated "Possessions" directed by Shuhei Morita, the apocalyptic men battling robotic tanks saga "A Farewell to Weapons," and the ferocious "Gambo," the story of a mysterious white bear who defends the royal family from a red demon in a short directed by Hideki Anno (
Evangelion
).
Also new to North America this week is
Love Lab: The Complete Collection
(Sentai Filmworks, "14+," 325 min., $49.98, BD $59.98), which includes all 13 episodes of the 2013 series produced by Dogakobo and based on the popular 4-panel comedy manga written and drawn by Ruri Miyahara.
Re-priced reissues include
Freezing
(Funimation, "17+," 300 min., DVD/BD Combo $39.98), a fan-service filled saga originally released here in 2012, and the
Sengoku Collection
(Right Stuf, "16+," 650 min., $49.98), which includes the 13-episode 2009 and 2010
Sengoku Basara
anime series produced by Production I.G. and based on the popular Capcom samurai videogame.
Classics on Blu-ray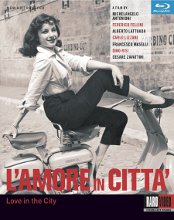 Love in the City
(Kino, "Unrated," 105 min., $29.95, BD $34.95) is a 1953 Italian anthology film (
L'Amore in Citta
) conceived by neorealist pioneer Caesar Zavattini, who also directs the longest of the six segments. Other directors include Frederico Fellini and Michelangelo Antonioni, though their two segments are the weakest. This anthology was originally intended as a sort of cinema magazine with various directors tackling a common theme on a semi-regular basis, and it stands today as a fascinating example of Italian neorealism in action. The actual visual quality of the Blu-ray is only just fair, but the film itself is fascinating and there is a wealth of extras including commentaries on each short film as well as a very informative booklet that should make this package very attractive for cinephiles.
Tom Flinn
The opinions expressed in this column do not necessarily reflect those of the editorial staff of ICv2.com.