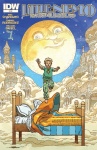 Confessions of a Comic Book Guy is a weekly column by Steve Bennett of Super-Fly Comics and Games in Yellow Springs, Ohio. This week, Bennett finds a successor to Marvel's Oz books, a different Doctor Who TV Guide, and two new anti-bullying comics.
For months I've been mourning the end of Marvel's series of adaptations of the
Oz
books by L. Frank Baum (the ones currently in the public domain anyway), by Eric Shanower and Skottie Young. Not because they were "good comics for kids" or provided much needed "diversity" to the field but because they were some of the best comics being published. It was one of my flat out favorite comics, one that month after month I legitimately looked forward to reading. And while I really wish Marvel would spend a little of their Disney money to obtain the rights so Shanower and Young could adapt the rest of the
Oz
books, I'm not exactly holding my breath. They have
Original Sin
spin-offs to publish.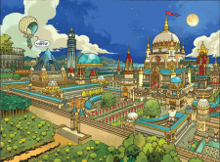 So I'm happy to report that Shanower's comic
Little Nemo In Slumberland
is more than a worthy replacement for them. To be honest I had my doubts, not that it would be good, but I honestly didn't know what to expect from a
Little Nemo
revival, and while it's currently popular to try and revive antique comic characters (first Jeffrey Katzenberg announces a
Felix the Cat
movie, then Simon Cowell wants to do one featuring Betty Boop, what's next,Quentin Tarantino's
Mutt and Jeff
?), I wasn't sure it was a good idea. Having zero preconceptions served me well though, because the comic by Shanower and artist Gabriel Rodriguez is a thing of beauty and genuine joy. I bought it as a download and while its colorful settings and creatures makes it a comic worth reading in any format, as a digital comic it has the added advantage of being able to become literally immersed in it. As with this magnificently detailed double-page spread when our new Nemo first sees Slumberland.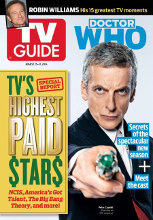 Last week I made much of the fact that
Doctor Who
made the cover of
TV Guide
(see "
Confessions of a Comic Book Guy--The Things I Don't Know
"), seeing it as yet another sign of mainstream America's growing acceptance (or at least acknowledgement of the existence) of the show. The cover I posted was definitely used, it was on my subscribers copy, but while on my weekly pilgrimage to Kroger's I found this, which appears to be a "variant." The one at our nation's checkout counters features the same photo of Peter Capaldi, but it's condensed roughly by half and it's now sharing the space on more or less equal terms with text heralding the story "TV's Highest Paid Stars," a subject that is undoubtedly of much more interest to mainstream Americans.
And while as previously established I can be magnificent in my obliviousness, I did notice something substantially different about recent issues of
TV Guide
; they were quite a bit smaller. And after a bit of an internet search I found my confirmation in the article "
TV Guide Shrinking Magazine in Major Redesign
" by James Crugnate on the website
The Wrap
. I had assumed that it was a cost cutting measure, you know, the way the standard comic book has been whittled down inch by inch over the years to reach its current meager dimensions. But no, it's reduction in size (it's now 7 by 10 inches, or slightly wider than a modern comic) probably has more to do with the fact that it's now "roughly the size of an iPad" according to
Guide
spokesman Howard Polskin. Which is significant seeing as how the tablet is the principal way the current generation watches television, and if
TV Guide
is going to continue they'll have to appeal more to them and less to guys like me. And maybe it provides us with a new selling point--"comic books, approximately the size of an iPad."
Bullying is one of my more regularly ridden hobby horses here (see "
Confessions of a Comic Book Guy--Bully For You
"), and I reserve the right to revisit the issue because while I wasn't physically bullied all that much growing up, it happened just often enough to firmly establish that anyone could do anything to me at any time without fear of repercussions. And if you think that someone ever really gets over that, well, I'm a man in my 50's and I'm still waiting for Peter Parker to kick Flash Thompson's ass. So naturally the other thing that caught my attention about this issue of
TV Guide
was the full page ad on its inside back cover for "Speak Up Week," this year's event for Cartoon Network's "Stop Bullying Speak Up" promotion.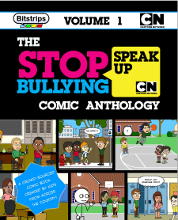 If you go to the CN website, among other things you'll find related videos, a blog, a tip sheet, badges, a 'Stop Bullying' flag you can print out and, hey, a comic book. I suppose I was expecting the standard issue Public Service comic featuring characters from either the Time-Warner or Cartoon Network libraries. Which would have been somewhat problematic seeing as how many of them solve their problems with violence. But instead there's The Stop Bullying Speak Up Comic Anthology, a 30-page comic "created by kids from across the country" using the Bitstrips app. It's also a "free printable guide" for teachers about "putting a stop to bullying around us." Its final page features the 'Stop Bullying: Speak Up Comic Challenge,' which asks kids to share their anti-bullying ideas through "the power of comics."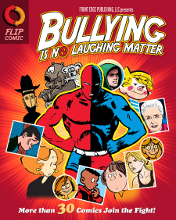 And since we're now on the subject I probably should mention
Bully Is No Laughing Matter
, a 112-page full color paperback by Kurt Kolka featuring "36 popular comics." Along with Kolka's own creation, The Cardinal, there's material featuring the syndicated comic strips
Beetle Bailey, Dennis The Menace, Gasoline Alley, Blondie, Dick Tracy, Brenda Starr, Luann, For Better or For Worse, Broom-Hilda, Little Orphan Annie, Jump Start
,
Funky Winkerbean, Mary Worth, Gil Thorp, Green Lama, Judge Parker, The Phantom, Judge Parker
and
Alley Oop.
It's part of an obviously well intentioned anti-bullying campaign, but honestly what really got my attention about this book was the fact on the cover was, unmistakably, the Golden Age Daredevil. I checked and yep, I don't know how but Mary Worth gets to rub shoulders with
Daredevil and the Little Wise Guys, Green Lama, The Monster of Frankenstein
and
The Sword.
The opinions expressed in this column are solely those of the writer, and do not necessarily reflect the views of the editorial staff of ICv2.com.