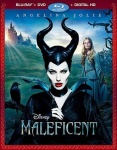 This week's home entertainment releases include this year's best
Hercules
movie, which is based on a comic book, plus the hugely successful live-action, dark fantasy
Maleficent,
as well as a slew of box sets designed for holiday giving including a great
Doctor Who
collection and an equally collectible offering for the BBC's
Sherlock
TV series.
Theatrical Movies
This week's major release is
Malificent
(Disney, "PG," 97 min., $29.98, BD $36.99), a live-action fantasy starring Angelina Jolie, and featuring characters from the classic
Sleeping Beauty
fairy tale.
Maleficent
earned $241.9 million at the domestic box office (and more than twice as much overseas). While critics were ambivalent about
Malificent
, which managed only a 49% positive rating on Rotten Tomatoes, audiences loved this dark fantasy, which includes an element of redemption that was not in the original story.
Maleficent
may be a little too dark (and initially slow) for younger children, but there is nothing that parents will likely find objectionable for tweens and up
. Maleficent
is a fantasy, and as such will not please the literal-minded, but it is a highly imaginative "side story" set in the world of
Sleeping Beauty
that even those who find classic Disney sagas too saccharine will enjoy.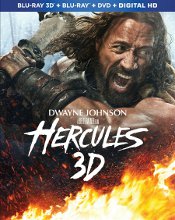 The second-highest grossing film due out on Tuesday is
Hercules
(Paramount, "Unrated," $29.99, BD/3D BD/DVD $54.99), which is based on the Radical Comics title
Hercules: The Thracian Wars
and stars Dwayne "The Rock" Johnson as the film's eponymous hero. Director Brett Ratner adds plenty of humor (aided by Ian McShane as the proto-hippie Amphiaraus) to leaven the bloody action scenes. Action movie fans and those who enjoy The Rock's screen persona will likely find this film enjoyable. It certainly beats the pants off Renny Harlin's
Hercules: The Legendary Journeys
and one would have to be seriously invested in nostalgia futures to prefer the old Steve Reeves Italian
Hercules
epics.
For the kids this week there is
Planes: Fire and Rescue
(Disney, "PG," 84 min., $29.99, BD $39.99), the sequel to Disney's knock-off of Pixar's
Cars
with anthropomorphic airplanes instead of talking automobiles. While the original
Planes
, which came out in 2013, it earned almost twice as much as
Planes: Fire and Rescue
, this time it is the sequel, with a powerful story about fighting a giant wild fire, that is the better film.
The best-reviewed film out this week is
A Most Wanted Man
(Lionsgate, "R," 121 min., $26.98, BD $29.99), which earned a stellar 90% positive rating on review aggregator Rotten Tomatoes and features one of Phillip Seymour Hoffman's final performances in a tense drama set in Germany in the wake of 9/11. Hoffman plays the head of a German anti-terrorist squad following a mysterious Chechen, who enlists the services of a human rights lawyer played by Rachel McAdams to get the cops off his back. This is a slow-developing, highly realistic, and often surprising examination of some of the major dilemmas of our current age that is likely to please serious moviegoers.
For those who like tidy little genre films there is
Step Up: All In
(Lionsgate, "PG-13," 101 min., $29.98, BD $39.99), a kinetic dance film that was presented in theaters in 3-D, but is not available in the U.S. on a 3-D disc. Studios definitely appear to be stepping back from their support of 3-D Blu-ray as Disney did also decided not to release
Maleficent
on a 3-D disc, though
Hercules
, which was also released in 3-D, is available on a 3-D disc (see above).
TV on DVD
With the holidays approaching the parade of "complete series" is gaining momentum with the release of pricy sets for such classic series as
The Sopranos
, which is out in a new Blu-ray edition,
The Sopranos: The Complete Series
(HBO, BD $279.98), along with the geek-friendly (but short-lived and moderately-priced)
Napoleon Dynamite: The Complete Animated Series
(Olive Films, 134 min., $29.95), the superbly-mounted period mystery drama
Poirot: The Complete Series
(Acorn Media, 5,160 min., $349.99, BD $399.99), which contains 70 episodes starring David Suchet as Agatha Christie's Hercule Poirot, the classic Cold War espionage series
The Man From U.N.C.L.E.: The Complete Series
(Warner Bros., 4410 min., $199.99), the Scott Bakula-starring time-traveling sci-fi series
Quantum Leap: The Complete Series
(Universal, 4598 min., $179.98), the hilarious 1950s military comedy,
Sgt. Bilko—The Phil Silvers Show—The Complete Series
(Shout Factory, 3432 min., $129.99), the wacky police comedy series
Reno 911! The Complete Series
(Paradox Entertainment, 1945 min., $45.98).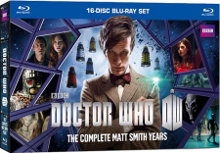 Some of these big sets are aimed squarely at geek viewers like
Doctor Who: The Complete Matt Smith Years
(BBC, 2355 min., BD $148.95), which includes
Series 5-7
of the revived
Doctor Who
series, all of Matt Smith's
Christmas Specials
, plus the
50th Anniversary Special The Day of the Doctor
, A
n Adventure in Time & Space
, plus the
Doctor Who Promo Concert
, and Matt Smith's two
Sarah Jane Adventures
episodes, all of which come in a collectible "lay-flat" book format.
Also of interest to the same audience is the
Sherlock: Seasons 1-3 Limited Edition Gift Set
(BBC, 802 min., BD/DVD Combo $197.50), which comes with every episode of the popular BBC re-imagining of Conan Doyle's famous sleuth with tons of extras, new commentaries and documentaries plus 2 art cards and collectible busts of both Holmes and Watson.
Animated series due on Tuesday include a DVD-R release of the Cartoon Network Show
Foster's Home for Imaginary Friends: Season 3
(Warner Bros., 322 min., $24.95), which ended its run in 2009, the holiday-themed
Berenstain Bears: Bear Family Christmas
(Phase 4 Films, 195 min., $29.99), and the single-disc
The Garfield Show, Vol. 13: Techno Cat
(Gaiam, 72 min., $14.93).
Contemporary series debuting this week include HBO's excellent workplace drama
The Newsroom: The Complete Second Season
(HBO, $59.98, BD $79.98), the penultimate season of the popular USA con man/crime drama
White Collar: Season 5
(Fox, 672 min., $39.98), and the cable sitcom
Hot in Cleveland: Season 5
(Comedy Central, $29.98).
Vintage TV series include the DVD debut of
Touch: The Complete Second Season
(Olive Films, 574 min., $39.95), which collects the final season of the thriller series starring Kiefer Sutherland that aired on Fox in 2012 and 2013, plus the excellent ensemble police drama
Hill Street Blues: Season 3
(Shout Factory, $34.93), the influential police procedural
Law and Order: The 15th Year
(Universal, 1059 min., $39.98), the holiday-themed
Little House on the Prairie: A Merry Ingalls Christmas
(Lionsgate, $9.98), the 1970s action adventure show starring Tony Curtis and Roger Moore,
The Persuaders: The Complete Series
(VEI, 1351 min., $43.99), the Gerry Anderson-produced 1970s adventure show,
The Protectors: The Complete Collection
(VEI, 1352 min., $19.99), and the 1950s western
Sugarfoot: The Complete 4th Season
(Warner Bros., 452 min., $29.95).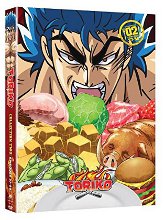 Also new this week is
Poirot: Series 13
(Acorn Media, 462 min., $59.99, BD $59.99), which includes five feature-length adaptations of classic Agatha Christie mysteries. These are the final
Poirot
adventures featuring David Suchet in the title role including an adaptation of the classic novel
Curtain: Poirot's Last Case
. The between-the-wars period settings of these stories are brilliantly recreated and the superb cast makes this the definitive version of Christie's Belgian sleuth in any visual medium. A 20-minute interview with David Suchet will also please hardcore fans of this exceptionally well-produced series.
Anime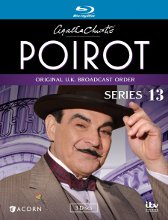 This week's top release is the
Toriko: Collection 2
(Funimation, 650 min., $34.98), which includes episodes 27-52 of the 147-episode TV anime series produced by Toei and based on the popular action fantasy manga series by Mitsutoshi Shimabukuro about a famous "gourmet hunter," who crisscrosses the globe searching for the most precious foods to create his "full-course" meal. This saga is a huge hit in Japan where the manga series has sold over 18 million volumes.
One of the key titles that we unfortunately missed in October (due to a short vacation) was
A Certain Magical Index II
(Funimation, 300 min.,BD/DVD Combo $64.98), which features the anime adaptation by J.C. Staff of the action-packed fantasy light novel series written by Kazuma Kamachi.
Sentai Filmworks is releasing Blu-ray editions two previous subtitled only DVD releases,
Hidamori Sketch x Hoshimitsu: Season Three Complete Collection
(Sentai Filmworks, 350 min., BD $59.98), which was released here on DVD in 2011 and the
Natsuyuki Rendezvous: Complete Collection
(Sentai Filmworks, 275 min., BD $59.98), which Sentai had released on DVD in 2012, as well as a new edition of
Jewel Bem Hunter Lime Complete Collection
(Sentai Filmworks, 90 min., $19.98), which was previously released in 2004 by Anime Works.
Another re-release that should interest anime fans is the
High School of the Dead Complete Collection
(Sentai Filmworks, 325 min., BD $149.98), which includes episodes 1-12 of the popular zombie-themed anime TV series plus the
Drifters of the Dead OVA
, a book featuring illustrations, a bandana, a parking sticker, 4 postcards, and a premium art box.
The Right Stuf is working its re-release magic on the
Space Pirate Mito: Complete Collection
(Right Stuf, 650 min., $29.99), which contains both 12 episode seasons of the 1999 anime sci-fi farce directed by Takashi Watanabe (
Boogiepop Phantom
), and the
Cat's Eye: Season 2 Collection
(Right Stuf, 925 min., $59.99), which collects the classic 1984-1985 37-episode second season of the anime series based on the manga by Tuskasa Hojo about three sisters who are art thieves.
One of this week's best deal is the Blu-ray re-release
B Gata H Kei: Yamada's First Time—Complete Series
(Funimation, 300 min., BD $19.98), which collects the 12-episode anime from Hal Film Maker from 2010 that was release here in 2012.
Tom Flinn
The opinions expressed in this column do not necessarily reflect those of the editorial staff of ICv2.com.