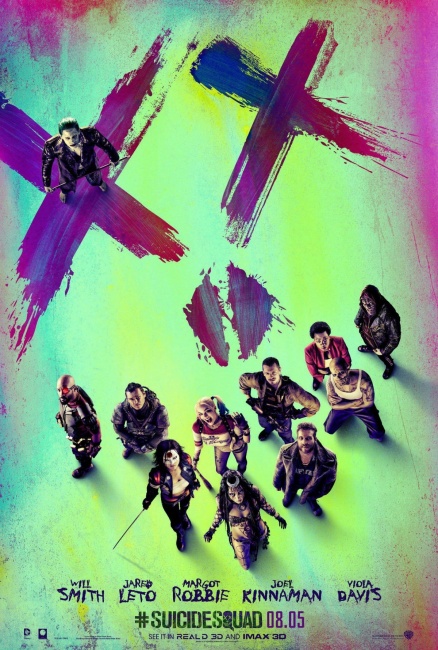 Warner Bros.'
Suicide Squad
moderated its box office free fall, dropping just 52% in its third weekend as it topped the box office with an estimated $20.7 million. While none of the three new films scored a breakout opening, and the $100 million remake of
Ben Hur
appears dead in the water, they did finish in the top five and helped push the box office to 21.5% gain over the same weekend last year when the rap biofilm
Straight Outta Compton
topped the charts for the second weekend in a row with $26.4 million.
This weekend's more moderate drop for
Suicide Squad
has got to make the powers at Warner Brothers feel a bit better. After all, the supervillain team-up film did set all sorts of August box office records and has earned $572 million worldwide, making it already the eighth-highest grossing film of 2016 so far, but after opening in Germany this weekend, the film has only one more major market left, Japan, where it will debut on September 10, so, while a $600 million global total is a sure thing, getting past $650 million appears unlikely, and the front-loaded performance of
Suicide Squad
is still disturbingly reminiscent of that of
Batman v. Superman
.
Warner Bros. and DC needed a decisive win with
Suicide Squad
, but in spite of all the records, it is not at all clear that this is the case. In a fascinating article that details some of the incredible tensions surrounding the release of
Suicide Squad
with the studio interfering mightily to lighten the dark tone of director David Ayer's original cut (see "
Suicide Squad Sent Up for Reshoots
") in the aftermath of the flameout of
Batman v. Superman
(see "
Executive Shakeup on DC Films
" and "
DC Film Shakeup Continues
"),
The Hollywood Reporter
quotes a Warner Bros. insider who maintains that
Suicide Squad
, which has an announced production cost of $175 million, "has got to do $750 million, $800 million to break even." While those numbers seem a bit high, the increasing prominence of foreign markets, where studios typically get less than the roughly 50% they get from domestic showings means that the old rule of thumb that a film has to earn double its production cost to break even is definitely out of date.
Second place went to the R-rated animated film
Sausage Party
, which dropped 55.3% from its stellar opening as it earned $15.3 million to bring its domestic total to $65.3 million. With a production cost of just $19 million, this ground-breaking expansion of the animation category is already in the black, though this second weekend drop was definitely a bit high for a "hit" animated comedy. With uncertain prospects abroad, where it has earned only $6 million so far,
Sausage Party
needs to build on its domestic success.
Todd Phillip's first film since the
Hangover Trilogy
, the "comedy/drama"
War Dogs
, earned $14.5 million, the best box office showing of any of the three new widely-distributed films.
War Dogs
, which cost just under $50 million to make, will need to do some business overseas if it is to avoid the fate of so many of the films based on events from the wars in Iraq and Afghanistan. Opening weekend audiences for
War Dogs
skewed male (56%) and older (51% over 35).
The new Laika Studios' stop-motion animated feature
Kubo and the Two Strings
has a wonderful 96% positive rating on review aggregator Rotten Tomatoes, and it was the only film that received an "A" CinemaScore from opening weekend audiences, but with a $12.6 million opening, the lowest yet for a Laika/Focus Films production,
Kubo
will need to demonstrate great "legs" in the coming weeks. Fortunately, it does have the reviews and word-of-mouth from a modest opening weekend audience going for it.
Weekend Box Office (Studio Estimates): August 19-21, 2016

Film

Weekend Gross

Screens

Avg./Screen

Total Gross

Wk#

1

Suicide Squad

$20,710,000

3,924

$5,278

$262,283,335

3

2

Sausage Party

$15,325,000

3,103

$4,939

$65,326,019

2

3

War Dogs

$14,300,000

3,258

$4,389

$14,300,000

1

4

Kubo and the Two Strings

$12,610,000

3,260

$3,868

$12,610,000

1

5

Ben-Hur

$11,350,000

3,084

$3,680

$11,350,000

1

6

Pete's Dragon

$11,331,000

3,702

$3,061

$42,892,269

2

7

Bad Moms

$8,068,000

2,811

$2,870

$85,800,428

4

8

Jason Bourne

$7,980,000

2,887

$2,764

$140,883,285

4

9

The Secret Life of Pets

$5,770,000

2,404

$2,400

$346,722,030

7

10

Florence Foster Jenkins

$4,300,000

1,528

$2,814

$14,405,743

2

Timur Bekmambetov's remake of Ben Hur barely managed to make the top five with $11.3 million from more than 3000 theaters, and may have to cede fifth place to Disney's Pete's Dragon when the official box office numbers are reported tomorrow. While a number of modestly-budgeted religiously-themed films have scored box office successes in recent years, there were few signs that anyone was aching for a revival for 1950s Biblical epics. Now the matter is settled. The $100 million remake of Ben Hur didn't score with the critics (only 29% positive on RT), and though it did receive a solid "A-" CinemaScore from opening weekend audiences, as was the case with Kubo, that audience just wasn't big enough—and it certainly wasn't young enough with 95% of the crowd over 25.

The fate of Ben Hur has been shared by way too many would-be blockbusters in this overly crowded summer of 2016 marketplace. Even though the worldwide box office is up 1% from last year, there have already been sixteen big budget flops in 2016 including The Huntsman: Winter's War, Teenage Mutant Ninja Turtles: Out of the Shadows, Independence Day Resurgence, The Legend of Tarzan, Alice Through the Looking Glass, and Ghostbusters, to name a few of the more prominent. Eleven of the 14 weeks of Hollywood's summer season so far have seen the release of at least one, big-budget movie with blockbuster aspirations, a glut that cannibalizes sales from other would-be megahits—and the fact is that so far in 2016 a few big budget films have been wildly successful with just five films accounting for 30% of the domestic box office receipts, whereas last year the top five accounted for just 22% of receipts. While box office dollars are up a percent or two this year, it would take a well-distributed 25-35% increase to allow all these blockbusters to flourish. A few blockbusters (Captain America: Civil War, Zootopia, The Jungle Book, Finding Dory) have done extremely well, and a number of mini-budgeted horror films have also scored big successes, but only two live-action "originals," the action/comedy Central Intelligence starring The Rock and Kevin Hart, and the R-rated comedy Bad Moms have earned over $85 million.

The bottom half of the top ten all suffered relatively low percentage declines, which is sort of a statement about the attractiveness of the films at the top. Disney's Pete's Dragon dropped just 47.3%, while the R-rated Bad Moms slipped only 29%, Jason Bourne was down 42.4%, The Secret Life of Pets fell 36.3%, and the Meryl Streep-starring Florence Foster Jenkins was down 34.9%.

Mention should be made of Hell or High Water, an original live-action film about a pair of Texas bank robbers, which Lionsgate has been rolling out slowly. This weekend it was only in 472 theaters, but it posted the best per-venue average in the top 25 and is clearly a film to watch over the coming week as the focus shifts from summer blockbusters to more adult-targeting movies (many with Oscar aspirations) that typically debut in the fall. While Hell or High Water is more of a genre film than the sort of "art" movie that the Oscars reward, it has a brilliant 98% positive rating on Rotten Tomatoes, and is clearly one of the very best films of 2016 so far.

Don't expect a lot of change in the movie standings next weekend, since none of the three new films will bow in more than 2,900 theaters, though horror movie fans should definitely check out Fede Alvarez's breathless old-school thriller/horror film Don't Breathe, which debuts Friday along with an attempt to reboot the live-action Mechanic series with Mechanic: Resurrection, and the boxing drama Hands of Stone.