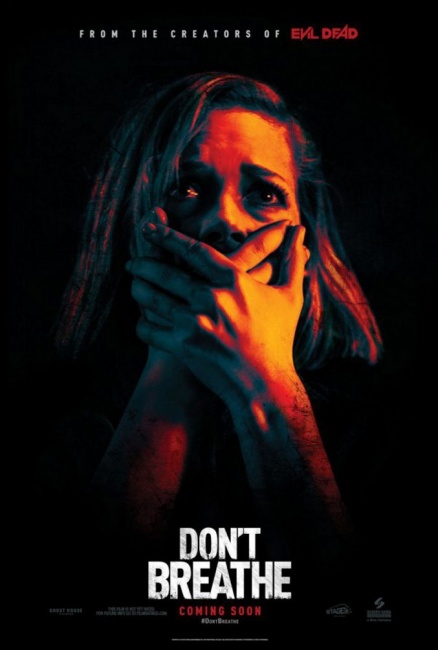 Fede Alvarez' horror thriller
Don't Breathe
topped the weekend box office with an estimated $26.1 million, earning roughly 2.6 times as much as it cost to make on its first weekend of domestic release. Lionsgate's would-be "B" movie action franchise,
The Mechanic
, also got rebooted in a minor sort of way as
The Mechanic: Resurrection
finished in the top five with $7.5 million. If these numbers appear a bit on the paltry side, consider that this is traditionally one of the poorer movie-going weekends of the year, and that this past weekend can boast a 30% improvement over the same frame last year when
Straight Outta Compton
topped the charts for a third weekend with just $13.1 million.
The big box office headlines this year belong to Disney, which currently has the top 3 domestic and the top four worldwide releases, but this summer Sony has scored a number of small-scale hits—highly profitable films that won't necessarily be in the "Top 10" grossers of 2016, but, which because of their modest cost and solid earnings, are nonetheless extremely successful—films like the horror thriller
The Shallows
, the R-rated animated feature
Sausage Party
, and even the Jodie Foster-directed
Money Monster
, which opened in opened in May and largely flew under the radar, but ended up making nearly four times its cost worldwide. Fede Alvarez's
Don't Breathe
, which was made for $10 million, has a chance to be the most profitable release of the lot.
Driven by an excellent marketing campaign with a big digital component, including the first 360 Snapchat movie ad,
Don't Breathe
has posted the largest debut for an original R-rated horror film since
The Conjuring
debuted in 2013. With an 87% positive rating on Rotten Tomatoes,
Don't Breathe
has done exceptionally well for a horror movie with the critics, and this gritty saga of three down and out teens whose attempt to rob a blind man goes horribly wrong (the would-be victim is portrayed by Stephen Lang, who also played the tough-as-nails, impossible-to-kill Marine in Avatar), earned a solid "B+" CinemaScore from audiences—again a strong grade for a horror movie.
Don't Breathe's
opening was considerably better than that of
Lights Out
, which bowed to $21.6 million on July 22, and
Lights Out
has already made $125 million versus a cost of just $4.9 million. In addition to a surfeit of under-performing big budget blockbusters, the summer of 2016 has also seen a number of extremely successful micro-budgeted horror movies.
David Ayer's
Suicide Squad
, dropped just 42% in its fourth weekend in theaters as it earned an estimated $12.1 million to bring its domestic total to $282.8 million. This is definitely a better hold, and there won't be much competition over the upcoming weekend, but it is also clear that the film is running out of steam—and its legacy is ambiguous at best. It should pass
Man of Steel's
domestic total ($291 million) sometime in the next ten days and become the #15 superhero movie of all time (not adjusted for inflation of course), but the film's huge production cost means that, even though it has earned $635.9 million worldwide, it is probably still not in the black (see this
The Hollywood Reporter
article for a high-end estimate of what
Suicide Squad
needs to make).
Third place this weekend went to Laika's stop-motion feature
Kubo and the Two Strings
, which dropped just 37% as it earned $7.9 million to bring its domestic total to $24.9 million, which is far less than this $60 million production, which is one of the best films of 2016 so far, deserves. With a 96% positive rating on review aggregator Rotten Tomatoes and an "A" CinemaScore,
Kubo
has a lot going for it, unfortunately this original property is not well known.
Weekend Box Office (Studio Estimates): August 26-28, 2016

Film

Weekend Gross

Screens

Avg./Screen

Total Gross

Wk#

1

Don't Breathe

$26,115,000

3,051

$8,559

$26,115,000

1

2

Suicide Squad

$12,110,000

3,582

$3,381

$282,882,627

4

3

Kubo and the Two Strings

$7,909,000

3,279

$2,412

$24,920,378

2

4

Sausage Party

$7,665,000

3,135

$2,445

$80,008,510

3

5

Mechanic: Resurrection

$7,500,000

2,258

$3,322

$7,500,000

1

6

Pete's Dragon

$7,282,000

3,244

$2,245

$54,715,378

3

7

War Dogs

$7,255,000

3,258

$2,227

$27,757,687

2

8

Bad Moms

$5,760,000

2,565

$2,246

$95,453,235

5

9

Jason Bourne

$5,230,000

2,445

$2,139

$149,357,235

5

10

Ben-Hur (2016)

$4,530,000

3,084

$1,469

$19,552,877

2

Sony's R-rated animated hit Sausage Factory dropped 50% in its third weekend as it earned $7.6 million, bringing its domestic total to $80 million, more than four times the film's $19 million production cost. Sausage Party just nosed out Lionsgate's Mechanic: Resurrection, a sequel to the 2011 remake of the 1972 Charles Bronson action film, earned an estimated $7.5 million. The problem is that this is a real step down from Jason Statham's first Mechanic film, which debuted in January 2011 with $11.4 million, and with a pitiful 24% positive rating for Mechanic: Resurrection, there doesn't appear to be much hope for a long theatrical run.

Disney's remake of Pete's Dragon ($7.28 million), and Warner Bros.' R-rated comedy War Dogs ($7.25 million) are tightly bunched with Sausage Factory and Mechanic: Resurrection, and in fact any one of these four films could end up at #4 tomorrow when the final numbers are released. A good part of the reason that this weekend was so much better than the same frame a year ago stems from the strong performances in the middle of the top ten, which also includes the leggy R-rated comedy Bad Moms ($5.76 million, down 27%) and Jason Bourne ($5.23 million, down 35%). The Bourne movie also led the worldwide box office with $56.8 million, $50 million of which came from China, where the film eclipsed the earnings of all the previous Bourne movies in just its first weekend of release in what is now clearly the world's #2 film market.

There was also some strength outside the top ten with the brilliant action film, Hell or High Water expanding to 909 theaters and earning $3 million, and the Sundance favorite Southside With You bringing in $3 million from 813 theaters.

There was also weakness outside the top ten—exemplified this weekend by the fate of the boxing biopic Hands of Stone, which debuted at #16 with just $1.7 million in spite of opening in more than 800 theaters.

Be sure to check back here next weekend, which will see a very slight slate of new releases considering that it will be Labor Day weekend led by Fox's science fiction thriller Morgan, and the adult-skewing drama The Light Between the Oceans, which stars Michael Fassbender, Alicia Vikander, and Rachel Weisz.