This week's home entertainment releases include one of this summer's best-reviewed blockbusters, as well as the season's most successful R-rated comedy, a new Batman animated feature that revives the 1960s Batman ethos (and cast) as well as a misleadingly titled (Anthropoid), but very engrossing World War II thriller.
Theatrical Movies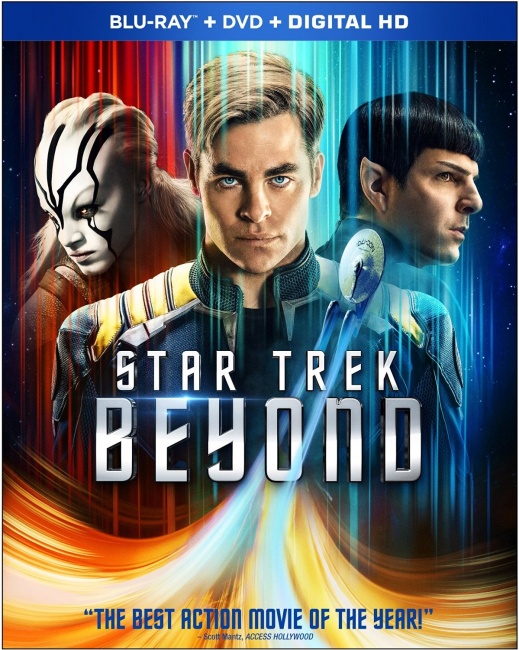 Justin Lin's
Star Trek: Beyond
(Paramount, "PG-13," 122 min., $29.99, BD $39.99) was one of the best reviewed "blockbusters" of the summer with an 84% positive rating on review aggregator Rotten Tomatoes and it earned $158.8 million in North America and $340 million worldwide, but it still managed to lose money because it cost over $185 million to produce. The next
Star Trek
movie will likely be produced on a much smaller budget, so enjoy the deluxe production values of
Star Trek Beyond
while you can, plus writers Simon Pegg and Doug Jung concocted a strong storyline that builds on and expands the mythos of the
Original Season
crew, and the second generation actors (Chris Pine, Zachary Quinto, Zoe Soldana, Jon Chu, and Pegg) have really settled into their iconic roles
. Star Trek
was always known for its optimistic, humanistic approach to the future, a tradition that
Star Trek Beyond
skillfully reinforces once again.
There is another film due out on Tuesday that also earned more than $100 million at the box office this year, the R-rated comedy Bad Moms (Universal, "R," 202 min., $29.98, BD $34.98), the top R-rated comedy release of the summer that follows a trio of overworked, would-be supermoms (Mila Kunis, Kristen Bell, and Kathryn Hahn), who stage a palace revolt. There are lots of laughs, F-words, and even a little nudity in this saga, which was written and directed by the team that wrote the original Hangover movie, and who were, evidently, intent on doing to the "chick flick" genre what they did for the "buddy" movie in The Hangover.
This week's most interesting release Anthropoid (Universal, "R," 242 min., $22.98, BD $29.98) has a misleading title. It's not some sort of sci-fi fantasy, but a World War II drama based on a true story about two Czech freedom fighters who parachuted into their homeland in an attempt to assassinate Nazi Gauleiter Reinhold Heydrich. There is plenty of tension in this saga, but no false heroics and the protagonists sense the retribution that their act could incur, which gives this drama a moral dimension that many war movies lack. Anthropoid received a 66% positive rating on Rotten Tomatoes, and probably would have done better with both critics and audiences (it earned just $2.9 million in North America) if it had been edited a bit more conventionally, but it is one of the best World War II films of recent years.
Not so fortunate with the critics was Barry Sonnenfeld's Nine Lives (Fox, "PG," 87 min., $29.98, BD $39.98), a comedy/fantasy starring Kevin Spacey as a workaholic business executive who ends up in the body of a cat that he bought for his neglected daughter. Nine Lives, which inspired such critical reactions as "not meow, not ever" ended up at just 11% positive on Rotten Tomatoes, and though it earned $19.6 million, it only recommended for people who love watching cat videos on YouTube multiple times.
TV on DVD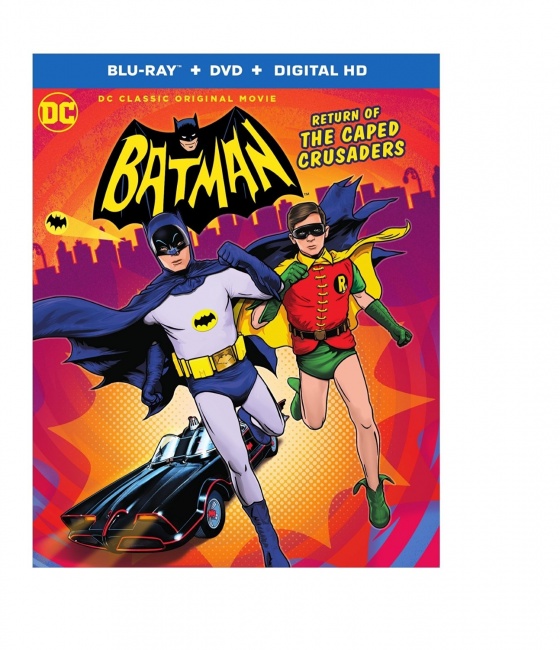 This week's top release is
Batman: Return of the Caped Crusaders
(Warner Bros., $19.98, BD $24.98), a new animated feature that is based on the campy 1960s live-action
Batman
TV series and features the vocal talents of Adam West, Burt Ward, and Julie Newmar reprising their roles from the 1960s series. This animated feature debuted at the NYCC Comic Con in October and was released on digital on October 11. The studios now prefer digital sales to discs (digital sales topped disc sales for the first time in 2015), and will likely continue to release film digitally weeks before they become available on disc.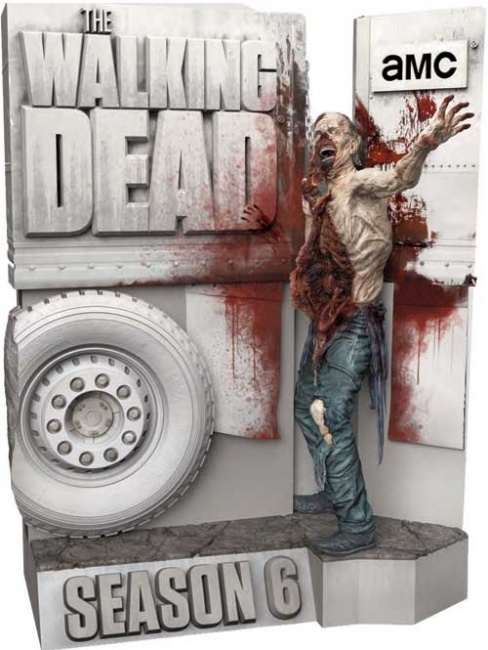 Other releases of interest include the limited edition Blu-ray of
The Walking Dead : The Complete Sixth Season
(Starz, 752 min., $149.99) that comes with spectacular packaging care of McFarlane Toys' grisly "Truck Walker" from the first episode of
Season Six
; the excellent time travel fantasy
Outlander: Season 2
(Sony, 848 min., $45.99, BD $55.99) that appears on Starz; the gritty western about the building of the transcontinental railroad,
Hell on Wheels: Season 5, Part 2 The Final Episodes
(Sony, $30.99, BD $38.99), which appears on AMC and is also available as
Hell on Wheels: The Complete Series
(Sony, $149.99, BD $159.99); the often hilarious Eugene Levy-created
Schitt's Creek: Seasons 1 &2
(Lionsgate, 856 min., $24.98); the fantasy/adventure series
The Librarians: Season 1
(Sony, 460 min., $30.99); and the truly brilliant UK comedy series
The IT Crowd
(MPI, 617 min., $59.98).
Kid-targeting TV releases include: Curious George: The Complete 9th Season (Universal, 142 min., $16.98); Shaun the Sheep: We Wish Ewe a Merry Christmas (Lionsgate, 45 min., $9.98); the cool Power Rangers: Chouriki Sentai Ohranger: The Complete Series (Shout Factory, 960 min., $59.97); and the simpering Care Bears and Cousins: Vol. 1, Take Heart (Lionsgate, 132 min., $14.98).
For those who enjoy literary memoirs there is The Durrells in Corfu: The Complete 1st Season (PBS, 292 min., $39.99, BD $49.99), a 1930s period piece that is loosely based on the memoirs of naturalist Gerald Durrell. The tone and focus of the series are different from the original books, but after a dreary start in England, the episodes on Corfu are much livelier (even if the stories have been altered and the point of view switched from that of the youngest child to that of the fearless mother who moves her brood from England to Corfu in the midst of the Depression).
Anime
This week's new (to North America) releases include: Snow White With the Red Hair: Collection 1 (Funimation, 300 min., BD/DVD Combo $64.98), which includes the first 12 episodes of the 2015 anime series from Studio Bones that is based on the shojo romantic fantasy manga by Sorata Akizuki that is set a mythical kingdom; the 2012 science fiction anime feature film Psychic School Wars (Funimation, 110 min., BD/DVD Combo $29.98), and a 10th Anniversary edition of the 23-episode 2006 Manglobe cyberpunk sci-fi mystery anime Ergo Proxy: Complete Collection (Funimation, 625 min., BD $69.98).
Also new are these subtitles only releases: Mobile Suit Victory Gundam: Collection 2 (Right Stuf, 625 min., Subtitles Only, $59.99, BD $74.99), which contains the second half of the 51-episode 1993 mecha series directed by Gundam creator Yoshyuki Tomino, the fourth Gundam series, and the first to be set in the Universal Century; the second half of the 2010 A-1 Pictures' baseball anime Big Windup Season 2 Collection (Right Stuf, 350 min., Subtitles Only, $49.99); and the science fiction harem comedy To Love Ru Darkness 2: Complete Collection (Sentai Filmworks, 350 min., Subtitles Only, $49.98, BD $59.98).
Re-priced re-releases include the S.A.V.E. edition of the 2010 science fiction survivor anime feature film King of Thorn (Funimation, 109 min., BD/DVD Combo $19.98), and the dubbed edition of the classic 1960s Osamu Tezuka anime, the Kimba the White Lion: Complete Collection (Right Stuf, 1145 min., Dubbed, $59.99).