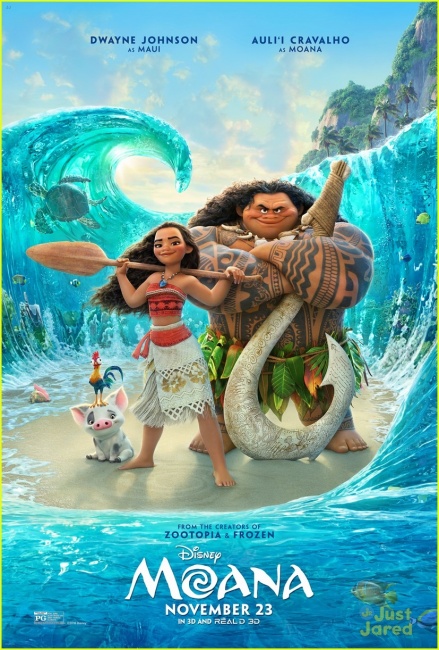 Disney's animated feature
Moana
topped the box office in a traditionally weak "in-between-the-holidays" weekend, dropping just 50% and earning $28.2 million. While some holdovers fared well, the weekend's only new film, the horror thriller
Incarnate
was a bust, and the overall box office was down 3.2% from the same weekend last year when
The Hunger Games Mockingjay, Part 2
topped the charts for the third weekend in a row with $18.9 million.
Moana
opened lower than Disney's megahit
Frozen
, which debuted over Thanksgiving in 2013, but
Moana
posted a better second week hold (50% versus 53% for Frozen), and bears watching over the next few weeks--though
Moana
will face much stiffer competition for the family audience than
Frozen
did with
Star Wars: Rogue One
and Illumination Entertainment's animated musical
Sing
both opening in December.
Moana
has now earned nearly $120 million in North America and, from the looks of its second week performance, could easily double that total by the end of its domestic run.
Second place went to the
Harry Potter
spin-off
Fantastic Beasts and Where to Find Them
, which slipped 58.9% in its third weekend as it earned $18.5 million to bring its domestic total to $183.5 million. Although
Fantastic Beasts
is now running about 20% behind the first
Harry Potter
movie (not adjusting for inflation), it is demonstrating solid "legs" here in North America where it is now the #10 movie of 2016 so far
. Fantastic Beasts
is doing even better overseas where it has earned $424.4 million for a worldwide total of $607.9 million, giving it the tenth best worldwide total for the year so far. While
Fantastic Beasts
may have opened on the lower side of expectations, its leggy performance in the domestic market suggest that Warner Bros. has indeed found a replacement of sorts for the
Harry Potter
money train in the 5-part
Fantastic Beasts
prequel/spin-off series.
Mention should be made of this falls adult-skewing stealth hit, Denis Villeneuve's cerebral science fiction film
Arrival,
which moved up to #3 (from #5 last week) in its fourth weekend in theaters as it earned $7.3 million, a drop of just 36.3%. Yes $7.3 million is no big deal for a blockbuster, but this serious and thought-provoking science fiction film has now earned $73 million here in North America, a strong showing for an adult-skewing drama. With this solid box office performance it appears that
Arrival's
only handicap at the Oscars will be its genre.
Allied,
the romantic World War II spy drama/romance starring Brad Pitt and Marion Cotillard, is showing some signs of life after its moribund debut.
Allied
dropped only 44.5% in its second weekend as it earned $7 million to bring its domestic total to $28.9 million
. Allied
opened in a few more overseas territories, driving its worldwide total to $53.8 million, but it will likely have to hit a global total of $200 million to offset its $85 million cost, so this cinematic "throwback" still faces stiff challenges.
Weekend Box Office (Studio Estimates): December 2-4, 2016

Film

Weekend Gross

Screens

Avg./Screen

Total Gross

Wk#

1

Moana

$28,373,000

3,875

$7,322

$119,888,330

2

2

Fantastic Beasts and Where To Find Them

$18,545,000

3,988

$4,650

$183,507,403

3

3

Arrival

$7,300,000

2,915

$2,504

$73,078,514

4

4

Allied

$7,050,000

3,160

$2,231

$28,927,432

2

5

Doctor Strange

$6,486,000

2,935

$2,210

$215,309,177

5

6

Trolls

$4,600,000

3,156

$1,458

$141,371,445

5

7

Hacksaw Ridge

$3,400,000

2,494

$1,363

$57,264,956

5

8

Bad Santa 2

$3,288,699

2,945

$1,117

$14,289,743

2

9

Incarnate

$2,659,000

1,737

$1,531

$2,659,000

1

10

Almost Christmas

$2,500,350

1,556

$1,607

$38,147,500

4
Marvel Studio's Doctor Strange fell 52.8% in its fifth weekend, earning $6.5 million to bring its domestic total to $215.3 million, the ninth best showing of 2016 so far. Doctor Strange is now the ninth highest-grossing release in the Marvel Cinematic Universe, and its global total of $624.9 million has topped both Iron Man ($585 million) and Iron Man 2 ($623 million), not taking into account ticket price inflation (which has become more of a factor this year with the opening of more refurbished and deluxe venues—after rising slowly from 2011-2014, ticket prices were up 3% in 2015 and 1.4% more this year, with the average ticket costing 56 cents more today than it did in 2014).

In addition to Arrival, there is another adult-skewing drama that demonstrated remarkable staying power, Mel Gibson's bloody WWII drama, Hacksaw Ridge, which slipped just 38.4% in its fifth weekend of release. This R-rated military drama has now earned $57.3 million.

This weekend's lone wide release, the horror thriller Incarnate, which debuted in just over 1700 theaters, earned a mere $2.66 million, which was only good enough for ninth place. While the movie only cost $5 million to produce and was promoted via a largely digital ad campaign that reportedly cost only a few million and is thus unlikely to lose money, horror films have accounted for more than a few of the non-blockbusters successes at the 2016 box office, though it is already clear Incarnate, which attracted a small, but diverse crowd (47% Caucasian, 26% Hispanic, and 18% African-American), won't be one of those micro-budgeted hits.

Be sure to check back here next week, to see if Moana will continue its dominance in what is traditionally another weak box office session with only the ensemble comedy Office Christmas Party (and the expansion of the Europa Corp thriller Miss Sloane to about 1,600 theaters) providing any new competition.