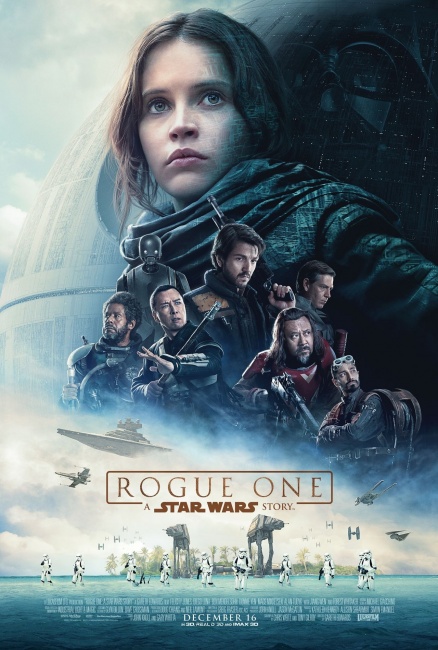 Disney and its Lucasfilm division scored another major hit as the stand-alone
Star Wars
side-story
Rogue One
debuted to a robust $155 million in North America. The only better December opening was last year's unprecedented $247.9 million bow from
Star Wars: The Force Awakens
, which still stands as the best all-time 3-day debut in any month, which also means that in spite of
Rogue One's
powerful opening, the box office was down 33% from the same weekend last year when
The Force Awakened
pushed the box office total for the frame to a record $305.5 million.
Rogue One
, which has an 84% positive rating on Rotten Tomatoes, earned $29 million on Thursday night with its total growing to $71 million on Friday night.
Rogue One
performed much like
The Dark Night Rises
, which earned about 40% of its Friday gross on Thursday for a "first" day total of $75 million, which it then parlayed into a $160.9 million 3-day opening, and less like the more front-loaded final
Twilight
saga film, which earned $71 million on Friday, but finished the weekend with just $141 million.
Rogue One
earned a solid "A" CinemaScore from audiences that were predominantly male (66%) and demographically diverse with 39% under 25.
Rogue One
, which did well in iMAX and premium venues, accounted for 76 cents of every dollar spent at the movies this weekend. Overseas, the story of how the Rebels stole the plans for the Death Star, which was destroyed in
Episode 4
, opened in 47 territories and brought in $135.5 million for a global total of $290.5 million, a solid start for the $200 million production that, at least for now, validates Disney strategy of expanding the
Star Wars
brand beyond the core episodes. While it didn't come close to
The Force Awakens'
massive bow,
Rogue One
nearly doubled the total of the previous best December opening film (
Avatar
at $85 million).
2016 has been a banner year for Disney movies, and
Rogue One
puts the icing on the cake.
There wasn't a lot of oxygen left in the room after
Rogue One's
mighty bow, but Disney's
Moana
took second place, dropping just 37% as it earned $11.7 million to drive its domestic total to $161.9 million. That is a pretty good hold against
Rogue One
, which did well with the family audience that
Moana
also targets, and if
Moana
can hold out against Illumination Entertainment's
Sing
, which opens this week, Disney could have another leggy animated hit on its hands, though
Moana
is unlikely to match
Frozen,
which didn't just have "legs," it had "stilts" (earning nearly six times as much during its run as it did on its first full 3-day weekend).
Weekend Box Office (Studio Estimates): December 16-18, 2016

Film

Weekend Gross

Screens

Avg./Screen

Total Gross

Wk#

1

Rogue One: A Star Wars Story

$155,000,000

4,157

$37,287

$155,000,000

1

2

Moana

$11,664,000

3,587

$3,252

$161,858,745

4

3

Office Christmas Party

$8,450,000

3,210

$2,632

$31,518,267

2

4

Collateral Beauty

$7,000,000

3,028

$2,312

$7,000,000

1

5

Fantastic Beasts and Where To Find Them

$5,030,000

3,036

$1,657

$207,681,095

5

6

Manchester by the Sea

$4,156,338

1,208

$3,441

$14,016,643

5

7

La La Land

$4,020,000

200

$20,100

$5,260,166

2

8

Arrival

$2,775,000

2,157

$1,287

$86,468,367

6

9

Doctor Strange

$2,036,000

1,930

$1,055

$226,086,027

7

10

Nocturnal Animals

$1,391,380

1,246

$1,117

$8,812,746

5
Paramount's R-rated ensemble comedy Office Christmas Party dropped 50%, earning $8.45 million to bring its ten-day total to $31.5 million. In spite of earning $19 million overseas so far, Office Christmas Party, which cost $45 million to make, needs to stay near the top of the charts for the rest of the just to break even.

Considerably more problematic is Will Smith's holiday weeper Collateral Beauty, a $36 million production, which earned just $7 million from over 3000 theaters, giving the film a poor $2,312 per venue average. Opening day audiences, which skewed female (59%) and older (74% over 25) did give the film an "A-" CinemaScore, so there is some hope, but it is much more likely that this film will find its audience on disc (or streaming) rather than in theaters.

Warner Bros.' Harry Potter spin-off, Fantastic Beasts and Where to Find Them dropped 51% in its fifth weekend as it earned $5 million to drive its domestic box office total to $207.7 million. Fantastic Beasts is the tenth highest-grossing film in North America so far in 2016 and has provided Warner Bros. with a potentially potent extension of the Potter franchise.

Kenneth Lonergan's Amazon-financed downbeat drama Manchester By the Sea expanded to 1200 and earned $4.1 million, a solid showing by the Oscar-worthy film that pales in comparison to that of La La Land, which earned almost as much from just 200 theaters. La La Land is already a favorite to take home some gold statuettes given the Hollywood community's love of musicals (how else could you explain the Oscars for Chicago?), and its stunning per-theater average of $20,100 was second only to Rogue One's massive $37,287 figure.

Disney's Doctor Strange finished at #9 in its seventh weekend in theaters and looks to finish its domestic run with around $235 million.

Be sure to check back here next weekend to see what happens when four new films debut (starting on Wednesday) including the videogame adaptation Assassin's Creed, the science fiction film Passengers starring Chris Pratt and Jennifer Lawrence, the animated musical Sing, and the comedy Why Him?, which stars Bryan Cranston and James Franco.