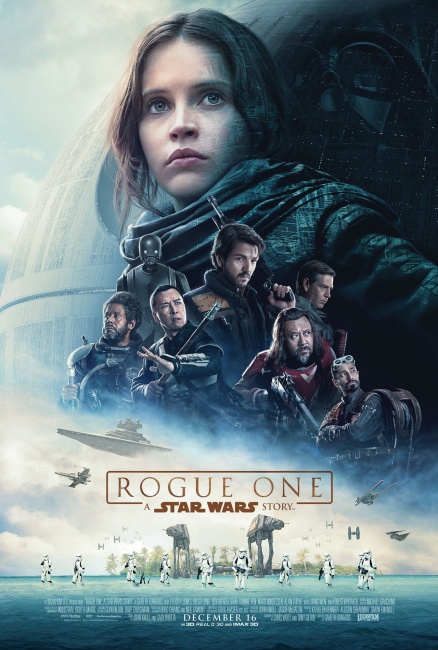 Disney capped off a massive year in which the Mouse House released 16 films that have so far cleared more than $3 billion in the domestic market with yet another victory as the
Star Wars
spin-off
Rogue One
topped the box office again with a four-day total of $64.3 million, pushing its domestic gross to $439.7 million. With an added boost from Illumination Entertainment's animated hit
Sing,
the weekend box office was down just 7.6% from the last weekend of 2015 when
Star Wars: The Force Awakens
topped the charts with $149.2 million.
A strong fourth quarter helped push the box office total for 2016 to a record $11.3 billion, up from 11.14 billion in 2015. While this represents a 1.5% increase in revenue, rising ticket prices meant that actual ticket sales were flat at about 1.3 billion, well down from the 21st Century record of 1.6 billion tickets sold in 2002.
Rogue One
still trails Disney/Pixar's
Finding Dory
($486.3 million) for the highest-grossing film in the domestic market in 2016, but with almost $440 million earned already,
Rogue One
will eventually take the crown.
Rogue One's
three-day total of $49.5 million was down just 22.6% from last weekend, a strong indication of continued interest in the film. Before its domestic run is done
Rogue One
will become the only 2016 release to top $500 million.
Interestingly
Rogue One
, which has opened in every major market except China where it bows on January 6, has only made $350 million overseas so far, and may end up earning more in the domestic market than it does in the rest of the world (in contrast,
The Force Awakens
earned only 45.3% of its total in the domestic market).
Sing
, which is basically
American Idol
with funny animals, earned $42.8 million (up 21%) for the three day weekend and a robust $56.4 million for the four-day holiday, bringing its domestic total to $180 million. With an additional $97.8 million earned overseas, the $75 million production from Illumination Entertainment (
Minions
) is already well in the black.
The science fiction romance
Passengers
, which stars Jennifer Lawrence and Chris Pratt, also posted a strong hold as it earned $20.7 million over the 4-day holiday, giving the pricey ($110 million) production a domestic total of $66 million. So far it has racked up $60 million in overseas sales for a $126 million worldwide total. It will have to at least double that total to break even, and only Brazil, China, Germany, Japan, and South Korea remain, so
Passengers
will likely need to continue to demonstrate great "legs."
Weekend Box Office (Studio Estimates): December 30, 2016 - January 1, 2017

Film

Weekend Gross

Screens

Avg./Screen

Total Gross

Wk#

1

Rogue One: A Star Wars Story

$49,539,000

4,157

$11,917

$424,917,705

3

2

Sing

$42,820,000

4,029

$10,628

$166,421,490

2

3

Passengers

$16,150,000

3,478

$4,643

$61,450,201

2

4

Moana

$10,974,000

2,775

$3,955

$210,033,039

6

5

Why Him?

$10,600,000

3,008

$3,524

$34,618,587

2

6

Fences

$10,045,000

2,301

$4,365

$29,747,144

3

7

La La Land

$9,530,000

750

$12,707

$34,245,199

4

8

Assassin's Creed

$8,600,000

2,996

$2,870

$39,643,518

2

9

Manchester by the Sea

$4,239,250

1,206

$3,515

$28,463,901

7

10

Collateral Beauty

$4,150,000

2,745

$1,512

$25,791,500

3
Another Disney film, the animated South Sea Island adventure Moana, finished at number four. Moana earned $10.9 million over the 3-days and $14.3 million for the full holiday as it drove its domestic total to $213.4 million.

Fox's R-rated comedy Why Him? earned $13 million over the four-day weekend, pushing its domestic total to $37.6 million. This $38 million update of Meet the Parents will also have to demonstrate great "legs" in order to make it into the black.

Next come a couple of films with serious Oscar prospects, Denzel Washington's adaptation of August Wilson's Fences, which earned $12.7 million to bring its domestic total to $32.4 million, and Damien Chazelle's old school musical La La Land, which brought in a comparable total ($12.3 million) from a third as many theaters (750 vs. 2,301 for Fences). In fact La La Land posted the highest per venue average ($16,440) in the top ten. Don't expect La La Land's total to drop next week since the film will double its number of screens.

Eighth place went to the video game-based Assassin's Creed, which, in spite of an A-list cast, is playing more like a mid-level action film starring Jason Statham—overseas ticket sales represent the only hope for this film, whose domestic total will be lucky to reach 50% of its $125 million production cost.

Until precise figures are released tomorrow, we won't know if the downbeat Oscar-bait drama Manchester By the Sea or the Harry Potter spin-off Fantastic Beasts and Where to Find Them will be awarded ninth place. Fantastic Beasts has earned $225.4 million in North America so far, but that represents just 29% of the film's worldwide total of $776.8 million.

As noted La La Land doubles it theater count next weekend, and Hidden Figures, the biographical film about the African-American female mathematicians whose calculations were an indispensable, though little known part of America's space race also expands from 25 theaters to 2300 venues. The only "new" wide release next week is Underworld: Blood Wars, the fifth film in the dark fantasy franchise, and the first offering since 2012's Underworld: Awakening, which earned $160 million worldwide.