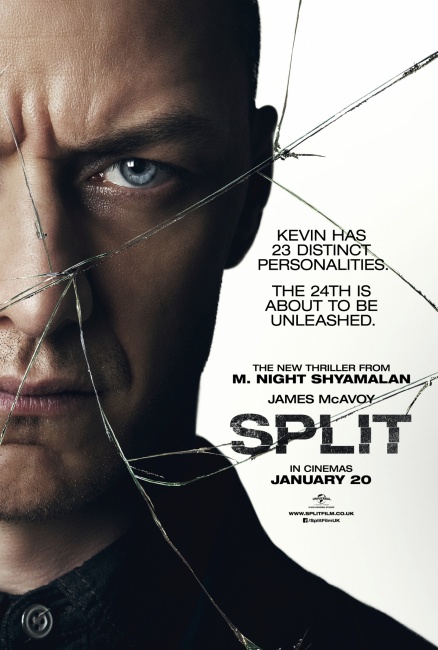 M. Night Shyamalan's
Split
surpassed expectations and easily won the weekend box office crown with $40.2 million, while the Vin Diesel-starring action extravaganza
The Return of Xander Cage
performed as expected ($20 million) and finished in second, and the
Star Wars
spin-off
Rogue One
, the #1 film of 2016 in North America, topped $1 billion worldwide. Still the overall box office was down 27.4% from the same weekend last year when
Ride Along 2
topped a strong field of releases with $35.2 million.
M. Night Shyamalan is one of the most interesting talents working in the horror/fantasy genre. After scoring early successes (
The Sixth Sense
in 1999,
Unbreakable
in 2000) Shyamalan's slipped into a bit of a mid-career funk, but with 2015's
The Visit
, which earned $98 million versus a $5 million production cost, and now
Split,
which stars James McAvoy (
X-Men
) as a kidnapper with two dozen personalities, Shyamalan appears to be back on track.
Split
was made for just $10 million and self-financed so the director was in complete control. While
Split
was expected to challenge for the top spot this weekend, few would have predicted its easy victory as it posted the fourth highest January opening ever (not adjusted for inflation).
Split
, which has a solid 76% positive rating on review aggregator Rotten Tomatoes, earned a "B+" CinemaScore from opening weekend audiences that skewed female (52%) and younger (52% under 25). Caucasians made up 50% of the crowd, with Hispanics accounting for 23%, African-Americans 19%, and Asian-Americans 5%.
Second place went to the Vin Diesel-starring
The Return of Xander Cage
, and $85 million extreme action epic from Paramount. The studio is attempting to resuscitate the
xXx
franchise, and Paramount has to hope that
Return
will do well overseas where it opened in 53 markets (though not in China) and earned $50.5 million.
The good news for
The Return of Xander Cage
here in North America is that audiences gave the film a solid "A-" CInemaScore, a considerably better rating than the critics (just 42% positive on Rotten Tomatoes). As might be expected for an "extreme action picture," opening weekend crowds skewed male (53%) and older (62% over 25).
Oscar hopeful
Hidden Figures
slipped to number three, but still brought in $16.25 million to drive its North American total to $85 million, while the "jazz musical
" La La Land
, which also has definite Oscar ambitions, finished fifth with $8.35 million from just 1865 theaters. Next weekend
La La Land
will expand its number of venues once again to take advantage of the film's expected Oscar Nominations, which will be announced on Tuesday.
Gareth Edward's
Rogue One: A Star Wars Story
finished at number six in its sixth weekend of release as it earned an estimated $7 million to drive its domestic total to $512.2 million. Overseas
Rogue One
has brought in $499.1 million for a global total of $1.01 billion.
Rogue One
is the 28th film to pass the $1 billion dollar mark (not adjusting for inflation). While
Rogue One
has become a massive hit, it has still earned less than 50% of the massive haul taken in by
Star Wars: The Force Awakens
a year ago ($2.06 billion), and
Rogue One
has earned a much lower percentage of its take overseas (49% versus 54.7% for
The Force Awakens
).
Weekend Box Office (Studio Estimates): January 20-22, 2017

Film

Weekend Gross

Screens

Avg./Screen

Total Gross

Wk#

1

Split

$40,190,000

3,038

$13,229

$40,190,000

1

2

xXx: The Return of Xander Cage

$20,000,000

3,651

$5,478

$20,000,000

1

3

Hidden Figures

$16,250,000

3,416

$4,757

$84,238,751

5

4

Sing

$9,036,530

3,193

$2,830

$249,361,725

5

5

La La Land

$8,350,000

1,865

$4,477

$89,680,497

7

6

Rogue One: A Star Wars Story

$7,036,000

2,603

$2,703

$512,201,563

6

7

Monster Trucks

$7,000,000

3,119

$2,244

$22,612,000

2

8

Patriots Day

$6,000,000

3,120

$1,923

$23,639,945

5

9

The Founder

$3,758,000

1,115

$3,370

$3,759,266

1

10

Sleepless

$3,706,444

1,803

$2,056

$15,193,348

2
Paramount has already taken a $115 million writedown on the hybrid Monster Trucks, which cost $125 million to produce. In its second weekend of release Monster Trucks earned $7 million to bring its domestic total to $22.6 million, and will likely finish its North American run shy of $40 million.

Another likely loser is Peter Berg's Boston Marathon bombing docudrama Patriot's Day, which earned $6 million to bring its total to $22.6 million. With limited prospects overseas, Patriot's Day would have to be doing a lot better here to have a chance to make back its $45 million cost.

Perhaps Oscar nominations can save the Weinstein Company's Ray Kroc biopic The Founder, but at this point audiences don't seem to be inspired by this saga of the maestro of the Golden Arches, which has wowed the critics (82% positive on RT) largely because of Michael Keaton's performance. The Founder opened at #9 as it earned $3.8 million from 1,115 theaters.

Faring even worse was the Christian-themed romcom The Resurrection of Gavin Stone, which debuted at #18, earning $1.4 million from 887 theaters. Also meeting with rank indifference from audiences was Martin Scorsese's religiously-themed period film Silence, which more than doubled its theater count (to 1580) , but still managed to drop 42% thanks to a per-venue average of just $728.

The horror film The Bye Bye Man, which finished a surprising #2 last weekend, took a direct hit from Split, tumbling to #11 as it earned $3.6 million to bring its domestic total to $20.1 million. It might not make the $25 million mark, but with a production cost of $7.4 million, The Bye Bye Man is already assured of finishing in the black.

Be sure to check back here next week to see if the last Resident Evil film, Resident Evil: The Final Chapter will be able to unseat Split, or if the crime/adventure film Gold starring Matthew McConaughey, or the animal-centric film A Dog's Purpose, which has been the subject of criticism from PETA, can make much of an impression in an increasingly crowded Q1 film marketplace.