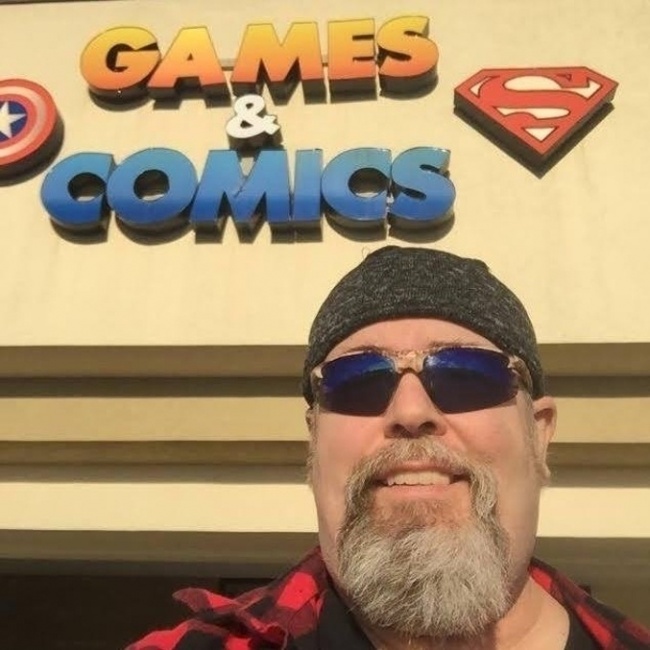 View from the Game Store is a column by Marcus King, Owner of Titan Games & Comics in London, Kentucky. This week, King discusses his trade show attendance plans for March.
People keep asking if I am attending the trade show in Las Vegas this March. The answer is yes. But not the show you are thinking of.

I am attending the ToyFest West show, March 5-7. Here is my thinking on why.

1. Cost:
The Game Trade Show in Vegas is pricy. It is five days, so four hotel nights. Ouch. On top of that, it is expensive to attend: for two of us to get into all the meals (where the main announcements are made) it will cost $525 just for show attendance.

ToyFest West is free to attend. No badge fee, they're free. So, we save $525 saved out of the gate.

2. Impact:
GTS can have a positive impact on a business. Especially if you have no idea what you're doing and need other retailers to teach you how to manage your struggling business. My first GTS in 1998 did that, and I grew tremendously. However, every GTS since has been diminishing returns. I know how to set up and run my businesses.

The information I could glean from GTS can be found on several Facebook forums. What is new, what is coming out, etc. - all available from my distributors and fellow retails. Even the contents of most seminars are freely shared on the internet. So, the Cost vs Impact equation is poor for GTS (for me as an experienced owner of a successful store).

Where as:

A smaller percentage of my goods are bought through game distribution now than ever before in my 31-year history as a retailer. More and more every year I am selling a higher percentage of toys, games not bought through distribution, collectibles, and pop culture items - and I find those publishers, manufacturers and distributors at Toy Shows.

Last year I sold over $400,000 of collectibles, toys and pop culture items. That is more than the total of games I got from distribution.
Between allocations, tiered distribution discounts, online discounters stealing sales from brick and mortar stores, publishers making product available to more places like Barnes & Noble or Toys R Us, and established publishers selling on Kickstarter prior to allowing retailers to access their product lines - I have had to find other products to sell. Much of my game sales have migrated online. But, impulse sales of items unique to my store in my marketplace has grown by more than 1000% in the past two years. I grossed more money in posters than Yu-Gi-Oh! sealed product last year, and at a much better margin (you could too).

3. Vendors:
Having been to GTS more than once, and having been in the game industry for more than 18 months (the standard that GAMA uses to determine an inexperienced store): I know most of the products which are available. I have accounts with 5 solid game distributors, and know of several others. The last time I saw a "new" product at GTS which made an actual difference to my company was when Last Night on Earth was launched, and I brought in 300 copies and sold them all in 90 days. So, it's been a while. The last time I found a new distributor at the show was GameBoard, which has been out of business for more than a decade.

Of the 600+ vendors listed to be attending the ToyFest West show, I am familiar with about 5% of them, and need to learn from more of them, find new products, and increase my diversity of product - something I just won't be able to do as much at a show I have attended repeatedly. I need new horizons for which to set my sails.

4. Ordering:
Gift & Toy shows are ordering shows Many companies will offer 30 to 90 days dating on your first order. Most will offer minimum orders of just $100. Nearly all give free shipping for the minimum order. This really incentivizes the idea of bringing in new product by writing orders at the show, and paying for that order with sales of that product, while also paying for the restock with the same.

At my last Toy & Gift show, in November, we placed an order for statues and collectible fairies which we had to restock twice before Christmas, and again once in January. It is awesome to get high quality statues cheap enough you can triple your cost when you sell, and the company can't wait to take your next order.
And, before anyone mentions the seminars that GTS has each year - I'll point out that ToyFest has seminars, as well as a gaming night and other functions.

In conclusion:
Having been involved with GAMA as a retail member, publishing member, board member, auctioneer, vendor, speaker and other roles since 1998, it gives me no pleasure to conclude that the return on investment to attend GTS just is not going to work out for me this year. It might for you!

But, if you want to try something new and different, hook up with me at the ToyFest West show.
Connect with us on Facebook.
The opinions expressed in this column are solely those of the writer, and do not necessarily reflect the views of the editorial staff of ICv2.com.