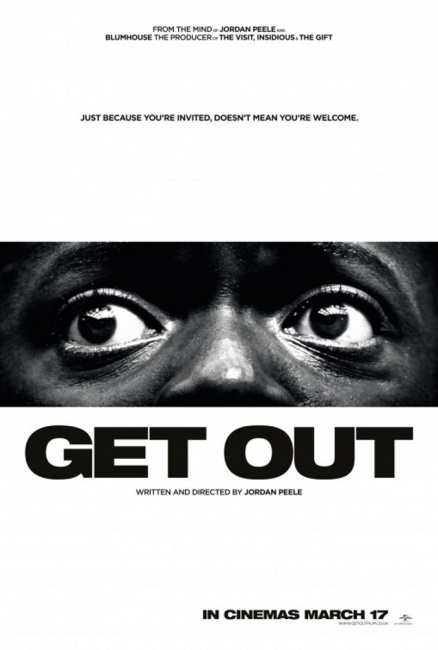 Hollywood studios tend to avoid competing with their own TV spectacular on Oscar weekend, and this year was no exception with only one new release with any serious box office hopes, Jordan Peele's
Get Out
, a clever bit of social commentary wrapped up in the trappings of a horror film, that surprised many by handily winning the box office derby with an estimated $30.6 million, cutting short the two-week reign of
The LEGO Batman Movie
in the process. Overall the box office was down 16.9% from the same frame a year ago when
Deadpool
dominated the charts with $56.5 million in its sophomore session, but a lull was expected this weekend. The real "spring season" kicks off next week with the release of
Logan
, Hugh Jackman's final
Wolverine
film.
Horror movies had a great year at the box office in 2016 and that trend appears to be continuing in 2017. After M. Night Shyamalan's
Split
opened with over $40 million (and now has earned over $130 million here in North America), Jordan Peele's
Get Out
topped expectations and posted the second largest opening ever for an "R" rated original horror film (trailing only
The Purge's
$34.3 million bow).
Get Out
, which brought in $30.6 million over the 3-day weekend, mixes plenty of satire with its traditional horror film tropes, and has plenty of narrative nods to films like
Guess Who's Coming to Dinner
and
The Stepford Wives
.
With a perfect 100% positive rating on Rotten Tomatoes (with 135 reviews counted)
Get Out
is positioned for a much longer run than the typical horror film, and it could possibly even challenge
Split
, which has now earned over $221 million worldwide. Opening weekend audiences for
Get Out
were 39% African-American, 36% Caucasian, 16% Hispanic, and 10% Asian—and they gave the film a solid "A-" CinemaScore. Like
Split
,
Get Out
should stay in the top ten for some time, though competition really heats up starting next weekend.
Second place went to
The LEGO Batman Movie
, which dropped just 41.8% in its third weekend as it earned an estimated $19 million to bring its domestic total to $133 million. So far
The LEGO Batman
Movie
has made $93 million overseas, and has opened in nearly every major territory except for China (March 3) and Japan. A strong performance in the Middle Kingdom could change things, but right now
LEGO Batman
is lagging overseas, where its earnings only account for 41% of the film's global total (versus 45% for
The LEGO Movie
).
It now appears that
The LEGO Batman Movie
will fall well short of
The LEGO Movie's
$237 million domestic total—and though it is clearly a "hit", it is clear there was no "Batman Bonus" for the
LEGO
animated film franchise, which might be a bit troubling to some folks at Warner Bros.
Third place went to another hit, the action film
John Wick: Chapter Two
, which dropped just 44.5% in its third weekend as it earned $9 million, bringing its domestic total to $74.4 million. The $100 million dollar mark is still a possibility for this sequel, which has already surpassed its predecessor's $43 million domestic run, but it will face stiff competition from a succession of "event" films starting next weekend with
Logan
, followed by
Kong: Skull Island
on March 10, and
Beauty and the Beast
on March 17.
The Great Wall,
which was produced in China and directed by Zhang Zimou, was an attempt to create a spectacle-filled Chinese/American blockbuster, but it's not playing like an "event" film here in North America, where the Matt Damon-starring film slipped 52.9% in its second frame as it earned an estimated $8.7 million to bring its North American total to $34.4 million. Now the movie has made $265.6 million overseas, but $171 million of that came in China, and although the movie has now topped $300 million worldwide, with a $150 million production budget, it is still far from profitable.
Weekend Box Office (Studio Estimates): February 24-26, 2017

Film

Weekend Gross

Screens

Avg./Screen

Total Gross

Wk#

1

Get Out

$30,524,435

2,781

$10,976

$30,524,435

1

2

The LEGO Batman Movie

$19,000,000

4,057

$4,683

$133,006,578

3

3

John Wick: Chapter Two

$9,000,000

2,954

$3,047

$74,412,700

3

4

The Great Wall

$8,700,000

3,328

$2,614

$34,424,800

2

5

Fifty Shades Darker

$7,700,400

3,216

$2,394

$103,635,615

3

6

Fist Fight

$6,380,000

3,185

$2,003

$23,254,827

2

7

Hidden Figures

$5,875,000

2,022

$2,906

$152,815,804

10

8

La La Land

$4,600,000

1,733

$2,654

$140,860,065

12

9

Split

$4,118,460

1,901

$2,166

$130,843,355

6

10

Lion

$3,807,000

1,802

$2,113

$42,815,337

14
The biggest drop in the top ten this weekend belonged to the erotic R-rated Fifty Shades Darker, which tumbled 62% as it slipped from #2 to #5. So far the film has made $103 million here in North America, but that is only 31.6% of its global tally of $328 million, which makes this $55 million film a solid hit.

With the exception of 50 Shades Darker, it was a good weekend for holdovers. The Ice Cube comedy Fist Fight dropped just 47.7% in its second frame as it brought its 10-day total to $23.3 million, while M. Night Shyamalan's Split eased down 42.2% as it earned $4.1 million and finished at #9 giving the low-budget Blumhouse Productions, which also produced Get Out, two films in the top ten.

The other members of the top ten all have Oscar hopes. Hidden Figures may not be able to overcome La La Land in Oscar voting, but it has triumphed in the domestic market. Dropping just 18.2% the true story of three African-America female mathematicians, who played a crucial role in America's space race, earned $5.9 million bringing its North American tally to $152.8 million versus $140.9 million for La La Land, which has earned far more overseas ($228.1 million vs. $30 million).

Lion, which stars Dev Patel, also has Oscar opportunities and this biographical drama slipped just 9.4% as it earned $3.8 million to bring its domestic total to $42.8 million.

Two films that opened wide failed to make the top ten. The Chinese-produced animated feature Rock Dog, which at $60 million was the most expensive animated film ever made in the Middle Kingdom, debuted at #11, earning just an estimated $3.7 million. The Chinese didn't like this film (it made only $5.7 million there), and apparently Americans are interested either.

Speaking of China, Resident Evil: The Final Chapter, which earned only $26 million here in North America, brought in a whopping $94.3 million in the Middle Kingdom, the best 3-day bow for any imported film in China. Does the success in the Middle Kingdom of Resident Evil 6 and the dismal World of Warcraft movie mean that the Chinese will embrace any videogame movie? The answer is, "not necessarily," given the modest $17.3 million debut of the game-based Assassin's Creed this weekend in China.

The other dismal debut at the American box office this week was the heist/car chase film Collide, which was supposed to open in 2015, but was delayed by demise of Relativity Media. Opening in over 2000 theaters, this film, which stars Felicity Jones, Nicholas Hoult, Anthony Hopkins, and Ben Kingsley, earned only a measly $753 per screen for a pitiful 3-day debut of $1.5 million.

Be sure to check back here next week to check out the highly anticipated debut of the X-Men saga Logan, which was inspired by the Old Man Logan comic book saga by Mark Millar and Steve McNiven, as well as the faith-based drama The Shack, and the teen-targeting Before I Fall.