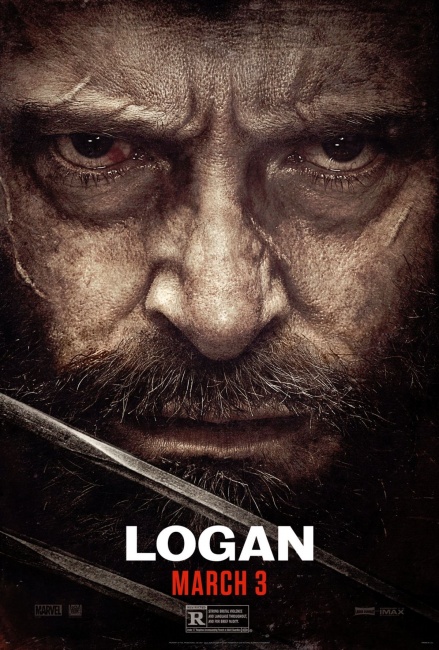 James Mangold's
Logan
, the final film in Fox's
X-Men
spin-off
Wolverine
trilogy, debuted with $85.3 million opening, the best bow so far in 2017 and the fifth best opening ever for an R-rated film (not adjusted for inflation).
Logan
helped lead the box office to a gain of 8.6% for the total of the top 12 films versus the same frame last year when
Zootopia
debuted with $75 million.
Logan
, which marks Hugh Jackman's final turn as the adamantium-clawed Canadian brawler he has played for 17 years, earned praise from the critics (it currently has a 94% positive rating on Rotten Tomatoes) and a solid "A-" CinemaScore from opening weekend audiences, which skewed male (63%) and older (68% over 25).
Logan's
$85.3 million dollar debut represents the fourth biggest March opening ever trailing only
Batman v. Superman: Dawn of Justice
($166 million),
The Hunger Games
($152.5 million, and
Alice in Wonderland
($116.1 million).
Logan
, an elegiac look at its aging protagonist (a la
The Dark Knight
, and in non-superhero realm, films like
The Wrestler
and the western
Shane
) also did well overseas where it opened in 81 territories (including China, which usually rejects R-rated films—
Deadpool
never got a release in the Middle Kingdom) and earned $152.5 million for a 3-day global tally of $237.8 million.
Produced for just under $100 million, which makes it the second cheapest
X-Men
movie, trailing only Bryan Singer's original
X-Men
film in 2000, which cost $75 million (though if you adjust for inflation,
Logan
cost just $61 million in 2000 dollars),
Logan
is already close to breaking even, and is certain to become the second R-rated superhero smash for Fox.
The success of
Logan
, which is a lot grittier and grimier than the far more light-hearted (though equally violent) quip-filled
Deadpool
, creates an interesting dynamic for Fox. The
X-Men
spin-off films (
Deadpool
and now
Logan
) have proved much more successful than ensemble
X-Men films
, so where does the studio go next in exploiting its
X-Men
license?
Well the immediate answer is in a second
Deadpool
film, which was teased in a preview trailer at showings of
Logan,
but with Jackman ending his run as Wolverine, and Patrick Stewart sounding like he might be through playing Professor Xavier (though he did sort of walk that back a bit), this is clearly a turning point in the direction of the franchise. There are many interesting mutant characters in the
X-Men
universe, and Fox will have to decide how best to utilize them in either stand-alone vehicles perhaps paired with one or two key mutants, or in full blown ensemble
X-Men
films.
Of course Fox has a fine second generation of X-Men actors available (James McAvoy, etc.), but will they be appearing in ensemble films in the future, and, if so, will these films also carry an "R" rating? We will have to wait and see, but it is abundantly clear from the success of
Deadpool
and now
Logan
that there is plenty of life left in the
X-Men
franchise.
Weekend Box Office (Studio Estimates): March 3-5, 2017

Film

Weekend Gross

Screens

Avg./Screen

Total Gross

Wk#

1

Logan

$85,300,000

4,071

$20,953

$85,300,000

1

2

Get Out

$26,110,695

2,938

$8,887

$75,954,335

2

3

The Shack

$16,100,000

2,888

$5,575

$16,100,000

1

4

The LEGO Batman Movie

$11,650,000

3,656

$3,187

$148,631,801

4

5

Before I Fall

$4,948,538

2,346

$2,109

$4,948,538

1

6

John Wick: Chapter Two

$4,725,000

2,475

$1,909

$82,865,972

4

7

Hidden Figures

$3,825,000

1,582

$2,418

$158,765,439

11

8

The Great Wall

$3,507,120

2,314

$1,516

$41,268,425

3

9

Fifty Shades Darker

$3,484,770

2,205

$1,580

$109,912,085

4

10

La La Land

$2,975,000

1,411

$2,108

$145,684,362

13
Second place went to last week's winner, Jordan Peele's socially conscious horror film Get Out, which declined just 26% (a superb performance for a horror film that is, in its own way, almost as impressive as Logan's debut), as it earned $26.1 million. Get Out has now earned $75.9 million in North America. Not bad for a film that cost less than $5 million to make. A few more weekends like this and Get Out will be challenging M. Night Shyamalan's Split for box office supremacy among 2017 horror films. Barely two months into 2017 and we have already had two extremely successful horror film releases.

The faith based film The Shack, which is based on a popular novel by William P. Young and stars Octavia Spencer and Sam Worthington, also managed a strong debut during a highly competitive weekend. The Shack earned an estimated $16.1 million, the best bow for a Christian-themed film since Heaven is for Real debuted with $22.5 million in 2014.

The LEGO Batman Movie dipped just 39.3% as it earned an estimated $11.7 million to bring its domestic total to $148.6 million. There is no way that this blocky caped crusader film will manage to catch the original LEGO Movie's North American total of $237.7 million, but The LEGO Batman Movie is showing "good legs" so far.

Right now there is a virtual tie for fifth place between a new film, Before I Fall, a sort of tragic Groundhog Day saga based on a YA novel about a teen who has to live the last day of her life over and over again, and the action movie John Wick: Chapter Two, which has now earned $83 million. While Before I Fall's debut was less than auspicious, the micro-budgeted film (less than $5 million) could still end up in the black.

Hidden Figures didn't win the "Best Picture" Oscar, but it continues to outperform the films that bested it at the Academy Awards. The saga three African-American female mathematicians who played a key behind-the-scenes role in America's space program, earned $3.8 million to drive its domestic total to $158.8 million, while faux "Best Picture" winner La La Land earned $2.95 million and finished three slots lower at #10, and actual "Best Picture" winner Moonlight (the lowest grossing victor since The Hurt Locker in 2009) ended up at #12 as it added 979 screens and earned an additional $2.5 million to bring its domestic total to $25.4 million. It should be noted that the musical La La Land has done very well overseas and has now earned a whopping $395 million worldwide.

Be sure to check back here next weekend to see if the $190 million reboot of the King Kong franchise, Kong: Skull Island, which stars Tom Hiddleston, Samuel L. Jackson, John Goodman, and Brie Larson, will be able to muscle Logan out of the top spot.