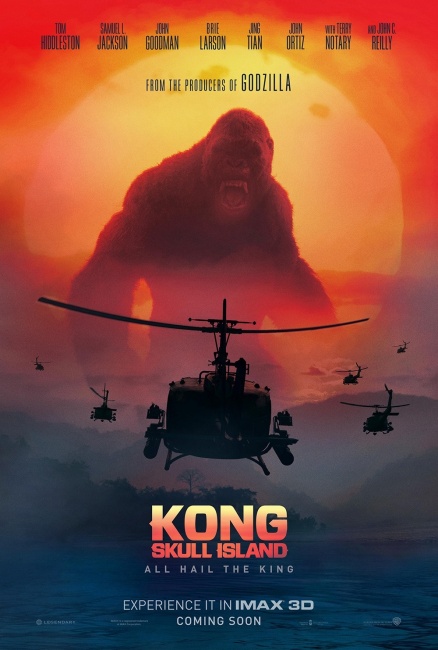 Legendary's second entry in its "Monsters Series,"
Kong: Skull Island,
surpassed expectations a bit with a $61 million debut, which was more than enough to dethrone Hugh Jackman's final
Wolverine
film, which dropped 57%. Overall the box office finished in a virtual tie with the same weekend a year ago when
Zootopia
topped the charts for the second week in a row with $51.3 million.
Kong: Skull Island
is an attempt by Legendary to reboot the giant ape franchise, which has lain dormant since Peter Jackson's 2005
King Kong
remake that opened with $50 million. Like Jackson's
King Kong
,
Kong: Skull Island
was an expensive film to produce, costing at least $185 million plus millions more to market.
Skull Island
also opened in 65 overseas territories (but not China) and earned $81.6 million for a global total of $142.6 million.
While it is off to a good start,
Skull Island
will need to make more than $500 million worldwide just to break even, and Legendary has extensive plans for the big ape with a
"
film already in the works—and the post credit sequence in
Kong: Skull Island
(
*SPOILER ALERT*
) contains direct references to other potential denizens of the Legendary" Monsterverse" including Mothra, Rodan, King Ghidorah, and of course Godzilla.
In spite of summer movie season-like competition with a new blockbuster releasing every week (Disney's
Beauty and the Beast
is on tap for next weekend),
Kong: Skull Island
appears to be well-positioned for a solid box office run with good critical notices (78% positive on review aggregator Rotten Tomatoes). The film also received an "OK" "B+" CinemaScore from opening weekend audiences that skewed male (56%) with 18% under 18, and 52% under 35.
Meanwhile Fox's
Logan
, the final
Wolverine
film starring Hugh Jackman, declined 57.1%, a pretty good "hold" considering the direct competition for the male audience from
Skull Island
.
Logan
brought in $37.5 million to bring the film's ten-day total to $152.6 million, which is already better than the final domestic totals of
The Wolverine
($132 million) and
X-Men: First Class
($146 million—though not adjusted for inflation). So
Logan
looks like both a commercial and artistic success, though the strong competition this March almost certainly means that films like
Logan
and
Skull Island
aren't going to maximize their box office potential.
Weekend Box Office (Studio Estimates): March 10-12, 2017

Film

Weekend Gross

Screens

Avg./Screen

Total Gross

Wk#

1

Kong: Skull Island

$61,015,000

3,846

$15,865

$61,015,000

1

2

Logan

$37,850,000

4,071

$9,297

$152,656,733

2

3

Get Out

$21,072,600

3,143

$6,705

$111,054,445

3

4

The Shack

$10,050,000

2,888

$3,480

$32,268,691

2

5

The LEGO Batman Movie

$7,820,000

3,303

$2,368

$159,023,660

5

6

Before I Fall

$3,107,910

2,346

$1,325

$9,036,722

2

7

Hidden Figures

$2,765,000

1,421

$1,946

$162,865,186

12

8

John Wick: Chapter Two

$2,700,000

2,031

$1,329

$87,423,211

5

9

La La Land

$1,770,000

1,578

$1,122

$148,445,589

14

10

Fifty Shades Darker

$1,629,250

1,498

$1,088

$112,922,485

5
Third place went to Jordan Peele's socially conscious horror film Get Out, which posted another ridiculously good hold, dropping just 25.4% in its third week in theaters as it earned$21 million to bring its domestic total to $111 million. Get Out is now the second biggest Blumhouse horror film ever, and it appears that it will only be a matter of time before Get Out surpasses Split ($135 million) and becomes Blumhouse's highest-grossing film ever—and quite likely the number one horror film of 2017.

The Christian-themed film The Shack dropped only 37.9% in its second frame, and appears to be headed for box office success, something has eluded the last several entrants in this genre.

Rounding out the top five was The LEGO Batman Movie, which earned another $10 million to drive its domestic total to $159 million. While it won't catch the original LEGO Movie, LEGO Batman still has an outside chance to reach the $200 million neighborhood here in North America.

The bottom half of the top ten once again includes the Oscar-hyped Hidden Figures and La La Land. Best Picture winner Moonlight slipped to #17 (and will remain among the lowest-grossing Best Picture winners in Tinseltown history, a likely byproduct of the expanded list Best Picture nominees, which has fragmented voting for the award and allowed a dark horse like Moonlight to nab the trophy.

Also hanging around the bottom of the top ten was the leggy action film John Wick: Chapter 2, which has to be good news for moderately-priced films in. the action film genre.

Be sure to check back here next week to see if Disney's live-action Beauty and Beast, which has already created some controversy thanks to the announcemen of Disney's first "gay" character, will be able to dethrone Kong: Skull Island.