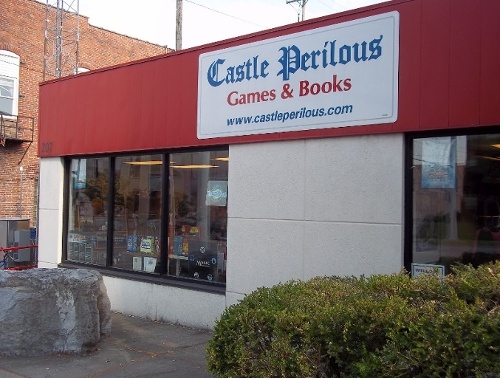 Rolling for Initiative is a weekly column by Scott Thorne, PhD, owner of Castle Perilous Games & Books in Carbondale, Illinois and instructor in marketing at Southeast Missouri State University. This week, Thorne looks at the growing trend of retailer-friendly game Kickstarters.
Besides the stuff I covered last week, one of the big announcements to come out of the Gama Trade Show was CMON's launch of CMON Play (see "
CMON Unveils Brick and Mortar Retail Program
"), which hopefully heralds a shift away from its traditionally retailer-unfriendly practices of funding almost all of their new products through Kickstarter, then releasing a similar product through distribution, only minus the stretch goals and add-ons received by backers of the Kickstarter. This meant a fan of CMON's product lines, such as
Zombicide
, had to purchase the game through Kickstarter if they wanted to get all of the extra cards and figures that supporters of the Kickstarter version would get. The announced program runs as follows:
"Along with the pre-release program, we want to make sure your store is seen as the place to get CMON Games. Being a part of CMON Play, you will have access to making Retailer Pledges to our Kickstarter campaigns. This allows you to make the sales of these games to your customers while still getting all of the exclusive products available through Kickstarter. By using the Retail Pledge, you only have to pay a small down-payment of $100 for your order, with the rest not being due until the product ships. This allows you to also offer such a payment plan to your customers, so you can either collect their dues immediately, or letting them pay some now, and the rest later when the product is on the way. We want to help you get the word out about how customers can order through you for these Kickstarters, and will provide banners and posters that you can use on social media, as well as in your store. If you don't want to participate in the Retail Pledge campaign, you will still be able to order those games later, through regular distribution channels."
In addition, CMON will offer pre-release opportunities to approved CMON Play retailers, allowing them to get certain games two weeks before the official release date, though I would assume, after the Kickstarter release date. Finally, recognizing the importance of game stores in promoting the gaming hobby, CMON will make some games available at a discounted cost for in-store demos, and plans a game night program as well. From the website:
"Local Game Shops are community centers. People come together from all around the area in order to play games. Game Night Kits are designed to give you a fun-filled event that has exclusive prizes and unique scenarios. Each one is designed to go along with one of CMON's core games, such as Zombicide: Black Plague, Blood Rage, Potion Explosion, and more. They are packed with prizes like exclusive miniatures, custom dice, and special scenarios to give a new twist on favorite games. These kits are designed to provide support for up to two times the maximum number of players for a game (so, for example, if a game can be played by 2-5 players, there is support in the Game Night Kit for 10 players, along with some extras for the store and the person who runs the event). These events can be promoted in the Stores & Events Locator section of the website."
The trend to include game stores in Kickstarter campaigns, without requiring them to tie up capital in the campaign, has been accelerating over the past few years. Druid City Games has a retailer level of $5 for their
Grimm Forest
campaign, which allows the store to get the game without contributing upfront; while Alligator Alley Entertainment offers a pair of retailer levels for the new
Esper Genesis RPG
Kickstarter, allowing retailer to contribute $25 upfront and have that credited toward purchase when the game releases. While Steve Jackson Games does not have a retailer level for its
Munchkin Shakespeare
Kickstarter, retailers on the company's email list will have the opportunity to get all of the stretch goals for the game directly from the company after the Kickstarter campaign ends.
If these experiments prove profitable for both the publishers and retailers, look for a lot more of these hybrid campaigns.
The opinions expressed in this column are solely those of the writer, and do not necessarily reflect the views of the editorial staff of ICv2.com.