This week's home entertainment offerings include a controversial adaptation of one of the most acclaimed storylines in the DC Comics universe, a hugely successful horror/thriller from M. Knight Shyamalan, a new edition of a long out of print Sailor Moon movie, the U.S. disc debut of an excellent Studio Ghibli film from the 1990s, and the first season of a popular new anime superhero series.
Theatrical Movies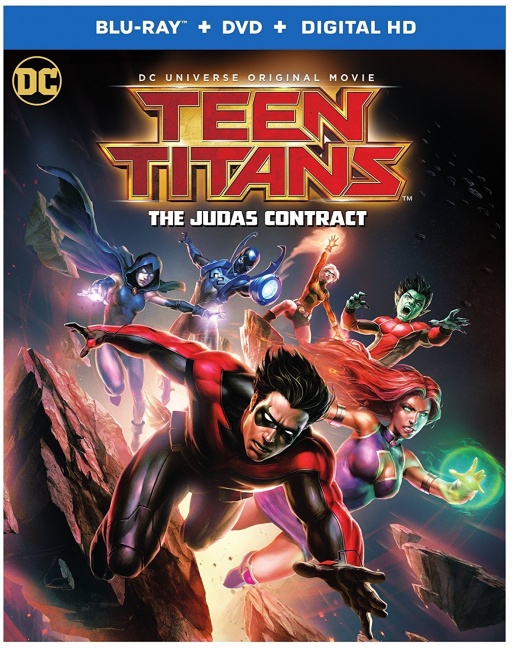 This week's top geek release is
Teen Titans: The Judas Contract
(Warner Bros., 80 min., $19.98, BD $24.98), the latest "direct-to-consumer" animated film from DC and Warner Bros. Animation. The purpose of this series of animated films was to present comic book material without bowdlerizing it for Saturday morning children's TV, and
The Judas Contract
includes language and sexual relationships that would never get past the TV censors.
The Judas Contract
adapts one of the most famous Teen Titans storylines from arguably the group's greatest era—the 1980s when writer Marv Wolfman and artist George Perez made the DC wunderkinds into real rivals for Marvel's
X-Men
. Old school fans who revere the original
Judas Contract
storyline will wish that DC had applied the kind of panel-by-panel rigor that characterized the reverent adaptation of
The Dark Knight Returns
. Without revealing too many details, let's just say that some major changes were made to the original story. That alone will alienate some viewers, while the May/December romance between Tara and Deathstroke (which was in the original story) is creepy enough in this incarnation that it will offend others. Still
The Judas Contract
marks a big improvement over last year's
Justice League vs. The Teen Titans
, and those who enjoy the increasingly dynamic action scenes in these DC animated extravaganzas will not be disappointed by the fight scenes in
The Judas Contract
.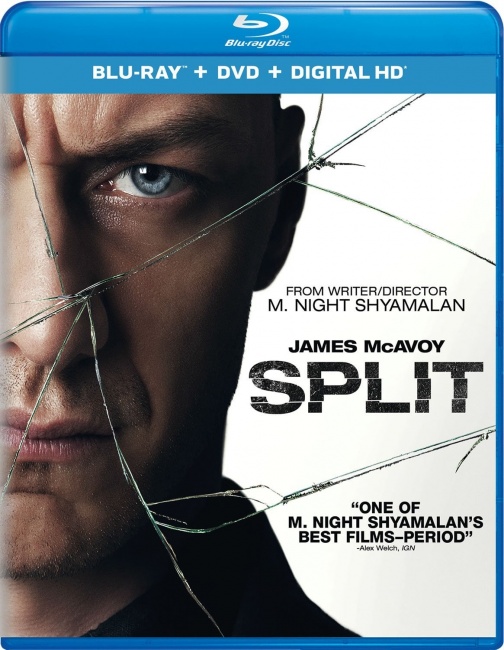 This week's biggest box office release is M. Knight Shyamalan's
Split
(Universal, "PG-13," 234 min., $29.98, BD $34.98), a superior horror thriller, which features James McAvoy in a real "star turn" as a kidnapper with 23 personalities. Since its release in January
Split
has earned $274 million worldwide and earned a 75% positive rating on review aggregator Rotten Tomatoes, which is no mean feat for a horror film. After a few mediocre efforts Shyamalan has gained complete control over his films by paring down the budgets and working with Blumhouse Productions, and the results, especially with
Split
, have been impressive.
A film that fared even better than Split with the critics was The Founder (Lionsgate, "PG-13," 115 min., $29.99, BD $39.99), a warts and all screen biography of McDonalds "founder" Ray Kroc that earned an 84% positive rating on Rotten Tomatoes. Michael Keaton gives a marvelous performance in this compelling saga, which demonstrates that the inner workings of capitalism and its attendant "race for success" are not pretty sights, especially when examined closely.
Anime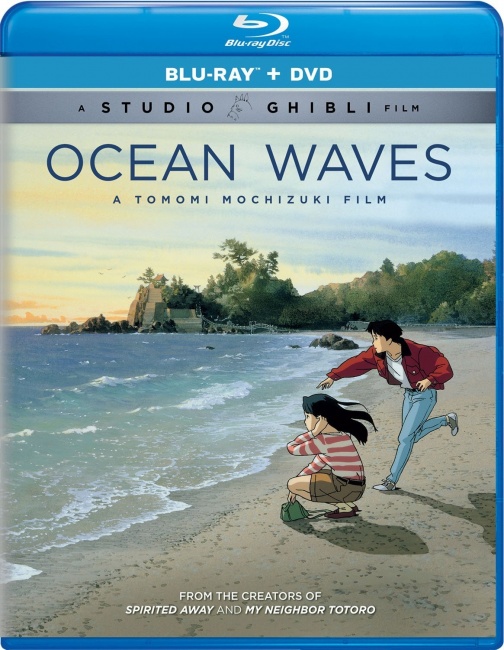 This is a good week for anime releases starting with the first U.S. release of
Ocean Waves
(GKids, 152 min., Subtitles Only, $29.98, BD $34.98), a Studio Ghibli TV movie from 1993. Originally intended as an inexpensive vehicle for younger members of the Ghibli staff, this sensitive coming-of-age love triangle went well over budget, which means that
Ocean Waves
, though it may lack the master's touch, looks fantastic and is a quality film in the grand Ghibli tradition.
Another anime movie of interest, Sailor Moon R: The Movie (Viz Media, $19.98, BD $29.98) was originally released here in 2000, but has long been out of print (copies are going for $65 on Amazon), so it is good news that it will be available again, and especially good news that it will now be available in high-definition.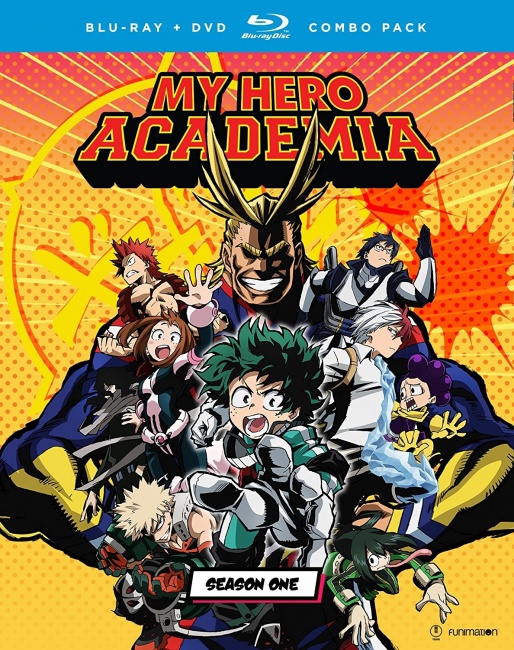 Also of great interest is
My Hero Academia: Season One
(Funimation, 325 min., BD/DVD Combo $64.98, Ltd. Ed. $84.98), which collects the initial season of the 2016 superhero anime series from Bones that is based on the manga by Kohei Horikoshi (published here by Viz Media). This series is very popular in Japan, where a second season is currently airing, and has a good chance to repeat that success in the North American market.
The Limited Edition
includes an 88-page art book with original character art, a 48-page notebook signed by All Might, and a Deku figure keychain.
Other releases this week include the "girl with guns" saga Aria the Scarlet Ammo AA: Complete Collection (Funimation, 300 min., BD/DVD Combo $64.98); as well as the Dagashi Kashi: Complete Collection (Funimation, 300 min., BD/DVD Combo $64.98), the slice-of-life story about a would-be manga artist, who is stuck minding the family candy store; the yuri supernatural action series Valkyrie Drive Mermaid: Complete Collection (Funimation, 300 min., BD/DVD Combo $64.98).
In addition to Ocean Waves, "Subtitles Only" releases this week include the Undefeated Bahamut Chronicle Complete Collection (Sentai Filmworks, 300 min., $49.98, BD $59.98), a 12-episode 2016 series from Lerche based on the fan service-and-intrigue-filled light novel series created by Senri Akatsuki; and a new edition of the classic 1970s Gatchaman II anime, the Gatchaman II: Complete Collection (Sentai Filmoworks, 1,200 min., $79.98).
TV on DVD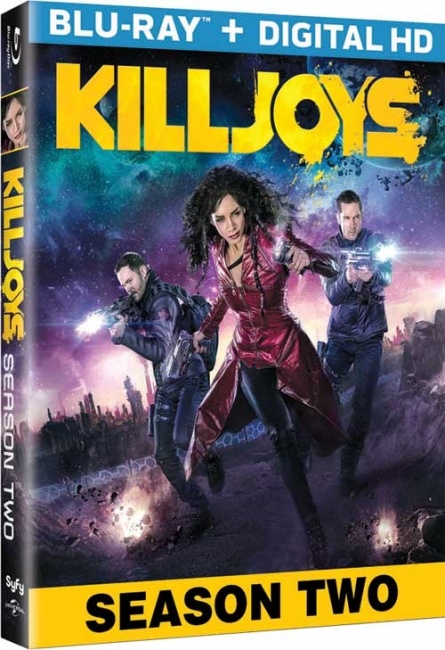 It's not a strong week for TV on disc releases, but there are a few items of interest, especially
Killjoys: Season 2
(Universal, 427 min., $39.98, BD $44.98), the Canadian-produced SyFy series about a trio of bounty hunters working in a four-planet system known as the Quad. There's no cerebral, high concept science fiction stuff here, just good, old-fashioned, adventure-filled space opera.
TV animation buffs might be interested in the rare 13-episode 1983 Hanna Barbera series, Monchhichis: The Complete Series (Warner Bros. 325 min., DVD-R, $24.98), which collects every episode of the cartoon based on a line of stuffed dolls that aired on Saturday mornings on ABC.
Also due this week are: the auction house-based series The Art of More: Season 2; the stiff upper lip British homefront series Home Fires: The Complete Second Season (PBS, 360 min., $39.99, BD $49.99); and the single-disc animated Pound Puppies: Lucky Time (Shout Factory, 120 min., $12.99).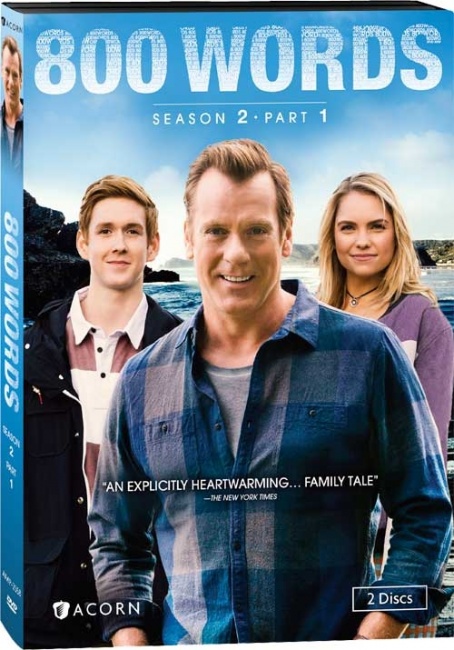 One of the most interesting series to come from "down under" is the Australian/New Zealand co-production
800 Words
about a popular Sydney newspaper columnist who relocates to a small New Zealand town after his wife dies.
800 Words: Season 2, Part 1
(Acorn Media, 365 min., $49.99) continues the sparkling flow of this low-key comedy drama.