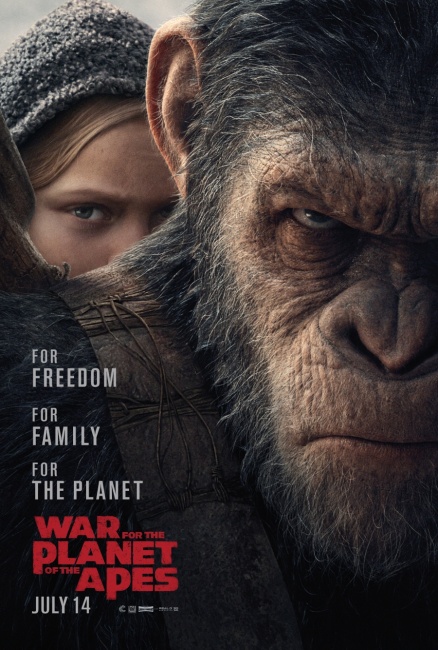 In spite of a plethora of big budget films this summer, it appears that only a strong finish will save the summer of 2017 from finishing well below that of 2016 in total box office. Fox's well-reviewed
War for the Planet of the Apes
won the weekend with an estimated $56.5 million, but, in yet another example of what could be "sequelitis,"
War's
debut was down 22% from its predecessor
Dawn of the Planet of the Apes
in 2014. An aversion to the overly familiar might also be behind
Spider-Man: Homecoming's
61.6% second weekend tumble, the second biggest such drop in the history of the Marvel Cinematic Universe. Overall the box office was down almost 25% from the same weekend last year when
The Secret Life of Pets
opened with $104.4 million.
With a 95% positive rating on review aggregator Rotten Tomatoes, Matt Reeves'
War for the Planet of the Apes
is the best-reviewed blockbuster of the summer. While
War's
$56.5 million debut is marginally better than that of the first film in the rebooted
POTA
series, 2011's
Rise of the Planet of the Apes
, remember that
Rise
was only shown in 2D and that ticket price inflation means that fewer moviegoers made it to
War's
opening weekend than that of any
POTA
movie since the 1970s. The good news for Fox is that
War
cost $150 million to produce, which is $20 million less than
Dawn of the Planet of the Apes
, though it is $57 million more than 2011's
Rise
.
War for the Planet of the Apes
attracted an audience that skewed male (57%) and older (63% over 25). Caucasians accounted for 48% of the crowd, with African-Americans making up 20%, Hispanics 18%, and Asians 10%. Opening weekend audiences gave
War
an "A-" CinemaScore, the same grade achieved by the two previous films in the rebooted series. Right now it appears that it will be a struggle for
War
to match
Rise of the Planet of the Apes
final domestic total $176.6 million. Working in
War's
favor are the reviews from both the critics and the crowds. Working against the film is the fact that it is by far the bleakest blockbuster movie of the summer so far.
Overseas
War
brought in $46 million from about 61 markets, with noticeable drop-offs from
Dawn
in the U.K. ($9.5 million vs.
Dawn's
$14.8), and Russia ($5 million vs. $9.8 million for
Dawn
), though currency fluctuations (notably the current high dollar) played a role in the drop in foreign earnings. With many big markets still to come,
War
could easily rebound overseas (particularly if it hits in China), but so far it appears that there is a drop-off of interest in the franchise overseas as well as here in the States.
At least
Spider-Man: Homecoming's
big drop-off came from one of 2017's biggest bows yet, but it was a lot more severe than those of this summer's other two big superhero hits
Wonder Woman
(down just 43%) and
Guardians of the Galaxy, Vol.2
(down just 56%). Part of this can be attributed to the fact that
Homecoming
had to face the well-reviewed
War for the Planet of the Apes
, but part of it also could be the fact that there is some fatigue at the thought of yet another
Spider-Man
origin story. Still
Homecoming
is clearly a hit, and even if fewer folks end up buying tickets than did so in 2012 for Marc Webb's
Amazing Spider-Man
reboot,
Homecoming
cost a lot less to produce ($175 million) than the $235 and $255 million spent on the two
Amazing Spider Man
films, and
Homecoming
has not only established Tom Holland as a likeable and relatable Peter Parker, it also appears to have gotten the franchise back on a solid narrative track.
Internationally
Homecoming
brought in $72.3 million to drive its overseas total to $261 million for a current worldwide gross of $470 million, and the latest
Spider-Man
film is yet to open in China, Japan, Spain, and Belgium.
Weekend Box Office (Studio Estimates): July 14-16, 2017

Film

Weekend Gross

Screens

Avg./Screen

Total Gross

Wk#

1

War for the Planet of the Apes

$56,500,000

4,022

$14,048

$56,500,000

1

2

Spider-Man: Homecoming

$45,200,000

4,348

$10,396

$208,270,314

2

3

Despicable Me 3

$18,947,840

4,155

$4,560

$187,989,990

3

4

Baby Driver

$8,750,000

3,043

$2,875

$73,151,857

3

5

The Big Sick

$7,600,000

2,597

$2,926

$16,036,824

4

6

Wonder Woman

$6,885,000

2,744

$2,509

$380,686,078

7

7

Wish Upon

$5,586,748

2,250

$2,483

$5,586,748

1

8

Cars 3

$3,167,000

2,049

$1,546

$140,031,500

5

9

Transformers: The Last Knight

$2,780,000

2,323

$1,197

$124,888,619

4

10

The House

$1,795,000

1,633

$1,099

$23,129,558

3
Universal and Illumination Entertainment's Despicable Me 3 continues to do extremely well overseas, where it has accumulated 70% of its global total of $620 million. Domestically, it dropped just 43.6% as it added $19 million to bring its North American total to $188. With a production cost of just $80 million Despicable Me 3 is on the way to becoming one of the most profitable blockbusters of 2017 so far.

Slipping just one spot from #3 to #4, Edgar Wright's Baby Driver solidified its spot as the "sleeper/non-blockbuster" hit of the summer. Produced for just $34 million, the music-driven heist movie earned $8.75 million to bring its domestic total to $73.2 million, and the film has a solid shot to become Wright's first movie to top $100 million at the North American box office.

The fifth spot went to what still might become the sleeper comedy hit of the summer, The Big Sick, which Lionsgate took wide, adding almost 2,300 theaters. Based on the real life courtship of comedian Kumail Nanjiani and his wife Emily Gordon (who wrote the screenplay together), The Big Sick has amassed glowing reviews (97% positive on RT), but still hasn't quite connected with mainstream audiences, and may not find much success outside of urban areas.

The title of "breakout hit" of the summer still belongs to Patty Jenkin's Wonder Woman, which in its seventh weekend of release finally fell out of the top five, earning $6.9 million to bring its domestic total to $380.7 million, just $6 million behind Guardians of the Galaxy, Vol.2. Sometime in the next two weeks Wonder Woman will surpass Vol.2, and become the highest-grossing superhero film of the summer. In fact unless Christopher Nolan's Dunkirk, or Luc Besson's Valarian, or the Stephen King-based Dark Tower defy the late summer doldrums and unexpectedly become megahits, Wonder Woman will be the biggest film on any kind in the domestic market in the summer of 2017. Jenkins' movie has obliterated all the box office records for a film directed by a woman, and it will soon become Warner Bros. third highest-grossing film of all time in the domestic market (not adjusting for inflation), behind only The Dark Knight and The Dark Knight Rises.

Debuting in seventh place was the horror film Wish Upon, which earned just $6.5 million from over 2,200 theaters. With lousy reviews (20% positive on RT) and a "C-" CinemaScore from opening weekend crowds, Wish Upon appears doomed to a very short run in the top ten.

Also clearly disappointing is the continuing underperformance of Cars 3, the poster child for the 2017 outbreak of "sequelitis." The film's slow overseas rollout hasn't helped, and things should look better when all is said and done, but it is already clear that Cars 3 is a rare misfire for Pixar, and even the massive licensing revenues that the franchise has generated may not be enough to insure its continuation.

Ninth place went to Transformers: The Last Knight, a movie that provides a rare example of a film that can make $517 million worldwide and still be considered a flop. How can that be? Well first of all it takes a production budget of around $220 million (plus millions more to advertise), combined with earning 75% of its total overseas where the studio receives well under half of the gross. This is especially true in China, where the studio's share is just 25%, and where The Last Knight has earned almost 50% of its global total.

Another box office dud, Warner Bros.' pricy comedy The House, which cost $40 million to make, and has earned just $23 million so far, finished at #10 as it dropped 62.$% in its third weekend and nearly dropped out of the top ten.

Be sure to check back here next weekend to see what happens on one of the busiest weekends of the summer with Christopher Nolan's epic Dunkirk arriving at over 3,600 theaters to do battle with Luc Besson's comic book-based science fiction epic Valerian and the City of a Thousand Planets, which opens in 3,400 venues, and Universal's well-reviewed (92% positive), R-rated comedy Girls Trip, which stars Queen Latifah, and debuts on over 2500 screens.