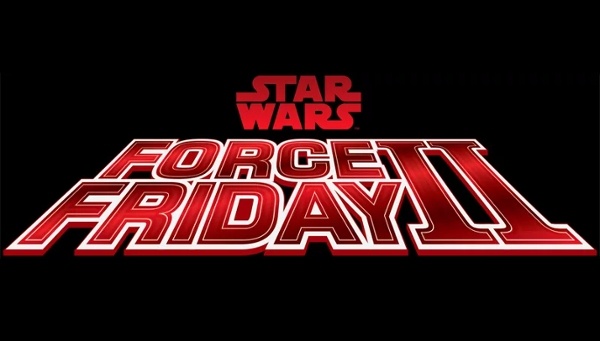 Rolling for Initiative is a weekly column by Scott Thorne, PhD, owner of Castle Perilous Games & Books in Carbondale, Illinois and instructor in marketing at Southeast Missouri State University. This week, Thorne looks at Force Friday and hobby game stores.
Did you know that this Friday is Force Friday (see "
Lucasfilm Augmenting Force Friday
")? Did you even know what Force Friday was? Me either, though according to
the page on Wookiepedia
, it is an even more blatant paean to commercialization and selling stuff than
Black Friday
,
Small Business Saturday
and
Local Comic Shop Day
are. Force Friday celebrates the release of all the new merchandise coming out tying into this year's
Star Wars
release,
Star Wars: The Last Jedi
(see "
'Star Wars: The Last Jedi' Posters and Featurette
"). It's not even an event like Halloween Comicfest or Free RPG Day or Batman Day wherein stores did lots of promotions to work to sell merchandise during the day but the focus is on the giveaways. Here, though a
number of mass market retailers
are hosting special events to tie in with the new releases, the new merchandise to sell is the primary focus. Not that that is a bad thing from a retailer's point of view.
However, never let it be said that retailers in the board game industry are unwilling to jump on the bandwagon, especially when it is the leading specialty board game company in the industry providing the wagon. Fantasy Flight Games produces quite a few games with the
Star Wars
license including
Star Wars: The Card Game, X-Wing Miniatures, Star Wars: Imperial Assault, Star Wars Destiny
and the just announced
Star Wars Legions
, among others. The company did not produce anything for release last year to tie into
Rogue One
but did release a new starter set for
X-Wing Miniatures
in 2015. Unfortunately, your FLGS did not get the chance to participate in that release but will in 2017 as Fantasy Flight Games has "announced" a new
Star Wars
product to release this September 1st. Unfortunately, stores have no idea what it is.
Stores were approached several weeks ago by FFG and Alliance Game Distributors, the exclusive distributor of FFG products to the hobby board game channel about an upcoming
Star Wars
release that would tie into Force Friday. Stores were told the retail price ($29.95) and number per case but had (and still have) no clue as to whether the item is an expansion set or piece for an already existing FFG
Star Wars
product or something entirely new. Stores are hoping the release is a starter set to tease interest in 2018's
Star Wars Legions
release but the majority of retailers from whom I have heard are putting their bets on a 2-player starter set for
Star Wars Destiny
.
I did have my hopes up for some expanded mainstream promotion for this release when I took a look at the Force Friday II website and saw a link
to a complete list
of Force Friday II retailers. "Hey," thinks I, "that's pretty great to see all of the FLGS participating in FFG's Force Friday promotion listed on the Force Friday website." However, my hopes were quickly dashed when I saw only mass merchants and other chains listed there. Well, the money really is in action figures, bed covers and backpacks, not board games, so that is understandable. I hopped over to the Fantasy Flight Games website to see if there was a list of stores participating in their event but nope,
just a teaser post
. Well, I guess we will see what we get from FFG this Force Friday.
The opinions expressed in this column are solely those of the writer, and do not necessarily reflect the views of the editorial staff of ICv2.com.