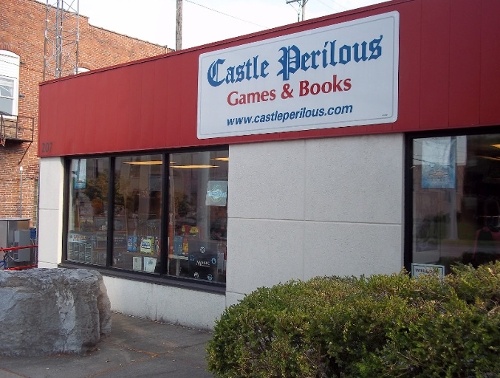 Rolling for Initiative
is a weekly column by Scott Thorne, PhD, owner of Castle Perilous Games & Books in Carbondale, Illinois and instructor in marketing at Southeast Missouri State University. This week, Thorne had the opportunity to sit down with Brendan Bell of Asmodee NA at the recent Alliance Open House and discuss the Fantasy Flight Games'
Force Friday
promotion.
I had the opportunity to sit down with Brendan Bell of Asmodee NA at the recent Alliance Open House and discuss the Fantasy Flight Games'
Force Friday
promotion. Here are some points I took away from our discussion:
The rules applied to everyone.
Disney and Lucasfilms set up
Force Friday
for both the mass and specialty markets and the rules regarding secrecy, timing and product release applied to all retailers involved in the event, whether they were Walmart or your FLGS. Target, Toys 'R' Us and Barnes and Noble all had to adhere to the same rules as my store did and, while some chains, such as Target, were able to arrange for a midnight release, they still operated under the same embargo regarding display of product and information. In other words…
Secrecy was the watchword.
We thought it was bad that we could not get any information about the Fantasy Flight Games release ahead of time in order to plan promotions? According to Bell, this was typical throughout all of the companies involved with the promotion. Information on products was given out on a need-to-know basis only. In one case, boxes were damaged in a warehouse prior to the event, revealing the contents. Those boxes were immediately moved from the warehouse to a secure location away from the main storage area with even less access, only those who were approved in advance able to get into that area. Only a very few companies, such as Target, were given permission to set up displays for a midnight release. Given that Disney had little to no interest in allowing the specialty game channel to participate in the event and the amount of secrecy required of those that were more actively involved, it is hardly surprising that Disney did not approve of giving the specialty game market any advance notice. Remember, everything that Asmodee NA did for the promotion had to be approved by Disney in advance. And you know what…
It worked, at least from Disney's viewpoint
. Asmodee NA, Alliance Distribution and specialty game retailers all managed to land the 2-player
Star Wars Destiny
sets at the stores that had agreed to comply with Disney's (not Asmodee's) stipulations without ANY violations of the secrecy agreement, improper social media posts or early reveals of the product. A pretty impressive operation given the number of organizations, especially at the retail level, which participated. Asmodee NA and Alliance Distribution were happy at how well the promotion worked out and I understand that Disney was quite satisfied with the specialty game channel's participation, so that…
Next time.
Disney and Lucasfilm have neither confirmed nor denied whether another
Force Friday
will take place, so it is currently impossible to say if the specialty game market will get to participate in the next one. However, according to Bell, as noted above, Disney was quite pleased with the way Asmodee NA, Alliance and the FLGS performed in this one. Ergo, if Disney decides to plan another Force Friday event, it is highly likely the specialty game channel would once again be invited to participate.
The opinions expressed in this column are solely those of the writer, and do not necessarily reflect the views of the editorial staff of ICv2.com.