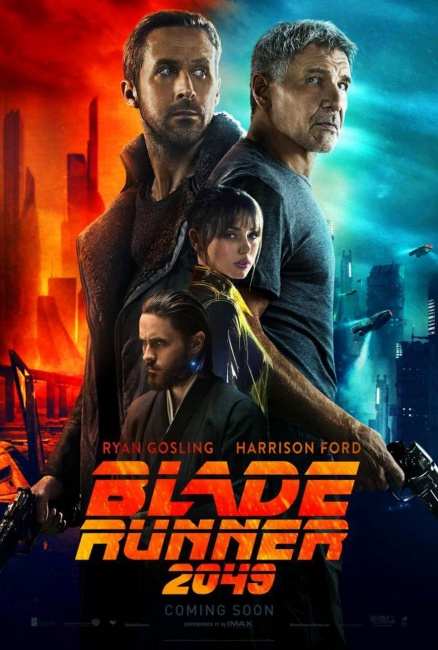 Some in Hollywood hoped that Denis Villeneuve's
Blade Runner 2049
would do for the science fiction genre and the October box office what
It
did for horror movies and September ticket sales, but the
Blade Runner
sequel, which was expected to open with at least $50 million, limped to victory with an estimated $31.5 million, and with Fox's adult drama
The Mountain Between Us
and Lionsgate's animated
My Little Pony
feature, both opening below expectations, the total box office was down 13% from the same weekend last year when Tim Burton's
Miss Peregrine's Home for Peculiar Children
opened with $28.9 million.
Blade Runner 2049
currently has an excellent 89% positive rating on review aggregator Rotten Tomatoes, but, when it comes to genre movies, audiences don't always agree with critics. After all Ridley Scott's original
Blade Runner
was a box office flop 35 years ago that has morphed into a "classic" thanks in part to numerous iterations of the film that were released on video. And, while Villeneuve's previous science fiction film
Arrival
was a hit with critics, and earned $100 million at the domestic box office, it was a very cerebral science fiction film that benefited from a long run that was enhanced by award nominations.
While
Blade Runner 2049
might also end up with around $100 million in ticket sales here in North America, the film's $155 million production cost means that it would have to perform like a
Star Wars
movie to turn a handsome profit, and even though
Blade Runner
is the kind of length immersive poetic science fiction that this writer loves and thinks will have some "legs" in the marketplace, it is still doubtful to see how this new
Blade Runner
film makes it into the black. The film's big hope for success overseas, and its final fate won't be known until it opens in China in early November.
Those who saw
Blade Runner 2049
did give it a solid "A-" CinemaScore, which does bode well for the film's chances in the coming weeks, but the movie's opening weekend demographics were problematic. It skewed heavily male (71%) and very much older with 63% of the crowd over 35. Now older folks do take their time getting to cinemas, but that positive note is balanced by the negative of the film's nearly 3-hour running time, which limits showings (and consequently grosses).
Second place went to the Fox release
The Mountain Between Us
, a "romantic survival drama" starring Idris Elba and Kate Winslet that has so far failed to connect with either the critics (just a 46% positive rating on RT), or mainstream audiences, as it debuted with just $10.1 million from over 3,000 theaters for a mediocre $3,271 average. Those who saw the film did give it a solid "A-" CinemaScore, so there is some hope for future weeks, though there will lots of competition for the adult audience. Predictably, the crowd for
The Mountain Between Us
skewed female (58%) and older with 81% over 25.
Third place belongs to
It
, the horror movie that single-handedly turned the September box office around. Now in its fifth week in theaters,
It
earned $9.7 million to bring its domestic total to a massive $304.9 million, and
It
added $19.8 million overseas to bring the film's global total to $603.7 million, making
It
the biggest international horror film release of all time (not accounting for inflation of course, but still a great achievement for a film that cost just $35 million to make).
Weekend Box Office (Studio Estimates): October 6-8, 2017

Film

Weekend Gross

Screens

Avg./Screen

Total Gross

Wk#

1

Blade Runner 2049

$31,525,000

4,058

$7,769

$31,525,000

1

2

The Mountain Between Us

$10,100,000

3,088

$3,271

$10,100,000

1

3

It

$9,655,000

3,605

$2,678

$304,933,478

5

4

My Little Pony: The Movie

$8,800,000

2,528

$3,481

$8,800,000

1

5

Kingsman: The Golden Circle

$8,100,000

3,488

$2,322

$79,964,425

3

6

American Made

$8,073,000

3,031

$2,663

$30,444,960

2

7

The LEGO Ninjago Movie

$6,750,000

3,611

$1,869

$43,823,663

3

8

Victoria and Abdul

$4,142,000

732

$5,658

$5,958,394

3

9

Flatliners

$3,800,000

2,552

$1,489

$12,329,602

2

10

Battle of the Sexes

$2,400,000

1,822

$1,317

$7,677,575

3
Debuting at #4 was the animated film My Little Pony: The Movie, which is based on the popular My Little Pony: Friendship Is Magic TV series. My Little Pony: The Movie is the latest of 2017's animated films to disappoint at the box office, earning just $8.8 million from over 2,500 theaters for a mediocre $3,481 average. Overseas the film opened in 49 markets, but earned just $3.8 million. Audiences skewed female (59%), with just 51% of the crowd over 25.

The comic book-based Kingsman: The Golden Circle landed at #5, earning $8.1 to bring its domestic total to nearly $80 million. While it won't quite match the first Kingsman movie's total here in North America, The Golden Circle does have a shot at earning $100 million here.

The Tom Cruise-starring American Made dropped to #6 in its second weekend as it earned $8 million to bring its domestic total to $30.4 million. This $50 million production will have to depend on overseas earnings to make its money back.

The bottom half of the top ten includes the highly disappointing animated feature The LEGO Ninjaog Movie, the DOA remake of Flatliners, and the well-reviewed Bobby Riggs/Billie jean King saga, The Battle of the Sexes, which apparently almost no one wants to revisit.

The lone quasi-bright spot in the bottom half of the top ten was Stephen Frears' period drama Victoria and Abdul, which expanded to 762 theaters and earned $4.1 million. This is the sort of adult drama that does well at awards time, though it won't likely ever make it out of the bottom rungs of the top ten.

Be sure to check back here next week to see what happens when Blumhouse releases the slasher movie Happy Death Day, and STX unleashes Jackie Chan in the action-packed thriller The Foreigner.