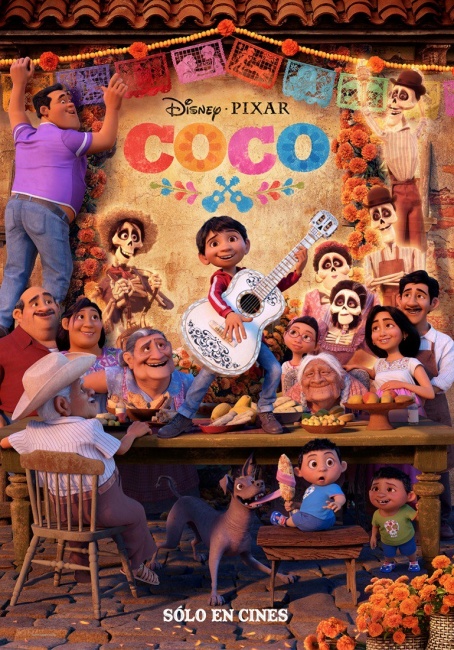 Pixar's
Coco
easily won the weekend box office for the second week in a row, and, in spite of the fact that there were zero new wide releases, the box office was up 6% from the post-Thanksgiving frame a year ago, when Disney's
Moana
topped the charts for a second week in a row with $28.3 million. The uptick was the result of strong performances from the top holdovers as well as a bit of a boost from James Franco's
The Disaster Artist
, which finished at #12 in spite of only opening in just nineteen theaters.
Pixar needed a hit, and it looks like
Coco
is exactly that. It fell just 48% in its second weekend, which is a better drop than
Frozen
(-53%),
Tangled
(-55%), and
Moana
(-50%) to compare it with Disney animated features that debuted in November. Though
Coco
opened eleven percent lower than
Moana
, it has started to close the gap and could end up with a domestic total like
Moana's
of around $250 million.
Coco
is doing even better overseas. The colorful film has really caught on in China. After a so-so $17.8 million opening weekend, it posted a 150% gain in its second frame in the Middle Kingdom where it has now earned $75.6 million. With an overseas total of $171 million and lots of key markets yet to come (the U.K., Japan, Australia, Italy, and Brazil),
Coco's
international run is far from done.
Warner Bros.
Justice League
dropped 60% in its third frame, a slip that would be normal for a typical major studio superhero offering, but then most of them don't cost $300 million to produce.
Justice League's
domestic total of $197 million also looks pretty good, and the movie is doing even better overseas with a total of $370 million for a global haul of $567 million. Again these are good numbers for a normal sort of blockbuster that costs $150-180 million, but they won't cut it for movie as expensive and important as
Justice League
, which caps the first wave of DCEU releases and provides the foundation for subsequent DC Comics-based films. While
Justice League
is no
Battleship
-like total box office disaster, it appears that its financial performance will mirror its mediocre-to-poor critical notices (41% positive on review aggregator Rotten Tomatoes).
Stephen Chbosky's touching family drama
Wonder
continues to impress. Dropping just 44.9%
Wonder
added another $12.5 million to bring its three-week total to $88 million. It looks like
Wonder,
which is based on a popular Y.A. novel by R. A. Palacio, and earned a rare A+ CinemaScore from audiences will become Lionsgate's top movie of the year, and the studio's best performer since
La La Land
. If
Wonder
should get any Oscar nods, this leggy drama could end up north of $150 million.
Weekend Box Office (Studio Estimates): December 1-3, 2017

Film

Weekend Gross

Screens

Avg./Screen

Total Gross

Wk#

1

Coco

$26,114,000

3,987

$6,550

$108,689,404

2

2

Justice League

$16,580,000

3,820

$4,340

$197,335,921

3

3

Wonder

$12,500,000

3,449

$3,624

$88,032,623

3

4

Thor: Ragnarok

$9,659,000

3,148

$3,068

$291,406,599

5

5

Daddy's Home 2

$7,500,000

3,403

$2,204

$82,814,446

4

6

Murder on the Orient Express

$6,700,000

3,201

$2,093

$84,772,513

4

7

Lady Bird

$4,543,990

1,194

$3,806

$17,089,441

5

8

Three Billboards Outside Ebbing, Missouri

$4,530,000

1,430

$3,168

$13,670,520

4

9

The Star

$4,000,000

2,822

$1,417

$27,279,653

3

10

A Bad Moms Christmas

$3,480,000

2,251

$1,546

$64,831,823

5
Taka Waititi's Thor: Ragnarok dropped 42.7% in its fifth weekend as it earned $9.7 million to bring its domestic total to $291.4 million. Some time by early next week, Ragnarok will pass the $300 million mark, the sixth film to do so in 2017 so far (four of which, Wonder Woman, Guardians 2, Spider-Man: Homecoming, and Ragnarok are based on superhero comic books). Overseas Ragnarok has earned $525 million for global total of $816.4 million—and no Justice League is not going to catch Ragnarok.

The pricy, star-studded comedy Daddy's Home 2 dropped just 43.3% and finished in fifth as it earned $7.5 million to bring its domestic total to $82.8 million. It still has a considerable way to go before defraying its $69 million cost of production.

The period mystery saga, Murder on the Orient Express, dropped 49% in its fourth weekend as it earned $6.7 million to bring its North American total to $84.8 million. The $55 million production has earned $126.2 million more overseas, which makes it a hit for Fox, and its success could result in more adult-skewing period dramas been greenlit in the future.

Greta Gerwig's indie coming-of-age saga Lady Bird has now expanded to almost 1,200 theaters. This Oscar contender has now brought in $17 million, and is demonstrating the sort of modest box office success that impresses some Oscar voters, as is Martin McDonagh's dark comedy Three Billboards Outside Ebbing, Missouri, which also earned $4.5 million from under 1,500 theaters, as it brought its total to $13.7 million. Frances McDormand is almost certain to get an Oscar nod for her stellar work in 3 Billboards, which means the film could be in theaters for quite some time.

The R-rated comedy sequel Bad Mom's Christmas remained in the top ten for the fifth week as it earned $3.5 million to bring the $28 million production's domestic total to $64.8 million, which means that the movie is now in the black with three weeks to go until Christmas.

Though there were no new wide releases this weekend, mention should be made of several new films in limited release. First and foremost is James Franco's The Disaster Artist, which earned $1.2 million from just 19 theaters. Franco directs the film and stars as Tommy Wiseau, the director/creator/star of The Room (2003), which really is one of the very worst, if not the worst, films ever made, and which, because of that distinction, became a cult hit. The question will The Disaster Artist, which is about the making of The Room, appeal to more than just the hipster cinephiles who have made The Room a perverse sort of hit? A24 will expand The Disaster Artist to over 800 theaters next weekend, so we should soon see how broad the film's appeal will be.

Also impressive was Guillermo Del Toro's cold war fantasy The Shape of Water, about a romance between a cleaning woman at a top secret government installation and a sleek version of the Gill Man from the 1950s horror film classic Creature from the Black Lagoon. The Shape of Water earned $166,800 from just two locations.

Less impressive was Woody Allen's new film Wonder Wheel, which Amazon opened in five theaters to indifferent result (for such a limited release--a $28,111 per-venue average).

The 20th Anniversary release of James Cameron's Titanic, earned $415,000 from 87 theaters for a $4,770 per-venue average, which was actually better than that of any film in the top ten except for Coco ($6,550).

Be sure to check back here next week as Coco is expected to top the charts again since its only new competitor will be Ron (Bull Durham) Shelton's older adult-skewing caper comedy Just Getting Started, which stars Morgan Freeman, Tommy Lee Jones, and Rene Russo.