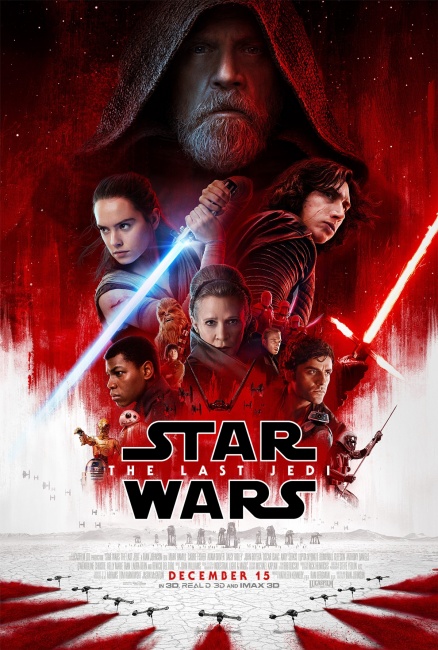 Rian Johnson's
Star Wars: The Last Jedi
definitely felt the competition of a very busy Christmas weekend as it dropped 68.9%, earning an estimated $68.5 million, which was still nearly twice the total of the #2 film of the weekend, Jumanji: Welcome to the Jungle.
Pitch Perfect 3
also opened well, but three other new releases including the musical
The Greatest Showman
, Alexander Payne's
Downsizing
, and Warner Bros.' R-rated comedy fared less well as the box office was down 21% from the 51st weekend of last year when
Rogue One
opened with $155 million.
With Christmas Eve falling on Sunday this was hardly an ideal weekend for Hollywood, making comparisons between
The Last Jedi
and
The Force Awakens
pretty much meaningless until after the New Year's weekend. Still
The Last Jedi's
drop of more than $150 million, which is the biggest first to second week drop ever, must have disturbed some at Disney, though
Episode VIII
has earned $365.1 million so far domestically—and will likely have a $100 million total from the four-day weekend (unlike Christmas Eve, Christmas Day is a prime movie-going day). But there is enough uncertainty at this point that it makes sense to wait until at least after next weekend to make a solid estimate about where
The Last Jedi
will end its domestic run.
The Last Jedi
will end up as the #1 film of 2017, and it will almost certainly end up with a bigger domestic total than
Rogue One
($529 million), but since
The Force Awakens
earned $937 million here in North America, there could be a considerable drop between
The Force Awakens
and its successor, but we will see.
Overseas
The Last Jedi
continued strong, adding $75 million and driving its global total to a hefty $745 million. The added revenue pushed Disney's global total over $6 billion for the second year in a row, something that no other studio has yet managed to accomplish.
Sony's
Jumanji: Welcome to the Jungle
earned a solid $34 million over the three-day weekend, with a 5-day total (it opened on Wednesday) of $50 million, and a six-day haul projected to be in the vicinity of $64 million. The second
Jumanji
film proved to be solid competition for
The Last Jedi,
attracting a family audience with 55% of the crowd under 25. Opening weekend audiences for
Jumanji
skewed male (56%) and they gave the film a solid A- CinemaScore, which bodes well for the film's box office prospects over the next few weeks.
Also receiving an A- CinemaScore was
Pitch Perfect 3
, the female ensemble comedy
Pitch Perfect 3,
which earned $20 million for the three-day weekend. Will this is a long way from
Pitch Perfect 2's
$69 million bow, it is still a solid result and it demonstrates just how competitive this Christmas weekend was. Universal is obviously hoping that it will make up some of the difference from
Pitch Perfect 2
over the next week (the top movie-going week of the year).
Weekend Box Office (Studio Estimates): December 22-24, 2017

Film

Weekend Gross

Screens

Avg./Screen

Total Gross

Wk#

1

Star Wars: The Last Jedi

$68,486,000

4,232

$16,183

$365,088,356

2

2

Jumanji: Welcome to the Jungle

$34,000,000

3,765

$9,031

$50,605,967

1

3

Pitch Perfect 3

$20,451,000

3,447

$5,933

$20,451,000

1

4

The Greatest Showman

$8,600,000

3,006

$2,861

$13,198,731

1

5

Ferdinand

$7,050,000

3,630

$1,942

$26,532,884

2

6

Coco

$5,208,000

2,111

$2,467

$161,327,128

5

7

Downsizing

$4,600,000

2,668

$1,724

$4,600,000

1

8

Darkest Hour

$4,105,000

806

$5,093

$6,957,077

5

9

Father Figures

$3,200,000

2,902

$1,103

$3,200,000

1

10

The Shape of Water

$3,050,000

726

$4,201

$7,615,665

4
Fox's P.T. Barnum musical biopic The Greatest Showman earned just $8.6 million for the 3-day weekend, but it did receive a strong A CinemaScore, which could bode well for the film's long term prospects, in spite of its disappointing debut. This $84 million production will have to step it up in order to have any chance of breaking even, though its older target audience does tend to take its time getting to the theater, which could make for a fairly long run.

Blue Sky Studio's animated Ferdinand dropped 47.4% from its disappointing opening, as it earned $7 million to bring its ten-day domestic total to $26.5 million. Ferdinand, like its more successful competitors The Last Jedi, Jumanji 2, and Coco, targets the family audience, and the competition for the family audience this Christmas has been truly brutal.

Pixar's Coco has been in theaters for five weeks, so the fact that it is still drawing almost as well as Ferdinand testifies to the film's drawing power.

Alexander Payne's eco-fantasy Downsizing, which stars Matt Damon basically bombed, earning just $4.6 million from almost 2,700 theaters for a poor average of $1.724 per venue. But that was still far better than Warner Bros.' R-rated comedy Father Figures, which stars Owen Wilson and Ed Helms. The comedy earned just $3.2 million from over 2,900 theaters for an average of just $1,103.

Two films that were showing in under 800 theaters, the Winston Churchill biopic Darkest Hour, which earned $4.1 million (a $5,093 average), and Guillermo Del Toro's The Shape of Water, which earned $3 million from 726 venues (a $4,201 average) both made the top ten. Opening in just nine theaters the political drama The Post posted a solid $55,000 per theater average.

Next week will see the debut of Ridley Scott's All the Money in the World in more than 2,000 theaters, but the real box office battles will be between the large class of potent holdovers. Be sure to check back and see what happened during what could well be the biggest movie-going week of the year.