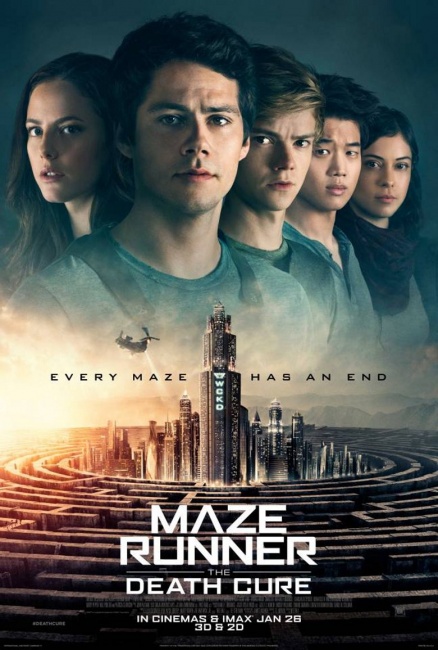 The finale to the
Maze Runner
Trilogy
,
The Death Cure
, topped the weekend box office with an estimated $23.5 million, dethroning Sony's holiday hit
Jumanji: Welcome to the Jungle
, which had dominated the charts for the past three sessions. Scott Cooper's western
Hostiles
expanded into nearly three thousand theaters and finished third with a $9.6 million total, and Tuesday's Oscar nominations buoyed the fortunes of Guillermo Del Toro's
The Shape of Water
and Stephen Spielberg's
The Post
, but overall the total of the top twelve films was down 7.1% from the same frame last year when M. Night Shyamalan's
Split
topped the box office for a second weekend in a row with $25.7 million.
The first
Maze Runner
movie debuted in 2014 near the end of a cycle of screen adaptations of dystopian Y.A. novels, and ended up earning $103 million here in North America and $348 million worldwide—not Hunger Games' numbers, but a decent showing for a $34 million production. The second
Maze Runner
film (
The Scorch Trials
) opened in 2015 and earned $81 million here and $312 worldwide against a $61 million budget.
Death Cure's
$23.5 million bow represents a 21% drop from
The Scorch Trial's
$30 million debut, which is not so bad, especially since
The Death Cure's
release was delayed over a year when a key actor was injured during filming.
The Death Cure earned an OK "B+" CinemaScore from opening weekend audiences, which skewed slightly female (51%) and were a bit older than those for
The Scorch Trials
with 43% 25 and older versus just 33% for the second film in the series.
Overseas The Death Cure has already earned $82 million for a $105.5 million total, and it would appear that the $62 million production has a good chance at a modest level of success, but does this not-so-spectacular-a-finale spell an end for science fiction sagas about societies where teens are subjected to extreme forms of conformity and torture? Given the adolescent penchant for taking a martyr's perspective on societal pressures, the dystopian "teen world" fantasy movie genre is probably just waiting for the next dystopian Y.A. novel to make a splash on the bestseller lists.
Weekend Box Office (Studio Estimates): January 26-28, 2018

Film

Weekend Gross

Screens

Avg./Screen

Total Gross

Wk#

1

Maze Runner: The Death Cure

$23,500,000

3,787

$6,205

$23,500,000

1

2

Jumanji: Welcome to the Jungle

$16,400,000

3,553

$4,616

$338,057,203

6

3

Hostiles

$10,205,000

2,816

$3,624

$12,052,795

6

4

The Greatest Showman

$9,500,000

2,663

$3,567

$126,475,232

6

5

The Post

$8,850,000

2,640

$3,352

$58,535,923

6

6

12 Strong

$8,635,000

3,018

$2,861

$29,759,610

2

7

Den of Thieves

$8,360,000

2,432

$3,438

$28,502,445

2

8

The Shape of Water

$5,700,000

1,854

$3,074

$37,678,745

9

9

Paddington 2

$5,570,000

2,792

$1,995

$32,020,416

3

10

Padmaavat

$4,272,998

324

$13,188

$4,780,239

1
Meanwhile Sony's mega-hit Jumanji: Welcome to the Jungle dropped just 15.9% in its sixth weekend as it earned $16.4 million to bring its domestic total to $338 million, making it the studio's third biggest release of all time (not adjusting for inflation). With a worldwide total of $822 million. Welcome to the Jungle is now Sony's sixth biggest global earner (again, not adjusting for inflation)—and with a budget of just $90 million, Welcome to the Jungle represents a hugely profitable hit for a studio that really needed one.

Scott Cooper's gritty western Hostiles, which stars Christian Bale and Rosamund Pike, was a surprise third place finisher as it added nearly 2,700 screens and earned $10.2 million for a total of $12 million. Though it was denied any Oscar nominations, Hostiles' successful expansion demonstrates that there is some life left in the western genre. Tellingly, Hostiles was an independent production—the studios remain "gun shy" of the western genre—and a small distributor nabbed the North American rights to the $50 million production for just $4 million (plus an ad commitment north of $20 million).

The problem next weekend for Hostiles could stem from its mediocre ("B") CinemaScore from opening weekend audiences and competition from the Super Bowl, which has a strong appeal to the older males, who are Hostiles' target audience.

Fox's musical The Greatest Showman just keeps on demonstrating the strongest "legs" of any film out there, earning more on its sixth weekend than it did in its debut frame. With a North American total of $126.5 million and a worldwide haul of $260 million, this $84 million production is solid hit, and remains in contention to become the third "leggiest" movie of all time, trailing only Chicago and Titanic, a performance that has confounded many analysts (including this one).

Steven Spielberg's The Post, which was aided by Oscar nominations for Best Picture and Best Actress (Meryl Streep), earned $8.85 million and finished in fifth, giving Fox, which also released Death Cure, three of the top five films this weekend. So far The Post has brought in $58.5 million here in North America and another $24.2 million overseas.

The Afghan War film 12 Strong and the crime drama Den of Thieves both posted solid holds (down just 45%) from modest openings, while Guillermo Del Toro's The Shape of Water, which led all 2017 films with 13 Oscar nods, posted its best weekend ever as it added 1,000 screens, earning $5.7 million and bringing its domestic total to $37.7 million.

The highest per-theater average on the charts this weekend belongs to Padmaavat the Bollywood, the most expensive Indian film ever, which earned $4.7 million from just 324 locations (including 270 IMAX theaters). This strong showing testifies not just to the skill of the Bollywood filmmakers, but also to the fact that the South Asian audience here in North America is growing fast, and is underserved by U.S. exhibitors.

Dropping out of the top ten in its seventh weekend, Star Wars: The Last Jedi earned $4.2 million, bringing its North American total to $610.7 million. With a global haul of $1.3 billion, it is hard to see how Rian Johnson's film can be viewed as anything less than a mega-hit. With Disney's aggressive schedule of Star Wars movie releases there is going to be a drop-off from film to film. Though The Last Jedi did out earn the Star Wars "side story" Rogue One, some are still calling The Last Jedi "disappointing" because of the drop-off from the extraordinary success of The Force Awakens—a crazy notion if there ever was one.

Be sure and check back here next weekend, the last bit of calm before the "big" films start dropping as "blockbuster season" extends its tentacles farther and farther into the first quarter. CBS films is releasing the "real life" haunted house horror film Winchester in 2,300+ locations—a bit of counter-programming for a weekend in which the "small screen" will likely triumph courtesy of the Super Bowl.