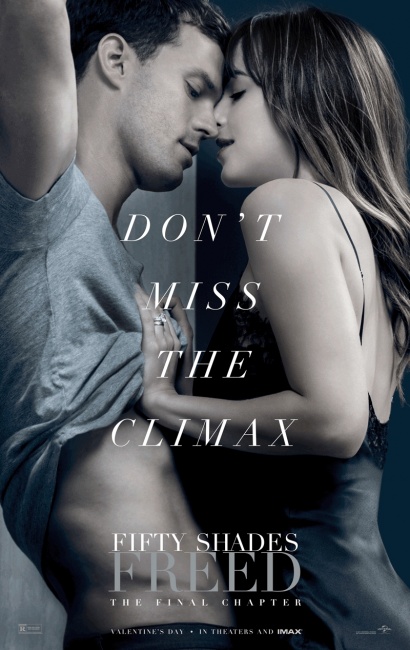 The final
Fifty Shades
movie,
Fifty Shades Freed
, topped a trio of newcomers and the weekend box office with an estimated $38 million, but the total of the top 12 films was down 32.1% from the same weekend last year when
The LEGO Batman Movie
topped the charts with $53 million followed by
Fifty Shades Darker
(46.7 million) and
John Wick, Chapter 2
($30.4 million).
Fifty Shades Freed's
"wingmen" were not nearly as successful as
Peter Rabbit
debuted at #2 with $25 million, and Clint Eastwood's
15:17 to Paris
opened with $12.6 million continuing a downward box office trend that Hollywood hopes Marvel Studios'
Black Panther
movie will reverse next weekend.
Fifty Shades Freed
debuted just about 17% down from its predecessor
Fifty Shades Darker
, which is not bad considering that it is the third film in the series and the novel that inspired the franchise has largely lapsed into well-deserved obscurity. The audience for
Freed
skewed even more female than ever for the franchise (75%) with 55% of the crowd for the R-rated romance under 30. They gave the film an OK "B+" CinemaScore, which based on the performance of previous films in the franchise should result in a domestic run around $100 million.
Sony's animation/live action hybrid
Peter Rabbit
earned an estimated $25 million, a solid start for the $50 million family-targeting production that should have a relatively clear field until
Sherlock Gnomes
debuts in late March. The movie earned an "A-" CinemaScore from opening weekend audiences that skewed female (58%) and a bit old for this type of film with 63% over 25.
Clint Eastwood's
15:17 to Paris
is the worst-reviewed film of the director's career with a current rating of just 20% positive on review aggregator Rotten Tomatoes, and opening weekend crowds, which skewed slightly female (51%) and older with 86% over 25. Eastwood's gutsy decision to use the actual American soldiers, who foiled a terrorist act while on leave, is apparent failure. Even in this benighted age of "reality TV," it appears that the craft of acting remains a key component of big screen success.
Weekend Box Office (Studio Estimates): February 9-11, 2018

Film

Weekend Gross

Screens

Avg./Screen

Total Gross

Wk#

1

Fifty Shades Freed

$38,806,000

3,768

$10,299

$38,806,000

1

2

Peter Rabbit

$25,000,000

3,725

$6,711

$25,000,000

1

3

The 15:17 to Paris

$12,600,000

3,042

$4,142

$12,600,000

1

4

Jumanji: Welcome to the Jungle

$9,825,000

3,136

$3,133

$365,656,871

8

5

The Greatest Showman

$6,400,000

2,373

$2,697

$146,535,870

8

6

Maze Runner: The Death Cure

$6,000,000

2,923

$2,053

$49,018,129

3

7

Winchester

$5,050,000

2,480

$2,036

$17,177,358

2

8

The Post

$3,500,000

1,865

$1,877

$72,836,520

8

9

The Shape of Water

$3,000,000

1,780

$1,685

$49,765,691

11

10

Den of Thieves

$2,870,000

1,468

$1,955

$40,951,323

4
Sony's mega-hit Jumanji: Welcome to the Jungle slipped to fourth in its eighth week of release as it earned $9.8 million to drive its domestic total to $365.5 million. It will soon become Sony's second biggest domestic hit ever (not adjusted for inflation).

Equally "leggy" is Fox's musical The Greatest Showman, which has remained in the Top Five since its release eight weeks ago and has never posted a week-to-week decline greater than 19.4%. The Greatest Showman earned an estimated $6.4 million to bring its North American total to $146.5 million, some 16.6 times its debut weekend total of $8.8 million.

Next weekend the downward box office trend should end as the Marvel/Disney Black Panther film debuts on over 3800 screens, while Lionsgate will open the Aardman stop-motion animated Early Man in 2400 theaters, and the Biblical film Samson will unspool at 1,200 locations.