This week's home entertainment releases are heavy on the theatrical side with Oscar hopefuls Coco and Three Billboards Outside Ebbing, Missouri debuting along with the surprisingly successful period mystery drama Murder on the Orient Express, the Winston Churchill biopic The Darkest Hour, and the second season of the anime sensation Attack on Titan.
Theatrical Films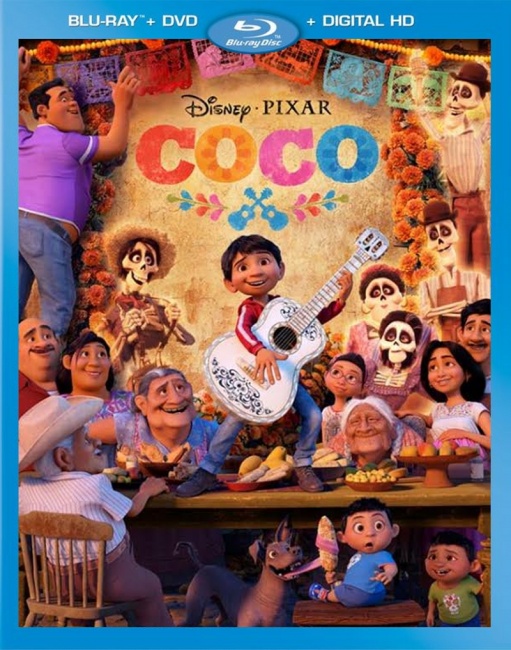 Even though the Academy Awards won't be handed out until next weekend, folks will get a chance to check out a couple of likely Oscar winners on disc on Tuesday including Pixar's
Coco
(Disney, "PG," 105 min., $29.98, BD $36.99, 4K $39.98), a clear favorite to win "Best Animated Feature Film." This saga of a 12-year-old boy and his adventures on the "Day of the Dead" is a visually spectacular tribute to Mexican music and culture that will appeal to both adults and kids.
Coco
earned a well-deserved 97% positive rating on review aggregator Rotten Tomatoes as well as a rare "A+" CinemaScore from audiences. Pixar represents the very best in contemporary filmmaking and
Coco
is one of the studio's very best efforts.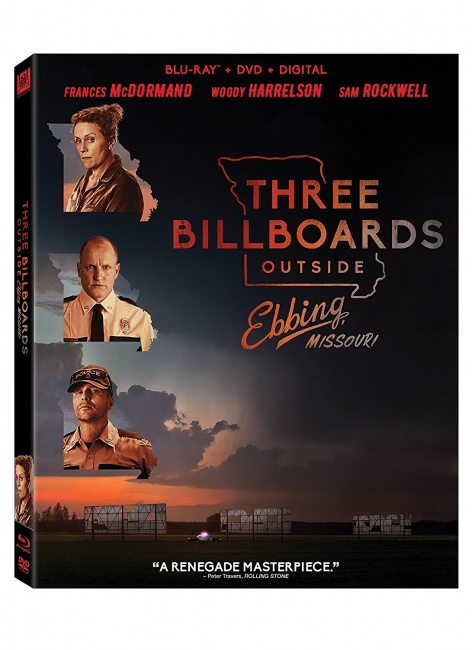 But
Coco
isn't the only home entertainment release due on Tuesday with major Oscar hopes. Martin McDonagh's
Three Billboards Outside Ebbing, Missouri
(Fox, "R," 116 min., $29.98, BD $34.98, 4K $39.98), a black comedy from the creator of In Bruges and Seven Psychopaths, has received no fewer than seven Oscar nominations including "Best Picture," "Best Screenplay," "Best Actress" (Francis McDormand), and two "Best Supporting Actor" nods (for Sam Rockwell and Woody Harrelson. This quirky film is almost impossible to categorize, and really worth seeing.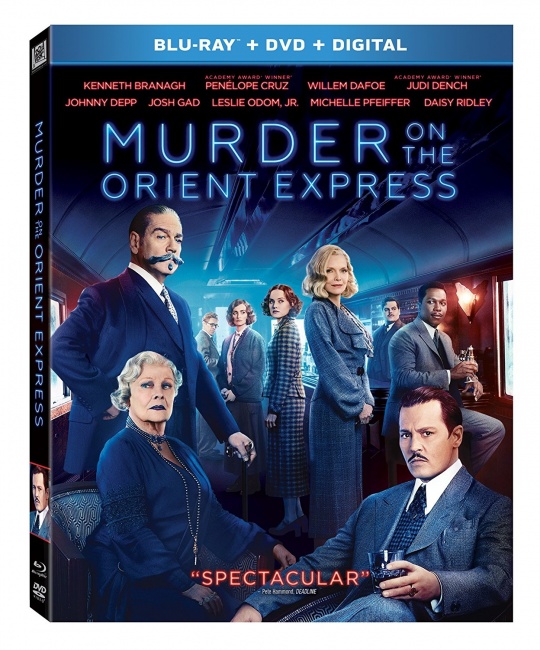 Two films of the type that they supposedly "don't make anymore" are also of interest including
Murder on the Orient Express
(Fox, "PG-13," 114 min., $29.98, BD $34.98, 4K $39.98), a star-studded adaptation of Agatha Christie's period train mystery with director Kenneth Branagh playing Christie's Belgian sleuth Hercule Poirot. This is the kind of "quality" adaptation of a venerable novel that modern audiences are supposedly not interested in, but
Murder on the Orient Express
made over $100 million in North America and over $350 million worldwide. Branagh has a bit of a different take on Christie's novel than Sidney Lumet did in the 1974 adaptation, but those who enjoy a well-acted, well-shot, period mystery won't be disappointed in this new version.
Also those who enjoy hagiographic film biographies won't be disappointed in The Darkest Hour (Universal, "PG-13," 125 min., $29.98, BD $34.98), which stars Gary Oldman as Winston Churchill in a film about his early days as Prime Minister, when Hitler's Germany appeared to be unstoppable. Joe Wright's film is a solid biopic in the grand screen tradition, and Oldman's performance is a perfect fit for the genre.
This week's other release is Ron (Bull Durham, Tin Cup) Shelton's Just Getting Started (Broad Green, "PG-13," 94 min., $36.95, BD $44.95), an action comedy set in a retirement home where a former FBI agent and a former mob lawyer both find themselves target by organized crime. In spite of a strong cast led by Morgan Freeman, Tommy Lee Jones, and Rene Russo, this geriatric action comedy missed the mark with both critics and audiences.
Anime
This week's top release is
Attack on Titan: Season 2
(Funimation, "TV-MA," 300 min., BD/DVD Combo $49.95, Ltd. Ed. $84.95), which includes episodes 26-37 of the powerful adaptation of Hajime Isayama's
Attack on Titan
manga, which has 71 million copies in print worldwide. While it's not for the faint of heart,
Attack on Titan
, which is produced by Wit Studio, is one of the biggest anime releases of 2018. The
Limited Edition
comes in a special chipboard box and includes a 2-panel DIgibook with 24 pages of art and character info, as well as a 60-page art book filled with images from Wit Studio.
Also due this week are Izetta: The Last Witch: The Complete Series (Funimation, "TV-14," 300 min., BD/DVD $64.98). This action fantasy, which takes place in an alternate world on the eve of World War II, was simulcast in English by Funimation; and Scar-red Rider Xech-S: The Complete Series (Funimation, "TV-PG," Subtitles Only, 300 min., $44.99), which includes all 12 episodes of the 2016 series based on an otome game created by Red Entertainment.
Another item of interest is the Flip Flappers! Complete Collection (Sentai Filmworks, "TV-PG," 325 min., BD $69.98, Premium Box $149.98), which collects the 13-episode 2016 magical girl series from Studio 3Hz. The Premium Box includes a 280-page hardcover, art cards, and a lenticular bookmark.
TV on DVD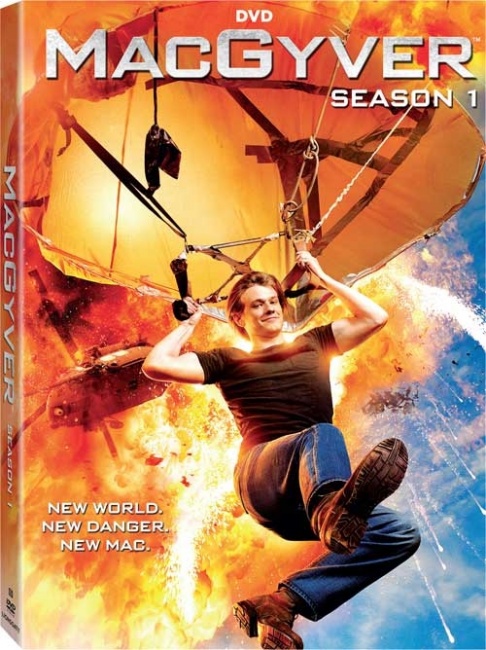 There are very few new offerings this week, but there are a couple of items of special interest. The first is MacGyver: Season 1 (Lionsgate, 893 min., $29.98), which includes all 21 episodes of the 2016 "re-imagining" of the classic 1980s DIY hero saga. Unfortunately the hero of the new series lacks the panache and charisma displayed by Richard Dean Anderson in the often cheesy, but always fun original series, but the new series is interesting largely because of the continuing popularity of its hero's improvisatory skills, and because it is interesting to compare the social outlook projected by the two series created 20 years apart.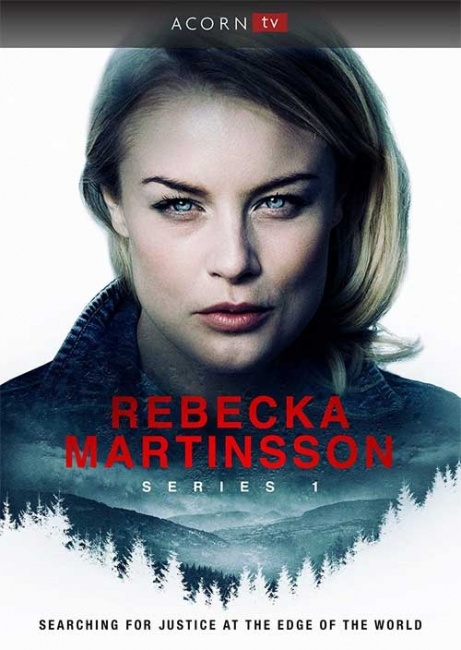 Lots more fun (and more challenging) is
Rebecka Martinsson: Series 1
(Acorn Media, 360 min., $49.98), a Swedish series (with English subtitles) based on the Nordic noir crime novels of Asa Larsson that are set against the stark and stunning landscapes of Northern Sweden. These are realistic, character-driven mysteries that will appeal to Nordic noir fans, and to those who love carefully-plotted crime novels with exotic (and in this case often forbidding) settings.
The only other releases slated for Tuesday are all vintage series, including the 1960s sitcom Green Acres: Season 5 (Shout Factory, 645 min., $29.93); the 1980s sitcom Different Strokes: Season 7 (Shout Factory, 585 min., $19.97), and the Andy Griffith-less 1960s sitcom Mavberry R.F.D.: The Complete First Season (Warner Bros., 667 min., $34.99).