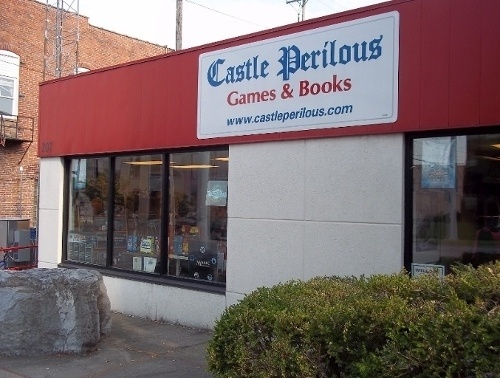 Rolling for Initiative is a weekly column by Scott Thorne, PhD, owner of Castle Perilous Games & Books in Carbondale, Illinois and instructor in marketing at Southeast Missouri State University. This week, Thorne offers suggests for attendees at the upcoming GAMA Trade Show.
I will not make it to the GAMA Trade Show for the first time in several years. Moving it to Reno, Nevada made it impossible to combine it with my annual Route 66 trip and I will have a lot of midterms to get graded during the week so you folks have fun without me. I saw a couple of Facebook posts asking what new attendees should bring and do so, without further ado:
Bring hand lotion, chap-stick and a water bottle. You are high up and the temperature is cooler but you are still in the desert. There is not much humidity and you are going to get dry, both on and inside your skin.

Bring business cards. Think you have enough? Bring more. Most exhibitors will want one for various drawings or just for contact information and you will want to exchange them with other retailers you meet at the show.

Here's the schedule of seminars. If this is your first time attending, the new store orientation on Monday morning is a good talk to attend, as are the seminars in Sorrento 3 on Monday or Sorrento 2 on Tuesday. The Sorrento seminars duplicate each other so no need to catch them all on the same day and are more industry-focused but should give retailers a very good overview of how the game industry works. A major topic of concern among many stores is generating revenue from your play area, so I would also recommend catching Jennifer Ward's talk on "Monetizing Your Play Space" Monday morning. Another useful presentation should be Gary Ray's "Open to Buy Principle" Thursday morning. Proper use of open-to-buy can really help a store operate more profitably and many store owners do not really understand the concept. Also, given the number of publishers moving to some form of MAP (Minimum Advertised Price), Asmodee NA for example, attending one of the three seminars on MAP would be a pretty good idea, just to get a better handle on what you as a retailer can and cannot do if you sign a MAP agreement.

Vegetarians will generally be able to find victuals they can eat at each of the meals. I generally avoid meat and never had any problem finding food at any of the meals. If any of the meals are plated instead of buffet, asking your server for a vegetarian entree will usually do the trick.

Keep your schedule book handy. Unlike Toy Fair, unless something has changed, there are no apps or online guides to the exhibit hall, just a big paper map inside the book. It can be really easy to overlook one of the smaller booths.

Meetings can be arranged with exhibitors in the exhibit hall. It is probably best to contact them this week and see about setting up a time. The hall will be busiest on Wednesday and, as a number of retailers will depart on Thursday, exhibitors will have more time available for meetings that afternoon.

The Peppermill does provide a shuttle service for those flying in. You can find details and the schedule here.

There are game nights on Monday, Tuesday and Thursday nights, wherein you will have a chance to try out many of the games you saw during various seminars and in the Exhibit Hall but you will find many of the attendees vanishing on Thursday night into the GAMA Poker Night, only to emerge hours later.

Since WizKids typically gives out a very limited edition figure at the end of its seminars, they tend to be standing room only so get there early if you want a seat.
Hope this helps those of you going for the first time. Have fun and I will be thinking of you as I post grades into the gradebook.

The opinions expressed in this column are solely those of the writer, and do not necessarily reflect the views of the editorial staff of ICv2.com.