Confessions of a Comic Book Guy is a weekly column by Steve Bennett of Super-Fly Comics and Games in Yellow Springs, Ohio. This week, Steve Bennett looks at comics-based words in the language, the new Nancy Drew, fashion in comics, and Dynomutt!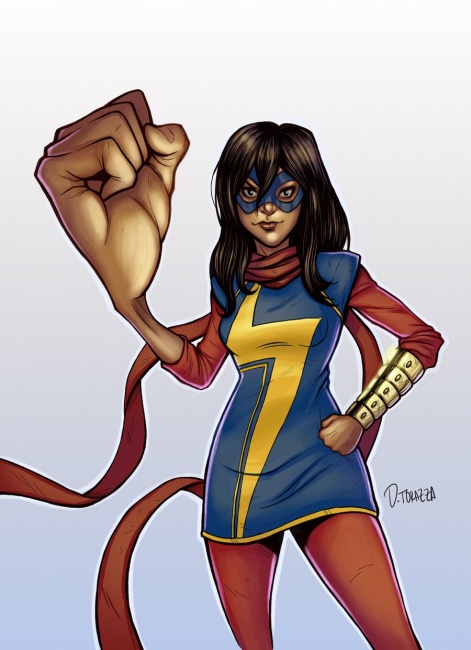 I've always been something of a logophile*, someone intensely interested in words, and naturally, I've taken a special interest in words which originated in comic books and strips. There have been far too many to tally in this confined space, but comic books have given us Shazam, Brainiac, and Bizarro, Not to mention the onomatopoeia (Pow! Wham!) associated with the 60s
Batman
TV show, which unfortunately became synonymous with superheroes and comics for well over fifty years. And while "Google" didn't come from Bill DeBeck's classic comic strip
Barney Google
, plenty of other words and phrases did. Like "sweet mama," "horsefeathers," "heebie-jeebies," "hotsy-totsy," "great balls o' fire" and "time's a-wastin'."
So when I read the piece "Merriam-Webster Dictionary Adds 850 New Words, Including Ms. Marvel's Catchphrase" on the
Newsweek
website, I was happy to see that comics continue to have an impact on our language. And as a fan of the character, I was equally well pleased to learn that Merriam-Webster announced the inclusion of the word in the new edition of their dictionary via a Tweet which had a gif of Ms. Marvel from the
Avengers Assemble
Disney XD animated series.
However, due diligence compels me to point out that while Ms. Marvel definitely popularized "embiggen," an informal or humorous transitive verb defined as "to make bigger or more expensive," it didn't originate with the character or her comic. As " Ms. Marvel and The Simpsons Put 'Embiggen' in the Dictionary," a piece on the
Polygon
website reveals, the word originally comes from "Lisa the Iconoclast," the 1996 episode of
The Simpsons
that establishes Springfield's town motto is "a noble spirit embiggens the smallest man."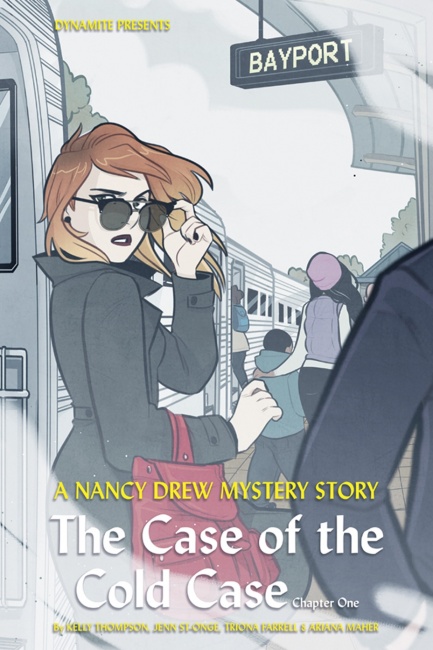 DynamiteEntertainment's first use of their license on the Nancy Drew/Hardy Boys characters,
Nancy Drew and The Hardy Boys: The Big Lie,
attempted to insert the characters into a serious period, with Nancy cast in the role of a "femme fatale." I considered the series to be an ill-conceived attempt at turning them into something the direct market would find digestible, a massive miscalculation on the publisher's part. But I have higher hopes for the upcoming Nancy Drew comic previewed on ICv2 (see "
Preview: 'Nancy Drew' #1
"). Written by Kelly Thompson and drawn by Jenn St-Onge, instead of facing mysteries concerning Old Clocks and Hidden Staircases, 17-year-old Nancy will have to the mystery of who's trying to kill her.
From the various variant covers of the first issue presented in the piece, the series will have a stylish modern look. And speaking of stylish, I came across "Clothes in Comic Books Have Gotten a Lot Better," an interesting article I found on the
Racked
website about a subject most of us probably don't spend a lot of time thinking about: fashion in comics. Jen Bartel, who has done covers for Marvel, DC, and Image, is quoted as saying "A lot of comic artists don't prioritize keeping up with modern trends, and their character designs tend to look dated because of it." And that readers today "want to be able to identify with their favorite characters, they want to see themselves on the page, and busty women wearing painted-on body suits just aren't cutting it anymore."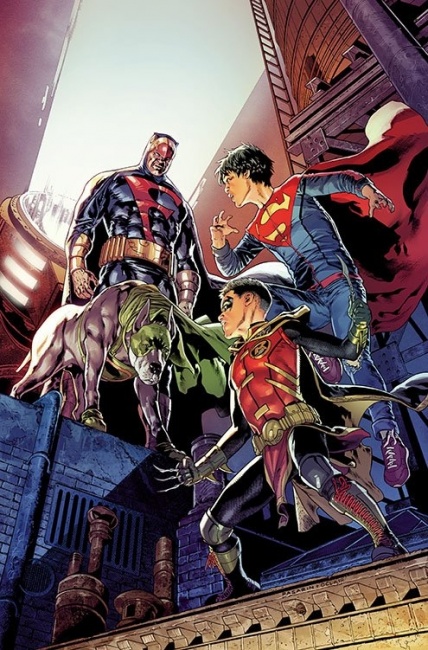 And, finally, I've got to admit I was intrigued by the headline of the
Bleeding Cool
piece, "More DC/Hanna-Barbera Crossover Comics, Including Super-Sons/Dynomutt." After reading it I find myself looking forward to reading that comic, which is admittedly a bit odd given I've never been that big a fan of the Super-Sons. And I can promise you I have never for a moment ever wanted to see never a serious version of "The Blue Falcon and Dynomutt" in the DC Universe. But it does look like it's going to be a lot of fun, which is something the DC Universe sorely needs right now.
* Among those 850 new words is "Wordie," which Merriam-Webster defines as a lover of words. So, basically, a logophile, except you don't have to explain to people what a logophile is.
The opinions expressed in this column are solely those of the writer, and do not necessarily reflect the views of the editorial staff of ICv2.com.