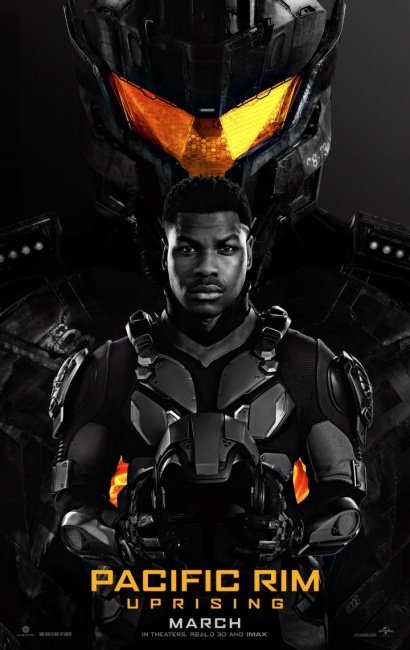 Pacific Rim: Uprising
earned an estimated $28 million, as it finally ended the five week reign of
Black Panther
, but it was a lackluster debut for the $155 million, mecha-filled production, and with none of the other four new films contributing much, the total of the top 12 films was down 41.1% from the same frame last year when Beauty and the Beast topped the charts with $90.4 million in its second weekend.
Pacific Rim: Uprising
is the sequel to Guillermo Del Toro's 2013 film, which "almost" broke even ($411 worldwide versus a production cost of $190 million).
Uprising
, which stars John Boyega (
Star Wars: The Force Awakens
, etc.), cost a bit less to produce ($155 million), but it also opened weaker in the U.S. than Del Toro's film ($28 million vs. $37 million).
Uprising
, which is long on action-packed special effects, but a bit short on narrative, received mediocre reviews (46% positive on review aggregator Rotten Tomatoes), and a mediocre "B" CinemaScore from opening weekend audiences, which were well balanced by age (53% over 25), but skewed heavily male (68%). Caucasians made up 52% of the crowd, followed by Hispanics (20%), and then African-Americans and Asians (both 11%).
Foreign audiences accounted for 75.2% of the revenue for Del Toro's 2013
Pacific Rim
, and Stephen DeKnight's
Pacific Rim: Uprising
is going to need even more success outside of North America to get in the black.
Uprising
did earn $122.4 million overseas this weekend, led by $65 million in China, so it is still possible that foreign markets will be able to make up for what would appear to be a weak run here in North America that is not likely to amount to more than $70 million.
After five weeks at number one, Ryan Coogler's
Black Panther
slipped to #2 as it earned $16.65 million to bring its domestic cumulative to $630.9 million.
Black Panther
is now the number one superhero film in the North American market (not adjusted for inflation) as it soared past Joss Whedon's
Avengers
($623 million). Even when adjusting for rising ticket prices,
Black Panther
is now #4 (soon to become #3) trailing only Sam Raimi's
Spider-Man
($638 million adjusted), Christopher Nolan's
The Dark Knight
($684 million adjusted), and Whedon's
Avengers
($705 million adjusted).
Globally Black Panther has now earned $1.237 billion, and it has passed
Iron Man 3
to become the third biggest global earner in the Marvel Cinematic Universe, trailing just the two
Avengers
films. Will T'Challa's appearance in the upcoming
Avengers: Infinity War
help that superhero team-up film keep up the franchise's sterling box office record?
Yes the past two weeks have been lackluster at the box office, but still the performance of the religiously-themed
I Can Only Imagine
, which traces the origin of an extremely popular Christian rock song, is impressive. Finishing #3 for the second week in a row,
I Can Only Imagine
dropped just 19% as it earned $13.8 million, bringing its 10-day total to $38 million.
The animated
Sherlock Gnomes
debuted with a disappointing $10.6 million. Spring break vacations over the next few weeks might help, and the film did receive an OK "B+" CinemaScore from opening weekend audiences, but this MGM release will have to demonstrate great "legs" just to break even.
Weekend Box Office (Studio Estimates): March 23-25, 2018

Film

Weekend Gross

Screens

Avg./Screen

Total Gross

Wk#

1

Pacific Rim Uprising

$28,003,000

3,708

$7,552

$28,003,000

1

2

Black Panther

$16,658,000

3,370

$4,943

$630,916,236

6

3

I Can Only Imagine

$13,837,495

2,253

$6,142

$38,316,986

2

4

Sherlock Gnomes

$10,600,000

3,662

$2,895

$10,600,000

1

5

Tomb Raider

$10,430,000

3,854

$2,706

$41,748,108

2

6

A Wrinkle in Time

$8,044,000

3,423

$2,350

$73,886,607

3

7

Love, Simon

$7,800,000

2,434

$3,205

$23,695,601

2

8

Paul, Apostle of Christ

$5,000,000

1,473

$3,394

$5,000,000

1

9

Game Night

$4,160,000

1,866

$2,229

$60,813,535

5

10

Midnight Sun

$4,119,000

2,173

$1,896

$4,119,000

1
Warner Bros.' rebooted Tomb Raider finished in fifth as it fell off 56% from its disappointing debut, earning just $10.4 million to bring its North American total to $41.7 million. Internationally the film is doing much better, adding $34 million for an overseas total of $170 million.

Ana DuVernay's A Wrinkle in Time fell to sixth as it earned $8 million to bring its domestic total to $73.9 million, while Greg Berlanti's coming-of-age saga Love, Simon dropped just 33.7% as it earned $7.8 million to bring the $17 million production's domestic total to $23.7 million.

Debuting in eighth place was Sony's faith-based biopic Paul, Apostle of Christ, which was clearly outshone by I Can Only Imagine. Paul earned just $5 million and will face additional competition from a God Is Not Dead sequel opening next weekend.

Equally disappointing was the debut of the teen romance Midnight Sun, which earned just $4.1 million from over 2,100 theaters. The good news for Midnight Sun is that it did reach its target demographic and spring break is coming up. Midnight Sun earned a solid "A-" CinemaScore from opening weekend audiences that skewed heavily female (80%) and younger (66% under 25).

Even worse was the debut of the best reviewed new film, Steven Soderbergh's Unsane, which has a 78% positive rating on Rotten Tomatoes, but earned just $3.9 million from over 2,000 venues, and received a lousy "B-" CinemaScore from opening weekend crowds that were not pleased with the first feature film ever shot completely on an iPhone 7.

Mention should be made of Wes Anderson's stop motion-animated Isle of Dogs. Anderson is one of few "art film" directors who has shown the potential to create solid mid-range hits, and Isle of Dogs earned an impressive $1.57 million from just 27 theaters for an average of $51,458 per screen. Fox Searchlight will add 22 theaters next weekend, and Isle of Dogs will go nationwide in mid-April.

Be sure and check back here next week to see if Steven Spielberg's adaptation of the video game-themed Ready Player One, which had a smash showing at South by Southwest, can revive a box office that has sagged in the wake Black Panther's record-setting Q1 debut.