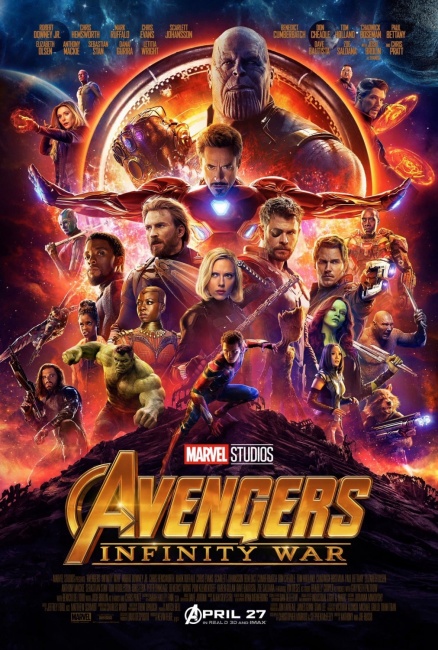 Marvel Studios'
Avengers: Infinity War
dropped just 46% in its third frame, dominating the domestic box office for the third weekend in a row. While
Infinity War's
reign will undoubtedly end at the hands of fellow Marvel creation
Deadpool
next weekend, the Russo Brothers-directed superhero crossover is now the highest-grossing superhero film of all time (not adjusting for inflation).
Infinity War's
strong third frame helped to box office to a virtual year-over-year tie with the second weekend in May last year when Marvel Studios'
Guardians of the Galaxy 2
held sway for a second time with $65 million.
Avengers: Infinity War
earned an estimated $61.8 million here in North America to bring its domestic total to a whopping $547.8 million in just 17 days. This is fourth biggest third weekend of all time (unadjusted), trailing
Black Panther
($64 million),
Avatar
($68 million), and
The Force Awakens
($90 million). Even when accounting for inflation,
Infinity War
scored the tenth best third frame ever.
Infinity War
is already the eighth biggest film of all time here in North America (not adjusted), and the 65th if rising ticket prices are taken into account. The big question is, how far will
Infinity War
drop with competition from
Deadpool 2
this coming weekend, and
Solo: A Star Wars Story
the weekend after?
Overseas
Infinity War
posted the second biggest debut in China ever, earning over $200 million and driving its overseas total to a massive $1.059 billion, already the biggest total (unadjusted) ever accumulated by a superhero film. Unadjusted
Infinity War
already ranks as the fifth largest overseas earner ever. How the film plays out in China (where the R-rated
Deadpool 2
won't be released) will go a long way towards determining its final worldwide tally, but suffice it to say that
Infinity War
is already a massive hit—and Marvel Studios gets another shot at the brass ring next summer with the second half of the
Infinity War
saga.
Second place went to Melissa McCarthy's
Life of the Party
, which debuted with an estimated $18.5 million. This is smallest debut yet for a film starring McCarthy, but it is actually the number 2 opening so far for a comedy film in 2018, trailing only
Blockers'
$20.3 million bow, which indicates either that we have had a dearth of good film comedies, or that the genre (along with serious dramas) might be one of the types of films most affected by the multitude of streaming options available in the "Netflix and chill" era.
Weekend Box Office (Studio Estimates): May 11-13, 2018

Film

Weekend Gross

Screens

Avg./Screen

Total Gross

Wk#

1

Avengers: Infinity War

$61,817,000

4,474

$13,817

$547,829,103

3

2

Life of the Party

$18,500,000

3,656

$5,060

$18,500,000

1

3

Breaking In

$16,500,000

2,537

$6,504

$16,500,000

1

4

Overboard

$10,100,000

2,006

$5,035

$29,593,977

2

5

A Quiet Place

$6,400,000

3,144

$2,036

$169,552,634

6

6

I Feel Pretty

$3,710,000

2,858

$1,298

$43,856,576

4

7

Rampage

$3,380,000

2,548

$1,327

$89,744,663

5

8

Tully

$2,240,000

1,356

$1,652

$6,980,060

2

9

Black Panther

$1,932,000

1,370

$1,410

$696,186,611

13

10

RBG

$1,165,000

180

$6,472

$2,002,767

2
Females accounted for 70% of the audience for Life of the Party, which also skewed older (for a PG-13 comedy) with 80% over 25. With mediocre reviews (41% positive on review aggregator Rotten Tomatoes), and a so-so "B" CinemaScore it is too early to tell whether Life of the Party will develop "legs."

Third place went to another new film, the James McTeigue-directed thriller Breaking In, which stars Gabrielle Union as a mother determined to rescue her children from a supposedly impenetrable house. Produced for just $6 million, Breaking In earned an estimated $16.5 million from about 2,500 theaters for a solid $6,504 average. Audiences for Breaking In also skewed female (65%) and older (53% over 30), and they also awarded the film a "B" CinemaScore.

The remake of Overboard with Mexican star Eugenio Derbez continued to do well, earning $10.1 million from just over 2,000 theaters. In just ten days the film has earned $29.6 million here, and it is also likely to do well in Latin America (it just scored Derbez's biggest opening in Mexico ever).

John Krasinski's horror smash A Quiet Place posted the lowest decline in the top ten, slipping just 17.6% as it earned $6.4 million to bring its six-weekend total to $169.6 million. This $17 million production has already earned over $100 million overseas, and is yet to open in a number of key markets including China, Japan, and France.

The rest of the top ten suffered small declines from small totals, but there a couple of films that should be mentioned. Marvel Studios' Black Panther remained in the top ten for the 13th consecutive weekend, earning $1.9 million and bringing its year-to-date leading domestic total to $$696.2 million, leaving Ryan Coogler's film less than $4 million short of becoming only the fourth film to cross the $700 million mark in the domestic market. Will Infinity War, which has already surpassed the global total of Black Panther, be able to better Black Panther's domestic total? The answer should come in the next few weeks as the Avengers film faces strong direct competition.

Also worthy of mention since documentaries rarely make it into the top ten these days, is RBG, a documentary about Supreme Court Justice Ruth Bader Ginsburg, which came in at number 10 in spite of showing in only 180 theaters.

Next weekend be sure and check back here to see what happens when Fox releases Deadpool 2 into over 4,250 locations, the biggest release ever for an R-rated movie, topping the 4,103 venues for the horror film It last September. In the face of the superhero box office clash between Deadpool and Infinity War, a couple of counterprograming initiatives will launch including the "Golden Girls"-like comedy Book Club, which will land in 2,500 theaters, and the animated film Show Dogs, which will bow in around 3,000 locations.