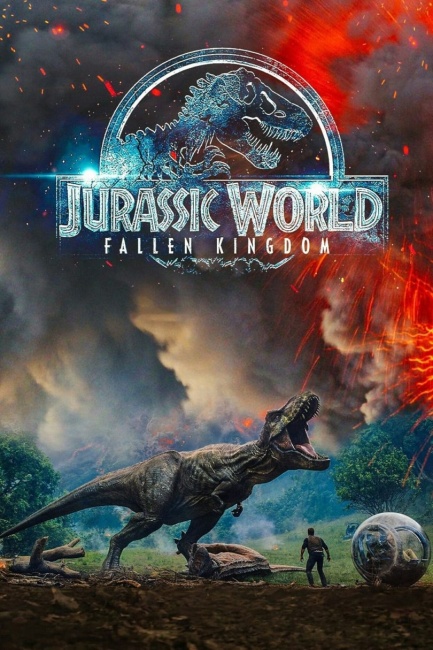 As expected Universal's
Jurassic World: Fallen Kingdom
and Disney's
Incredibles 2
remained atop the box office charts during the final weekend of what has been a very strong month of June with the summer box office tally now running 15.3% ahead of the same point last summer, and 2018 revenues currently surging 9.3% ahead of 2017 and 8% ahead of the banner year of 2016. In spite of the fact that no new film opened over $20 million this weekend, the total of the top 12 movies was up 4.3% from the same frame last year when
Despicable Me 3
debuted with $72.4 million.
J.P. Bayona's
Jurassic World: Fallen Kingdom
suffered a typical "blockbuster 2nd weekend drop-off" of 59.5% as it earned an estimated $60 million to bring its domestic total to $264.8 million, well below the original
Jurassic World's
$402.8 million total after that film's minimal 49% second week decline. So
Fallen Kingdom
is acting more like a typical summer blockbuster hit, rather than a box office "phenom" like its predecessor. But with a production cost of $170 million and box office earnings that will within the next few days top $1 billion worldwide,
Fallen Kingdom
is a big success for Universal—and its success like that of the
Incredibles
sequel will only nudge Tinseltown in the direction of making more sequels.
For the first time this weekend
Fallen Kingdom
earned slightly more here in North America than it did overseas, but that's because it was released 2 weeks earlier in much of the rest of the world to avoid having to compete with the World Cup.
Fallen Kingdom
will likely fall up to $300 million short of matching the original
Jurassic World's
$652.3 million domestic total, and won't match the first film's mammoth $1,02 billion overseas haul, but it has already made $667.6 million outside of North America and will certainly soar over the $1 billion mark by this time next week.
Pixar's
Incredibles 2
posted another strong hold, dropping just 43.3% in its third weekend as it added $45 million to bring its 17-day domestic total to $439.7 million. By next weekend
Incredibles 2
could well have surpassed
Finding Dory's
North American animated box office record ($486 million), though the debut of
Ant-Man and the Wasp
could hold down the I
ncredibles
sequel's July 4th holiday take.
Overseas
Incredibles 2
has opened in just about half of the world markets (the World Cup again), and has earned $207 million for a current global total of $646.8 million. Because of its delayed release in many markets, it will take some time for the final overseas totals to come in, but so far
Incredibles 2
has demonstrated the potential to put up record breaking numbers for an animated film.
The adult-skewing drug war action film
Sicario: Day of the Soldato
, which stars Benicio Del Toro and Josh Brolin, is yet another sequel, and its $19 million debut is a good sign for those who enjoy this type of action film. While
Day of the Soldato
opened with $7 million more than the original
Sicario
earned when it went wide, it fared worse with both the critics and audiences, who gave
Soldato
a mediocre "B" CinemaScore versus the "A" that the original
Sicario
earned.
Soldato
played to an audience that skewed male (59%) and older with 70% of the crowd over 30. With
The Equalizer 2
set to open on July 20,
Soldato
will have direct competition, so it is unlikely to repeat the leggy run of its Oscar-nominated predecessor, but could well finish above $50 million here in North America.
Weekend Box Office (Studio Estimates): June 29 - July 1, 2018

Film

Weekend Gross

Screens

Avg./Screen

Total Gross

Wk#

1

Jurassic World: Fallen Kingdom

$60,000,000

4,485

$13,378

$264,787,335

2

2

Incredibles 2

$45,546,000

4,410

$10,328

$439,729,514

3

3

Sicario: Day of the Soldado

$19,015,000

3,055

$6,224

$19,015,000

1

4

Uncle Drew

$15,500,000

2,742

$5,653

$15,500,000

1

5

Ocean's 8

$8,035,000

3,426

$2,345

$114,707,181

4

6

Tag

$5,635,000

3,176

$1,774

$40,887,808

3

7

Deadpool 2

$3,450,000

2,094

$1,648

$310,349,858

7

8

Sanju

$2,550,000

356

$7,163

$2,550,000

1

9

Solo: A Star Wars Story

$2,293,000

1,654

$1,386

$207,279,115

6

10

Won't You Be My Neighbor?

$2,290,000

654

$3,502

$7,488,082

4
Finishing in fourth place was this week's other new wide release, the basketball comedy Uncle Drew, which, like Day of the Soldato, beat analyst's predictions (though not by much). Uncle Drew managed to earn $15.5 million from 2,750 venues, but more importantly it earned an "A" CinemaScore from opening weekend audiences, which could help the film and its bevy of ex-NBA greats (plus current sensation Kyrie Irving) hang around the multiplexes for quite some time. Uncle Drew attracted a crowd that was 59% male, with 58% of the crowd over 25. Even with "legs" Uncle Drew is unlikely to make $50 million here in North America, but it is already doing pretty well for a film based on a series of Pepsi commercials.

Warner Bros.' distaff-centric counter-programming gem Ocean's 8 continued its strong run, dropping just 30.4% in its fourth weekend as it added $8 million to bring its domestic total to $114.7 million. Ocean's 8's performance contrasts with another Warner Bros. film, the R-rated comedy Tag, which has not really taken off. Tag has earned $40.9 million in three weeks, but the $28 million production will have to "leg" it out in grand style just to break even.

Fox's Deadpool 2 has spent 7 straight weekends in the top ten. It is now losing theaters and it earned just $3.5 million, but it should do some business over the upcoming holiday frame, and will likely finish its domestic run with about $320 million, well down from the $363 million the original Deadpool earned, but still a solid showing for a sequel.

Landing in eighth place, though it was shown in just 356 theaters, was the Bollywood biographical film Sanju, which posted the best opening in India so far this year ($21.6 million).

Ron Howard's Star Wars spin-off Solo came in at number nine, earning $2.3 million to bring its domestic total to $207.3 million. A fairly good showing in Japan, where it debuted this weekend, has driven the film's global haul to $369 million. With a little luck Solo might reach the global total earned by Terminator: Salvation ($385 million), which sounds like a lot of money, except for the fact that Solo cost around $200 million, and the previous 3 Disney/Star Wars films each earned over $1 billion. One thing that Solo has made crystal clear, Star Wars is not nearly as big a phenomenon outside the domestic market as it is here—and the domestic/foreign divide appears to be growing.

Though documentaries don't generate blockbuster numbers, they are enjoying something of a renaissance in 2018 with the success of the Ruth Bader Ginsburg bio RBG, which has earned $11.5 million, and the Fred Rogers biodoc Won't You Be My Neighbor?, which stayed at #10, earning $2.3 million and bring its 4-week total to $7.5 million. Also opening in limited release, another documentary, Three Identical Strangers, about identical triplets (separated at birth), who meet for the first time, averaged $32,605 from five theaters in limited release.

Next week the action starts on Wednesday, the Fourth of July with the release of The First Purge, an uber-violent exercise in anarchic mayhem, followed by the Friday debut of the latest film from Marvel Studios, Ant-Man and the Wasp. Be sure to check back here next week as see if the Marvel Studios movie magic is still in force.