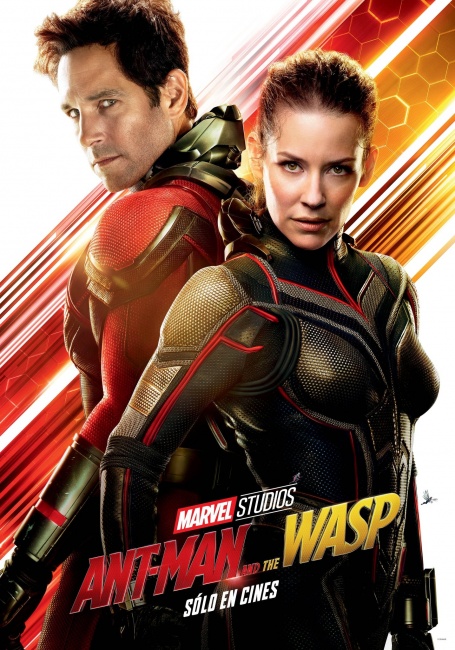 Marvel Studios'
Ant-Man and the Wasp
easily topped the weekend box office with an estimated $76 million. While this total was 33% more than the original
Ant-Man's
debut, it wasn't enough to keep the total of the top 12 films from sliding down 10% from the same weekend last year when Marvel Studios'
Spider-Man: Homecoming
debuted with $117 million.
While no one expected that
Ant-Man and Wasp
to open as robustly as an
Avengers
film, after the new
Ant-Man
film earned $33 million on Friday ($11.5 of which came on Thursday), some analysts were expecting a 3-day total of at least $85 million. But
Ant-Man and Wasp
proved to be the most front-loaded Marvel film so far, thanks largely to a 30% drop-off from Friday to Saturday. Typical Marvel films earn just 9-12% of their weekend totals on Thursday, while
Ant-Man and Wasp
brought in 15.1% of its debut at Thursday showings. How much did the heat wave that afflicted most of the country or the fact that many folks were traveling over the post-July 4 holiday affect the big
Ant-Man
drop-off? We may find out over the coming weeks.
The original
Ant-Man
earned 3.1 times its small (for a Marvel film) $57.2 million opening, making it one of the "leggiest" of all Marvel Studios' releases, trailing only
Guardians of the Galaxy
(3.54x)
and Black Panther
(3.46x).
Ant-Man and the Wasp
did open with 33% more than the original
Ant-Man
(20% more if inflation is factored in). Marvel Studios' films are exceptional in that sequels tend to do better than the originals--but any way you look at it
Ant-Man and the Wasp
enjoyed a much bigger opening than its predecessor even for a Marvel movie. Will
Ant-Man and Wasp
with its bigger opening, be able to match the original
Ant-Man's
leggy performance?
Working in
Ant-Man and the Wasp's
favor is the fact that the film has an 87% positive rating on Rotten Tomatoes, as well as an A- CinemaScore from opening weekend audiences, which were 45% female, a slightly higher percentage than is typical for a Marvel Studios' film
. Ant-Man and the Wasp
is the twentieth film from Marvel Studios, but it is the first to have a female character mentioned in the movie's title.
Ant-Man and the Wasp's
opening weekend crowd skewed older (58% over 25) than the first
Ant-Man's
(48% over 25).
Ant-Man
is, both in size and comic book popularity, one of the lesser Marvel characters, and given the long troubled gestation of the first
Ant-Man
film with Marvel Studios parting ways with director Edgar Wright, who was replaced right before shooting began by Peyton Reed, the fact that Kevin Feige and company have created a viable movie franchise with the character is further testimony to the Studio's acumen. If
Ant-Man and the Wasp
can manage the average MCU multiplier of 2.75x, it should finish with a domestic total of around $210 million.
As was the case with Fox's
Deadpool 2
,
Ant-Man and the Wasp
may be able to make up for any domestic shortfall with international sales. The film opened in about 48% of the international marketplace, and earned an impressive $85 million for a current global total of $161 million. So far
Ant-Man and the Wasp
is running about 45% ahead of the original
Ant-Man
outside of North America.
There was more good news for Disney this weekend as Pixar's
Incredibles 2
moved up to second place, surging past
Jurassic World: Fallen Kingdom
as the animated superhero film declined just 37.5% in its fourth weekend, earning $29 million to drive its domestic total to $504.3 million, which makes
Incredibles 2
the first animated movie to earn over $500 million in the domestic market.
Incredibles 2
has now earned $772.7 million worldwide and it still has a handful of significant markets yet to come including South Korea, Spain, France, Germany, and Italy.
Weekend Box Office (Studio Estimates): July 6-8, 2018

Film

Weekend Gross

Screens

Avg./Screen

Total Gross

Wk#

1

Ant-Man and the Wasp

$76,030,000

4,206

$18,077

$76,030,000

1

2

Incredibles 2

$29,021,000

4,113

$7,056

$504,382,414

4

3

Jurassic World: Fallen Kingdom

$28,585,000

4,349

$6,573

$333,342,665

3

4

The First Purge

$17,150,000

3,031

$5,658

$31,053,945

1

5

Sicario: Day of the Soldado

$7,300,000

3,055

$2,390

$35,302,070

2

6

Uncle Drew

$6,625,000

2,742

$2,416

$29,948,620

2

7

Ocean's 8

$5,285,000

2,604

$2,030

$126,751,228

5

8

Tag

$3,105,000

2,157

$1,439

$48,330,681

4

9

Won't You Be My Neighbor?

$2,590,000

893

$2,900

$12,382,727

5

10

Deadpool 2

$1,675,000

1,267

$1,322

$314,546,400

8
Universal's Jurassic World: Fallen Kingdom slipped to third as it dropped 53.1% in its third frame, earning $28.6 million to bring its domestic total to $333.4 million. Fallen Kingdom will fall well short of the first Jurassic World's massive domestic total of $652.3 million, but it hardly matters because the film has already earned $725.3 million overseas for a current global haul of $1.058 billion, which makes Jurassic World: Fallen Kingdom the 35th film to earn over a billion dollars at the box office.

Universal also scored this week with The First Purge, the fourth film in the anarchic Purge franchise, which earned $17 million over the 3-day weekend, and $31 million so far in its five-day run that began on Wednesday. The First Purge is the first film in the franchise to attract a male majority (54%), and it skewed older than the franchise mean with 49% over 25 (versus just 35% for the most popular film in the franchise so far Purge: Election Year, which had just 35% of the crowd over 25). The First Purge's lousy " B-" CinemaScore won't help it match Election Year's franchise topping total of $79 million, but with a cost of just $13 million, this mini-budgeted "horror" film has already broken even.

Sony's drug war action film Sicario: Day of the Soldato took a big hit, dropping 61.6% from its modest opening total as it earned $7.3 million to bring its domestic total to $35.3 million, which means that this $35 million production still has a long way to go to escape red ink (since the studio only gets to keep about half of a film's domestic gross).

Also in the top ten, the distaff caper film Ocean's 8 finished in seventh as it added $5.28 to bring its domestic total to $126.7 million, the second highest total in franchise history (not adjusting for inflation).

It's been a good year for documentaries with the Mr. Rogers' biopic Won't You Be My Neighbor? finishing at #9 as it earned $2.59 million to bring its domestic total to $12.38 million, the best total for a documentary so far in 2018, and a new Whitney Houston documentary, Whitney, earned $1.25 million from just 425 theaters.

Doing well in limited release was Sorry to Bother You, a clever film about a black telemarketer who adopts a white accent that was written and directed by hip-hop artist Boots Riley. Sorry to Bother You averaged a healthy $44,831 from sixteen theaters.

Be sure and check back here next week to see what happens when two new wide releases raise the summer movie competition to a new level as Hotel Transylvania 3: Summer Vacation bows in over 4,000 theaters, while Dwayne "The Rock" Johnson reworks the Towering Inferno saga in a new disaster film, Skyscraper, which lands in over 3700 venues.