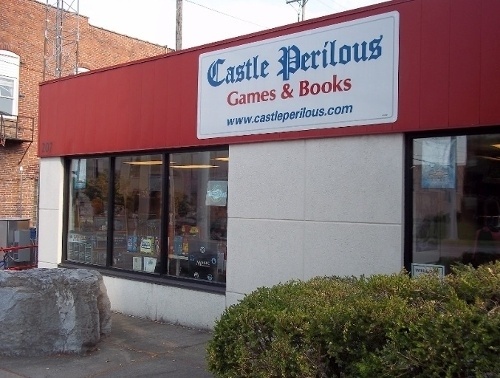 Rolling for Initiative is a weekly column by Scott Thorne, PhD, owner of Castle Perilous Games & Books in Carbondale, Illinois and instructor in marketing at Southeast Missouri State University. This week, Thorne offers three reasons why the sale of Asmodee to a private equity firm should not concern anyone in the industry.
In case you missed it, private equity firm Eurazeo found another private equity firm Pai Partners, to
purchase Asmodee
a couple of weeks ago for $1.2 billion euros or roughly US$1.4 billion. Given that Eurazeo
spent about $143 million euros
in 2013 to purchase the company (That's about $167 million dollars American), Eurazeo is getting a pretty good return on its investment, quintupling the amount originally invested in the purchase. However, I have seen some people wonder if the purchase of arguably the premier board game company in the country by a private equity firm is a good thing. First, it would probably be helpful to define what private equity and a private equity firm are. From
Investopedia
:
"The simplest definition of private equity is that it is equity – that is, shares representing ownership of or an interest in an entity – that is not publicly listed or traded. A source of investment capital, private equity actually derives from high net worth individuals and firms that purchase shares of private companies or acquire control of public companies with plans to take them private, eventually… delisting them from public stock exchanges."
If you have set up your store or company as an LLC or a subchapter-S or any other form of corporation and all of the shares of stock in the corporation are owned by you or you and your partners, with none offered for sale to the public, either on an exchange or OTC (Over the Counter), you have private equity, that is stock in a company that is not available to the public. I cannot buy shares of stock in Asmodee NA. I can, and do, buy shares of stock in Hasbro, because I want to own part of Wizards of the Coast, and since Wizards of the Coast is a wholly owned subsidiary of Hasbro, the only way to gain any ownership of WOTC is to buy Hasbro stock. Similarly, a private equity firm, such as Eurazeo, does the same thing, buying up all of the stock in a company, taking the shares off public exchanges and removing ownership of the company from the public, only doing this with multiple companies. Given that, here are three reasons why the sale of Asmodee to a private equity firm should not concern anyone in the industry.
No one knew Asmodee was privately held. Until news stories started circulating about Eurazeo's plans to sell Asmodee, people in the industry knew Asmodee was privately held, just like most other game companies (and game stores) are. It just didn't concern anyone because Asmodee kept doing what it had done before the original purchase and after the original purpose, putting out games (and buying up or entering into partnerships with other game companies).

A lot more companies are privately held than you might think. As noted above, most game companies in the industry, whether publisher, distributor or retailer, are privately held. In fact, a lot of the businesses you deal with every day are privately held companies. Here is a list of a lot of them.

Debacles like Toys R Us are very rare. Bain Capital, KKR and Vornado used a leveraged buyout to take TRU private, borrowing lots of money to buy TRU, with the expectation that TRU would generate enough profits to repay the debt. They figured wrongly and destroyed the company. Pai Partners' willingness to pay 5 times Asmodee's 2013 purchase price indicates the company sees significant value in the company. Pai will likely use debt to finance part of the purchase, since the company's website says it likes to take an equity state in a company, meaning money invested, of between 100 and 400 million euros, leaving the rest of the Asmodee purchase to be funded through debt. However, Asmodee has a much stronger market position than did TRU.
So, I figure, unless PAI uncovers something really bad in Asmodee's financial statements, the sale will go through and the company will keep making great games, just as it did under Eurazeo's ownership.

The opinions expressed in this column are solely those of the writer, and do not necessarily reflect the views of the editorial staff of ICv2.com.