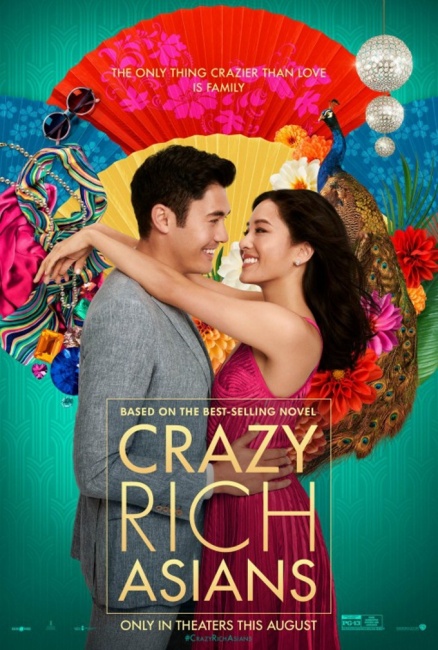 John Chu's romantic comedy
Crazy Rich Asians
dipped just 5.7% in its second weekend as it easily took the box office crown. Although the R-rated
Happytime Murders
foundered,
Crazy Rich Asians
and a strong cast of holdovers led to yet another stellar year-over-year weekend box office increase of 68% over the same frame last year when
The Hitman's Bodyguard
topped the charts for the second week with just $10 million (remember that August 2017 posted the worst earnings for the final month of the summer season in 20 year).
The film that earned the most money in the world this weekend is a bit of a surprise-- Marvel Studios'
Ant-Man and the Wasp
.
Ant-Man and the Wasp
debited in China where the film earned $68 million over the weekend, the fourth best showing for any Marvel Studios' film behind only
Avengers: Infinity War, Captain America: Civil War
, and
Avengers: Age of Ultron
.
Despite the fact that comedies, especially romantic comedies, have had a very hard time at the box office over the past year,
Crazy Rich Asians
, the first rom-com with a cast made up of all westernized-Asian actors, posted the lowest drop ever for a film that opened in over 3,000 theaters (and whose second weekend was not a box office-boosting holiday frame). The $30 million production earned $25 million in its second weekend, driving its 10-day total to $76.8 million. Look for
Crazy Rich Asians
to top the $100 million mark by the end of the upcoming Labor Day weekend.
Comedies can develop incredible "legs," remember
My Big Fat Greek Wedding
, so it's impossible to predict at this time where
Crazy Rich Asians
may end up, but the fact that the film is setting records in its second frame certainly marks it as a film to watch closely. Good movies targeted at underserved audiences such as
Black Panther, Wonder Woman, Get Out
, and
Girl's Trip,
have all done very in recent years. Will
Crazy Rich Asians
have that kind of staying power?
Firmly ensconced in second place for the second week in a row, Warner Bros.'
The Meg
dropped just 38.4% as it earned $13 million to drive its domestic total to $105.3 million. Though its premise is only a bit less improbable than the execrable
Sharknado
TV films,
The Meg
looks like it will become at least a modest moneymaker for the studio and the Chinese group that financed the long-gestating shark film.
Directed by Brian Henson, the son of master puppeteer Jim Henson,
The Happytime Murders
stars Melissa McCarthy in a film noir-like saga of a serial killer targeting stars of an old TV series in a world where puppets and humans co-exist (kind of like
Who Framed Roger Rabbit
only with puppets instead of animated characters). This is the lowest opening ever for a Melissa McCarthy release, and given the lousy 23% positive rating on review aggregator Rotten Tomatoes, and the horrible "C-" CinemaScore from audiences, which skewed male (59%) and a bit older (63% over 25), it looks like this "decades-in-the-making" project, which cost a reported $40 million, is doomed.
Weekend Box Office (Studio Estimates): August 24-26, 2018

Film

Weekend Gross

Screens

Avg./Screen

Total Gross

Wk#

1

Crazy Rich Asians

$25,010,000

3,526

$7,093

$76,817,947

2

2

The Meg

$13,030,000

4,031

$3,232

$105,300,646

3

3

The Happytime Murders

$10,020,000

3,256

$3,077

$10,020,000

1

4

Mission: Impossible - Fallout

$8,000,000

3,052

$2,621

$193,900,660

5

5

Disney's Christopher Robin

$6,340,000

3,394

$1,868

$77,628,783

4

6

Mile 22

$6,030,000

3,520

$1,713

$25,170,954

2

7

Alpha

$5,600,000

2,719

$2,060

$20,160,574

2

8

BlacKkKlansman

$5,345,000

1,914

$2,793

$32,037,540

3

9

A.X.L.

$2,939,356

1,710

$1,719

$2,939,356

1

10

Slender Man

$2,785,000

2,065

$1,349

$25,403,116

3
The fourth and fifth spots went to films that have demonstrated strong "legs," Mission: Impossible-Fallout, which slipped just 25.7% as it earned $8 million to bring its domestic total to $193.9 million, and Disney's Christopher Robin, which after a very soft opening has managed to steady the ship as it dropped just 28.5% in its fourth weekend as it earned $6.3 million to bring its domestic total to $77.6 million.

While Mile 22 and Alpha just treaded water after weak debuts last weekend, Spike Lee's BlacKkKlansman dropped just 27.6% in its third frame as it earned $5.3 million to bring its domestic total to $32 million.

The production company Global Road, which has been in business for just about a year, was taken over by lenders earlier this week, so the dismal opening of the studio's "boy with-a-robot-dog" film A.X.L., which earned under $3 million, is probably to be expected. Though A.X.L. is not that bad a movie, especially for a "family" picture (it received a "B+" CinemaScore from audiences), any success it might have will likely come in a post-theatrical phase.

In the "Why in the hell did they ever want to remake this turkey" category, BST debuted a remake of the 1973 escape-from-Devil's Island epic Papillon, which earned just $1.1 million from over 500 theaters.

Next weekend marks the end of the traditional summer movie season, so check back here to get a preliminary report on what looks one of the best on record. As for new entries in the box office derby, Sony will take the cyber thriller Searching, which opened in just 9 locations and earned $360K this weekend, wide, and it should be interesting to see how the first mainstream Hollywood thriller headlined by an Asian-American actor (John Cho) will perform at the box office. Lionsgate will also release the modestly-budgeted science fiction thriller Kin in about 2,100 theaters.