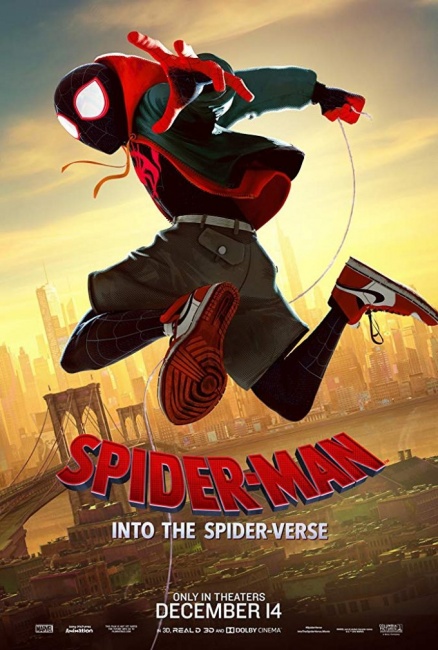 For the thirteenth time this year a movie based on a Marvel Comics character has topped the weekend box office chart. Phil Lord and Chris Miller's
Spider-Man: Into the Spider-Verse
set a new December record for an animated film with a $35.4 million bow, while
Aquaman
continued to crush it overseas where it has already earned $261.1 million.
This weekend also saw one of the biggest year-over-year declines of 2018. Remember that this is a year without the Christmas release of a
Star Wars
movie (heads should roll at Disney for the studio's insane move to open
Solo
just weeks after
The Last Jedi
left theaters rather than holding it for the holidays when going to a
Star Wars
movie had become a tradition for many American families), so the year-over-year box office was down 60% from the same frame last year when
The Last Jedi
debuted with $220 million (a total that is roughly double what the top 12 films earned this year). Still box office revenue for2018 remains about 9% ahead of last year thanks to a huge Q1 and strong showings in the summer and fall seasons.
With a 97% positive rating on review aggregator Rotten Tomatoes and a coveted "A+" rating from opening weekend audiences,
Spider-Man: Into the Spider-Verse
would appear ready to keep crushing it at the box office in the weeks to come, but it will face mammoth competition next weekend when
Aquaman
and the latest
Transformers
movie
Bumblebee
open. Don't expect
Into the Spider-Verse
to be #1 next weekend, but its quality should assure it a long run (and perhaps even the Oscar for "Best Animated Feature").
Miller and Lord, who directed the most successful animated feature to come from Warner Bros. (
The LEGO Movie
), have done it again with
Into the Spider-Verse
, which proves that when done well, diversity (in the form of Miles Morales as everyone's favorite wall-crawler) does indeed work at the box office. Certainly
Into the Spider-Verse
demonstrated its ability to attract a diverse audience, which was 47% Caucasian, 20% Hispanic, 17% African-American, and 16% Asian/other. Opening weekend audiences skewed heavily male (63%, in spite of the presence of Spider-Gwen), and a bit older than one might expect with 41% over 25.
Weekend Box Office (Studio Estimates): December 14-16, 2018

Film

Weekend Gross

Screens

Avg./Screen

Total Gross

Wk#

1

Spider-Man: Into The Spider-Verse

$35,400,000

3,813

$9,284

$35,400,000

1

2

The Mule

$17,210,000

2,588

$6,650

$17,210,000

1

3

Dr. Seuss' The Grinch

$11,580,000

3,759

$3,081

$239,288,710

6

4

Ralph Breaks the Internet

$9,589,000

3,575

$2,682

$154,464,878

4

5

Mortal Engines

$7,501,000

3,103

$2,417

$7,501,000

1

6

Creed II

$5,398,830

3,107

$1,738

$104,882,976

4

7

Bohemian Rhapsody

$4,125,000

2,213

$1,864

$180,423,200

7

8

Instant Family

$3,720,000

2,860

$1,301

$60,218,054

5

9

Fantastic Beasts: The Crimes of Grindelwald

$3,650,000

2,606

$1,401

$151,653,410

5

10

Green Book

$2,780,000

1,215

$2,288

$24,660,366

5
After its boffo debut in China last weekend, Aquaman dropped just 42%, earning $54 million and bringing its 10-day total there to $189 million. That 42% decline is the smallest ever for an American film that opened north of $90 million in the Middle Kingdom. But Aquaman's success is not limited to China. For the second weekend in a row Aquaman was the #1 film in the world as it earned $126.1 million in its sophomore frame overseas, where it is running well ahead of Wonder Woman and Justice League in nearly every territory in which it has opened.

The big question is exactly how big will Aquaman's combination of campy humor, spectacle, and myth, (which one critic called "spectacularly stupid,") be here at the U.S. box office when it opens next weekend? Critics in the U.S. have been less effusive than those overseas, but still positive—the film currently has a 71% positive rating on Rotten Tomatoes. In the past studios have opened big budget films with mixed prospects overseas first (think World of Warcraft, which bombed here, but did well in China), but that was not the case with Aquaman (it was the Chinese exhibitors who pushed for the early December opening), and the film's strong showing overseas has only helped increase interest here in North America, where a huge turnout is expected next weekend.

Second place this weekend went to Clint Eastwood's The Mule, which is the first film in which Eastwood has appeared on screen since 2012's Trouble With the Curve. The Mule, which earned an estimated $17.2 million, is a Drug War saga about an octogenarian, who becomes a "mule" for a Mexican drug cartel, and is primarily aimed at older males, who may be uninterested in the most this year's Christmas movies, which are targeting younger viewers. The audience for the R-rated Eastwood film skewed male (54%) and much older (88% over 25), and the film did best in the Midwest and South. Opening weekend crowds gave the film a solid "A-" CinemaScore, rating it better than the critics (just 67% positive on RT). Given that older folks don't gererally rush to see a film on opening weekend, The Mule could be in for nice long run.

Benefiting greatly from the proximity of Christmas, The Grinch slipped past Ralph Breaks the Internet to snag third place with $11.6 million, bringing its domestic total to $239 million. Even though Dr. Suess' creation is not well known in the rest of the world (and the film has earned 65% of its worldwide total here in the U.S.), this $75 million production from Illumination Entertainment and Universal is already a certified hit.

Meanwhile Ralph Breaks the Internet earned $9.6 million, bringing its domestic total to $154.5, which means this $175 million production still has a long way to go to reach profitability.

Debuting in fifth place was the Peter Jackson-produced steampunk fantasy film Mortal Engines, which opened with just $7.5 million. This qualifies as a "bomb," given the movie's $100 million production cost, and the fact that this time both the critics, who gave the film just a 28% positive score on Rotten Tomatoes, and audiences, who award Mortal Engines a lousy "B-" CinemaScore agreed. Opening weekend crowds skewed male (55%) and older (64% over 25).

The bottom half of the top ten all posted relatively small declines from what have become over time small totals. Creed II made it over $100 million here in North America, while Bohemian Rhapsody is now just $19 million shy of A Star Is Born in the race for the "biggest hit musical of 2018."

Outside the top 10, Once Upon a Deadpool, a PG-13 recut of Deadpool 2 averaged just $1,666 from 1,566 locations. The reasons behind this re-release remain a bit obscure. Is Marvel, which will have the rights to the Merc-with-a-mouth now that Disney is acquiring Fox, testing the waters to see how the studio can integrate the R-rated hero into the PG-13 Marvel Cinematic Universe? Or is this just a ploy to develop a version of Deadpool that will be able to get a Chinese release? Time will tell.

Among the art house movies in limited release, The Favourite expanded to 439 theaters and managed a solid $5,834 per venue average, while Mary Queen of Scots average $10,606 from 66 theaters, and Barry Jenkins' adaptation of James Baldwin's If Beale Street Could Talk debuted with an average of $54.794 from four theaters.

Be sure to check back here next weekend to see what happens when an unprecedented number of big releases hit theaters at the same time staring with Disney's release of Mary Poppins Returns into 3,800 locations on Wednesday, followed by Aquaman's debut in 4,100 theaters on Friday, along with Paramount's release of the rapturously-reviewed Transformers film Bumblebee (currently 98% on RT with critics delirious over the departure of the heavy-handed director Michael Bay), into 3,500 venues, plus STX's Jennifer Lopez-starring romcom Second Act in 2,600 theaters, and Robert Zemeckis' drama Welcome to Marwen, which heads to 1,900 screens.