Confessions of a Comic Book Guy is a weekly column by Steve Bennett of Super-Fly Comics and Games in Yellow Springs, Ohio. This week, Bennett looks at some comics that are changing creative teams.
Comic books fans are a cowardly, superstitious lot and it doesn't take much to roil us. Take, for instance, when the creative team on one of our favorite comics changes. I've been reading comics for well over 50 years so you would think I would have gotten used to it by now. And I suppose I have learned to accept it, in theory, but I still don't like it, especially when it happens to one of my favorites.
I know I'll ever get used to the idea that Ms. Marvel' Co-Creator Leaving Character Ahead of Relaunch is of any interest to The Hollywood Reporter. But then as THR points out, Ms. Marvel is "a New York Times best-selling character" and "a central part of the multimedia Marvel Rising brand, which spans animation and toys." But surprisingly there's no mention of the fact that there are Plans for Ms. Marvel to Enter the Marvel Cinematic Universe in the Works, Says Kevin Feige.*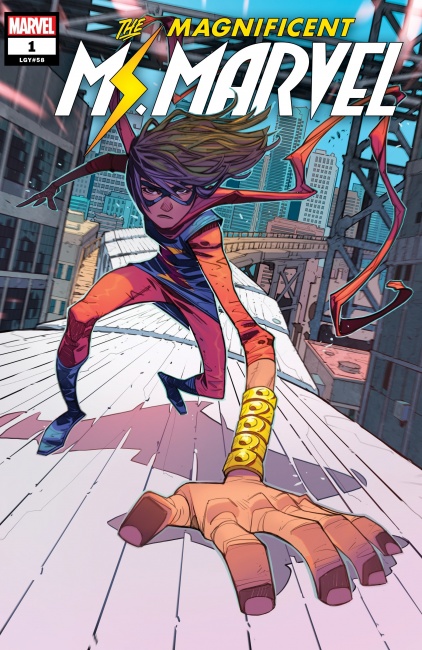 The new comic mentioned in the headline is
The Magnificent Ms. Marvel,
which has the creative team of Saladin Ahmed and Minkyu Jung. As someone who is already writing
Miles Morales: Spider-Man
and is a well-known science fiction author, Ahmed doesn't need to take writing advice from anyone. So it's to his credit that he solicited it via Twitter:
New Ms. Marvel Writer Seeks Mistakes Men Make When Writing About Teenage Girls
. So far Ahmed has gotten 2,000 replies.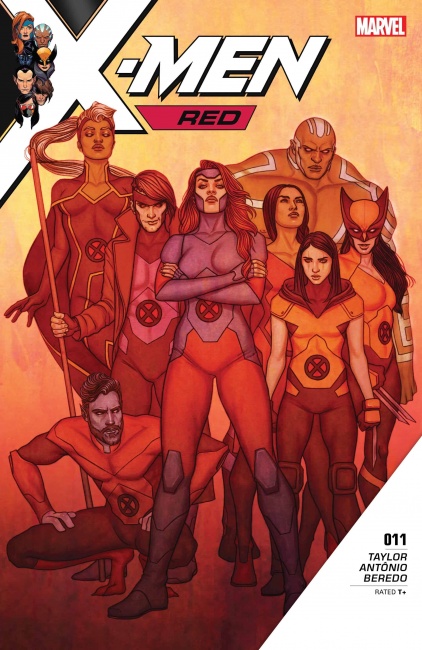 Then came the announcement,
TOM TAYLOR Says 'Goodbye' to X-MEN: RED, LAURA & GABBY After This Week's Finale
. Which means I can no longer read the only X-Men comic I was able to read, which was almost entirely due to the smart, funny and most often unexpected writing of Tom Taylor. Marvel is at its most formulaic in its X-Men comics, but Taylor gave us characters who said and did things that were more like people and a lot less like just another bunch of interchangeable X-Men.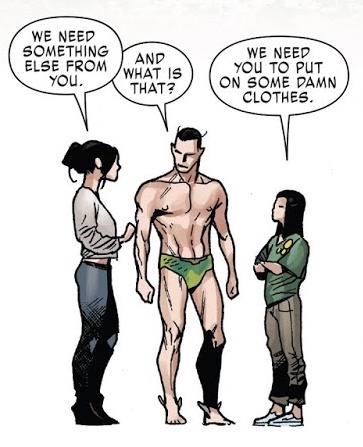 The worst thing about
X-Men: Red
ending is no more Gabby. Gabby, sometimes known as Honey Badger, is former
All-New Wolverine
Laura Kinney's hilarious, tough-as-nails little sister. Finally, there was a Marvel character with the guts to tell the Sub-Mariner "We need you to put on some damn clothes." But the
Newsarama
piece quotes Taylor as saying "I'm not sure if Gabby has a future at Marvel, but I truly hope so - and not just because I co-created her with David López. I know she's meant a lot to a lot of people."
This cannot stand, especially when the answer is so obvious; Marvel needs to make her "a central part of the multimedia Marvel Rising brand." Marvel Rising could really use an adorable little badass.
Before I change the subject, I have to confess I can be really fussy when it comes to a comics creative team. Even though Unbeatable Squirrel Girl is still being written by original writer Ryan North, I really haven't cared for it since original artist Erica Henderson left. So you can imagine my joy when I read Erica Henderson Returns to Squirrel Girl for 50th Issue Celebration in March.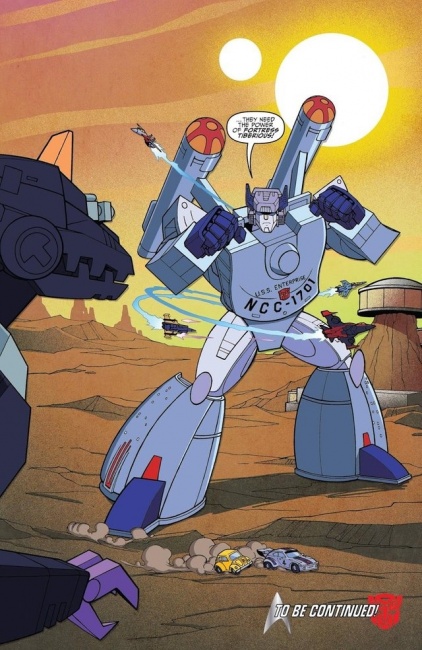 With a very few exceptions (
Steven Universe
,
Mystery Science Theater 3000: The Comic
), I remain mostly indifferent to licensed comics. So I wasn't so much paying attention to (Animated)
Star Trek Vs.
(Animated)
Transformers
as I was vaguely aware that it existed. Then I learned in #3 the Enterprise has become an Autobot (sort of; naturally it could never be quite as simple as just that). OK, credit where credit is due, not only didn't I see that coming, it was literally unimaginable. As in I could have never possibly imagined it, and, after the fact, it seemed so utterly obvious. Without a trace of irony, I declare this sheer genius. Bravo!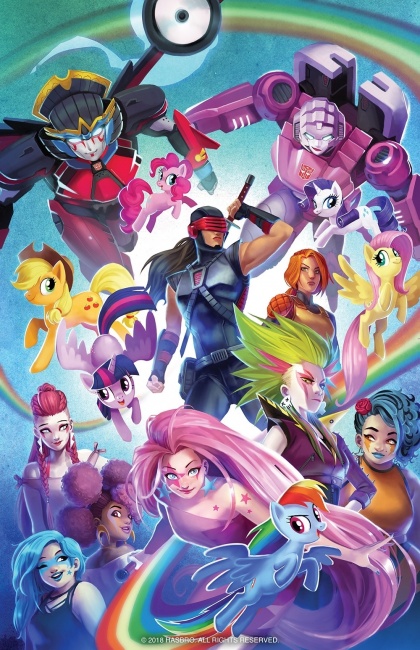 Though I do have to admit I got a little excited when I saw
IDW And Hasbro Synergize For All-Women 'Creators Showcase'.
Now, an anthology comic written, drawn, and edited entirely by women is a grand idea. But have to confess I was a little disappointed it's not a big crossover event which teams up female Transformers and G.I. Joes with My Little Pony's and Gem and the Holograms. Because, and I'm surprised as anyone by this, I really want to see flying Ponys fighting side by side with giant robots. Maybe one day...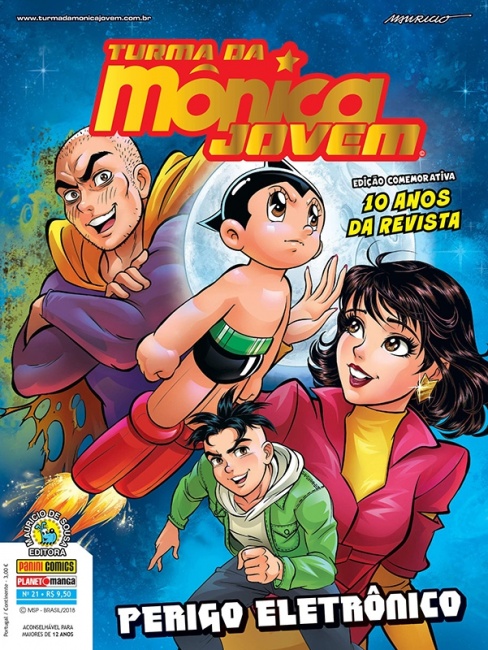 Two weeks ago (see "
Confessions of a Comic Book Guy - You Never Know Until You Do
"), I wrote about how Brazilian cartoonist Mauricio de Sousa's long-running
Turma da Monica
(Monica Teen) would be released in January under the title
Monica Adventures
. I also wrote about how this month in Brazil the characters would be teaming up with the Justice League. Well, I recently found out that in
Turma da Mônica Jovem
# 21 published in September, Monica had a crossover with Astro Boy.

And it wasn't the first time it happened. Apparently, Maurício de Sousa had been friends with Astro Boy creator Osamu Tezuka and in 2012 Tezuka Productions gave de Sousa the rights to publish a special issue of Monica. In it, Monica and her friends teamed up with Tezuka's creations Astro Boy, Kimba the White Lion and Sapphire from Princess Knight to fight bio-piracy in the Amazon.
Being the self-proclaimed biggest Astro Boy fan in North America, I consider this to be a very big deal. From skulking around the internet I know some of de Sousa's Monica comics are published in English. So, if there's an English language edition of Turma da Mônica Jovem # 21 and someone could provide me with a copy, you would make the dreams of an old orphan boy at Christmas come true.

*If anyone was wondering why Marvel was planning on doing a Ms. Marvel movie, it's for the same reason that DC is working on a Blue Beetle movie, the latest version that has a Latino lead, and that Marvel is working on a Shang Chi movie. It's because Black Panther made so much money. So very much money.

The opinions expressed in this column are solely those of the writer, and do not necessarily reflect the views of the editorial staff of ICv2.com.