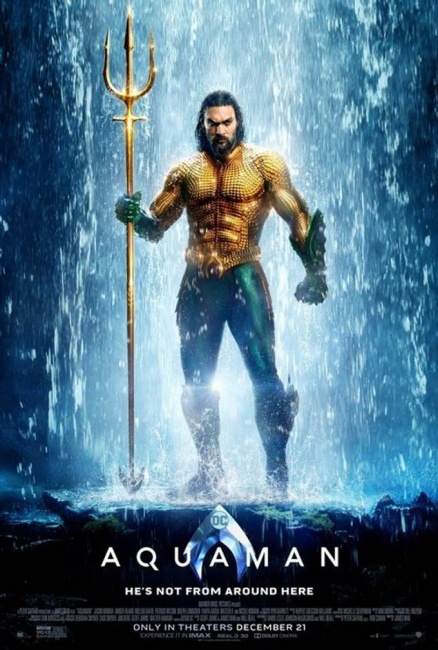 James Wan's
Aquaman
slipped just 23.5% from its robust debut, earning $51.55 million and easily winning the box office in the final weekend of 2018, a year in which superhero films topped the charts for 16 weekends (out of 52), which represents something of a high water mark for the cinema's current dominant genre, and given the overall performance of the domestic box office, the "spandex era" will likely continue--and why not? Superhero films can certainly take credit for a great deal of this year's box office success. The top three, and four out of the top five films of 2018 were superhero movies, with the genre accounting for six of the top ten (and
Aquaman
will no doubt also make it into the top ten by this time next week).
Despite strong holds from all the films in the top 10, the box office was down 5.1% from the same weekend last year when
Star Wars: The Last Jedi
topped the charts for the third weekend in a row with $52.5 million. Still 2018 box office receipts were estimated to reach $11.8 billion by the end of Sunday, a full $400 million over the previous high of $11.4 billion set in 2016 (while these numbers represent revenue earned at the box office, because of ticket price inflation, they do not represent the apex of movie attendance).
Aquaman
continues to make a big splash at the Q4 box office, posting the lowest second weekend drop in the history of the DC Cinematic Universe, and giving the undersea epic a ten-day cumulative of $188.8 million. By the end of New Year's day
Aquaman
will eclipse
A Star is Born
($200 million) and become Warner Bros. #1 film of 2018. The seagoing superhero film has also earned $560 million overseas (including $260 million in China) for a worldwide cumulative of $748.8 million, which already puts it ahead of
Justice League
($657.8 million) and
Suicide Squad
($746.7 million). A final total north of $900 million appears likely, which will make
Aquaman
the best performance by a DC Comics-inspired film since Christopher Nolan's
The Dark Knight Rises
in 2012.
By this time next week
Aquaman
should pass
Mission: Impossible- Fallout
($220 million) and take over seventh place in the 2018 domestic box office race. Right now it's too early to tell if
Aquaman
can catch
The Grinch
(circa $265 million) to become the number one film of the 2018 holiday season, but it is clear that the box office success of Wan's epic has put a cap on a relatively good year for Warner Bros., which can now claim a quartet of 2018 box office hits in
Crazy Rich Asians, A Star Is Born, The Meg
, and now
Aquaman
.
Disney's
Mary Poppins Returns
, which got off to a slow start last weekend, rebounded nicely by gaining 19.1% as it earned $28 million to bring its domestic cumulative to $99 million. Musicals tend to have strong "legs," and the new
Mary Poppins
shows every sign that it will continue 2018's trend of successful musicals (
Bohemian Rhapsody, A Star Is Born
).
The top five films remained unchanged from last week with the #3 and #4 movies battling it out for the youthful action movie audience. In third place Travis Knight's
Transformers
film
Bumblebee
posted a tiny drop (-5.3%), which would look a lot better if
Bumblebee
had had a much better opening. Critics and audiences like
Bumblebee,
but the competition from
Aquaman
and
Spider-Man: Into the Spider-Verse
has been intense.
Weekend Box Office (Studio Estimates): December 28-30, 2018

Film

Weekend Gross

Screens

Avg./Screen

Total Gross

Wk#

1

Aquaman

$51,550,000

4,125

$12,497

$188,785,000

2

2

Mary Poppins Returns

$28,019,000

4,090

$6,851

$98,929,758

2

3

Bumblebee

$20,500,000

3,550

$5,775

$66,778,020

2

4

Spider-Man: Into The Spider-Verse

$18,315,000

3,813

$4,803

$103,643,730

3

5

The Mule

$11,780,000

2,787

$4,227

$60,738,465

3

6

Vice

$7,791,044

2,442

$3,190

$17,697,159

1

7

Holmes and Watson

$7,300,000

2,776

$2,630

$19,706,408

1

8

Second Act

$7,210,000

2,607

$2,766

$21,760,000

2

9

Ralph Breaks the Internet

$6,532,000

2,343

$2,788

$175,713,583

6

10

Dr. Seuss' The Grinch

$4,200,000

2,555

$1,644

$265,538,485

8
Speaking of Into the Spider-Verse, the best reviewed (by both critics and audiences who gave the film a rare "A+" CinemaScore) action movie of Q4, posted an 11.4% increase during its third weekend in theaters as it earned $18.3 million to bring its domestic total to $103.6 million. One wonders how much bigger Into the Spider-Verse and Bumblebee might have been if they had debuted at a time with less competition for their target audiences.

Clint Eastwood's The Mule, a successful bit of counter-programming aimed at older audiences, also performed well in its third weekend, boosting its earnings 24% as it brought in $11.8 million to bring its total to $60.8 million. With a production cost of $50 million, The Mule looks like it could be a modest hit for Warner Bros. before it is over.

This week's two new films didn't fare all that well, though Adam McKay's Vice, a caustic look at the career of Dick Cheney (played by Christian Bale), surprisingly topped the high profile comedy Holmes & Watson, which starred Will Ferrell and John C. Reilly. You can't read much into the "CinemaScores" for Vice since the film received "As" from those who agreed with its politics, and "Ds" and "Fs" from those who didn't. Still political dramas tend to have a pretty low ceiling at the box office, and the long term success of Vice will largely depend on potential awards nominations.

There will be no awards for Holmes & Watson, which has only a 9% positive rating on review aggregator Rotten Tomatoes, and was given a horrendous "D+" CinemaScore by opening weekend audiences. Holmes & Watson earned $7.2 million in its debut weekend, and given its $42 million production cost (and the millions more spent on marketing), appears to be loser for Sony.

In the bottom half of the top ten, the Jennifer Lopez romcom Second Act earned $7.2 million (up 11.3%) and appears to be on its way to becoming modestly successful given its $16 million cost, while the much more expensive Disney animated feature, Ralph Breaks the Internet, which has earned $175 million plus here and an equal amount overseas, just might manage to crawl into the black eventually given its bloated $175 million cost.

Spending its eighth and last weekend in the top 10 Illumination Entertainment's Dr. Seuss' The Grinch remains the highest-grossing film of the holiday season so far with $266 million.

Be sure to check back here next weekend and see how 2019 starts. Early January is one of the few fallow periods in the box office year, and the only film debuting next weekend is the Sony horror movie Escape Room, which will bow in 2,500 theaters.