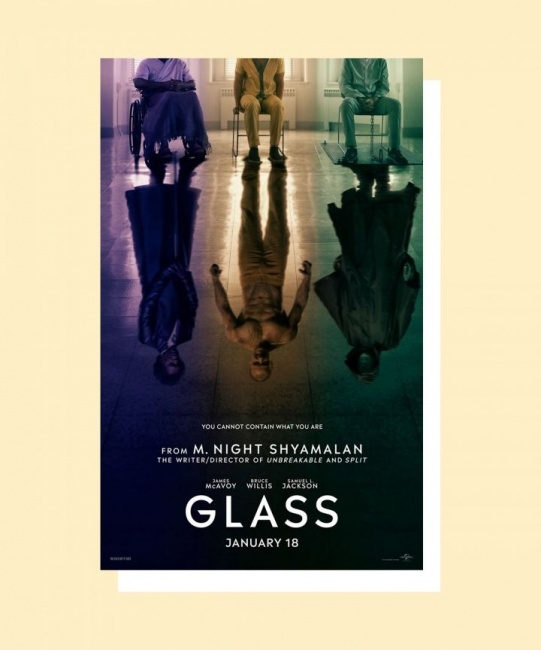 2019 has gotten off to a horrendous start at the box office, and this weekend was the worst so far. How bad was it? M. Night Shayamalan's
Glass
topped the box office charts for the third weekend in a row, but in the wake of some really nasty weather in California, the box office total slipped to the lowest total for a Super Bowl weekend (traditionally one of the worst frames of the year) in almost two decades. The estimated $55 million dollar total of the top 12 films was the worst for any weekend of the year since back in the first week of September (another typically bad box office weekend, when the kids are back in school, etc.) in 2017.
As for a comparison with 2018, the biggest year in modern box office history (not adjusting for inflation), this weekend's box office total was down 26.1% from the same frame last year when
Jumanji
(then in its seventh weekend of wide release) topped the charts for fifth and final time with $11 million.
M. Night Shyamalan's superhero film (or deconstruction thereof)
Glass
earned an estimated $9.5 million, bringing its domestic total to $88 million, and it also brought in $12.2 million overseas this weekend to give the film a worldwide cumulative that is just under $200 million. While
Glass
is still a long way from reaching the $278.5 million earned by its predecessor
Split
, there is no doubt that the $20 million self-financed production is a "hit" for Shyamalan—and
Glass's
success demonstrates that there is hope for high-concept, modestly-budgeted films that play with the dynamics and tropes of the superhero genre, and yet don't involve characters from established comic books or graphic novels.
Once again
The Upside
, the Bryan Cranston/Kevin Hart-starring remake of the French film
Intouchables,
finished in second place, as it dropped just 26%, earning $8.85 million and driving its domestic cumulative to $75.5 million. This success is great news for STX, which acquired the rights to the film from the Weinstein Company for a song after Harvey Weinstein became the target of loads of well-deserved attention from the @Me Too movement.
This week's only new wide release
Miss Bala
, a remake of a highly regarded 2011 Mexican film, opened softly, earning just $6.6 million. This PG-13 drug cartel action thriller stars the talented Gina Rodriguez, and was directed by action specialist Catherine Hardwicke, but (as with many remakes of foreign films) the American
Miss Bala
could only manage a 28% positive rating on review aggregator Rotten Tomatoes (versus 87% positive for the Mexican film). Opening weekend audiences skewed female (54%) and older (66% over 25), and the studio did not release the audience's CinemaScore reaction.
Weekend Box Office (Studio Estimates): February 1-3, 2019

Film

Weekend Gross

Screens

Avg./Screen

Total Gross

Wk#

1

Glass

$9,535,000

3,665

$2,602

$88,655,100

3

2

The Upside

$8,850,000

3,568

$2,480

$75,590,128

4

3

Miss Bala

$6,700,000

2,203

$3,041

$6,700,000

1

4

Aquaman

$4,785,000

2,926

$1,635

$323,572,240

7

5

Spider-Man: Into The Spider-Verse

$4,410,000

2,234

$1,974

$175,286,069

8

6

Green Book

$4,317,000

2,648

$1,630

$55,821,331

12

7

The Kid Who Would be King

$4,200,000

3,528

$1,190

$13,173,676

2

8

A Dog's Way Home

$3,510,000

2,962

$1,185

$35,902,871

4

9

Escape Room

$2,900,000

1,942

$1,493

$52,089,300

5

10

They Shall Not Grow Old

$2,405,000

735

$3,272

$10,745,072

7
James Wan's Aquaman is getting to the end of its very strong run. It earned $4.78 million to drive its domestic total to a solid $323.5 million, and also earned about $4.6 million overseas for a worldwide total of $1.106 billion. Aquaman will debut in its final international market (Japan) this coming Friday.

Sony's Spider-Man: Into the Spider-Verse remained in the fifth spot for the fourth weekend in a row, it has stayed in the top five for all eight weeks of its release, earning over $175 million domestically, and a similar sum overseas. Into the Spider-Verse is now the highest-grossing release ever from Sony Animation, and could still get an additional boost if it wins "Best Animated Feature" at the upcoming Academy Awards.

Among the Oscar hopefuls, the Jim Crow-era drama Green Book continues to perform well, finishing at #6 as it earned $4.3 million to bring its domestic total to $55.8 million. Joe Cornish's The Kid Who Would Be King dropped from #4 to #7 in its second week of release. This original, kid-targeting, Arthurian fantasy will have to find the audience it deserves in the aftermarket.

Sony's horror film Escape Room started out slowly, but has hung around long enough to earn over $52 million here in North America, against a budget of just $9 million, once again demonstrating that the horror film genre, thanks to its lower production costs, remains one of the better bets in today's highly competitive box office environment.

Mention should be made of Peter Jackson's extraordinary documentary, They Shall Not Grow Old. Jackson took actual World War I footage from the Imperial War Museum, used computers to colorize it and to put the hand-cranked film at a realistic tempo, creating a fascinating look at what was one of the bloodiest and most horrific wars ever for those who had the misfortune to have to fight it. Jackson's elegiac documentary, which finished this weekend at #10, has already earned $10.7 million here in North America, and should do well in the aftermarket, though seeing it in a theater is highly recommended.

Next weekend offers some hope that 2019 dismal box office will turn around with four new films opening, led by The LEGO Movie 2, which currently has a rating of 92% positive on RT, and also including the R-rated comedy What Men Want, the Liam Neeson-starring revenge drama Cold Pursuit, and the horror film, The Prodigy.