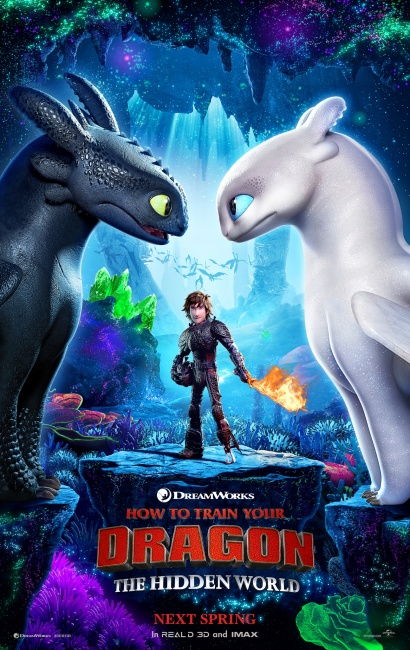 In yet another Tinseltown battle of sequels,
How to Train Your Dragon 3: The Hidden World
took the box office crown for the second weekend in a row, nosing out the over-performing Tyler Perry's
A Medea Family Funeral,
the ninth film in Perry's series of raucous family comedies. But even with the top two films earning more than $25 million, revenues were down 25.3% from the same weekend last year when
Black Panther
topped the charts for the third straight time with $66.3 million.
So far 2019 is running 26% behind 2018's record box office total, and is in fact lagging behind the totals of the past five years. Next weekend will provide the best opportunity yet to turn things around with Marvel Studio's
Captain Marvel
heading into over 4,100 theaters and currently tracking (despite the trolls) as high as $140 million for her opening weekend.
How to Train Your Dragon 3
dropped just 45% and maintained its position as the franchise box office leader (not adjusting for inflation), though the next few weeks should provide a very challenging environment with the debuts of
Captain Marvel
next weekend and the animated
Wonder Park
on March 15.
How to Train Your Dragon 3
also won the overseas box office with $52 million, most of which came from China, where it displaced
Alita: Battle Angel
by earning $33.4 million. The solidly successful
HTTYD3
has now earned $277.4 million overseas and $97.7 million here in North America.
Finishing a close second with $27 million was
Tyler Perry's A Medea Family Funeral
, the ninth and supposedly the last film in the
Medea
series. Perry's fans are loyal.
A Medea Family Funeral
posted the fourth best opening in the franchise (not adjusting for inflation, but even when adjustments are made the debuts of the
Medea
films are remarkably consistent), and with a solid "A-" CinemaScore from opening weekend audiences, this final
Medea
film should have a good run.
Audiences for
A Medea Family Funeral
skewed heavily female (67%), and older (78% over 25) with African-Americans making up 50% of the crowd followed by Caucasians (23%), Hispanics (19%), and Asian/Other at 8%.
Weekend Box Office (Studio Estimates): March 1-3, 2019

Film

Weekend Gross

Screens

Avg./Screen

Total Gross

Wk#

1

How to Train Your Dragon: The Hidden World

$30,046,000

4,286

$7,010

$97,696,275

2

2

Tyler Perry's A Madea Family Funeral

$27,050,000

2,442

$11,077

$27,050,000

1

3

Alita: Battle Angel

$7,000,000

3,096

$2,261

$72,231,308

3

4

The LEGO Movie 2: The Second Part

$6,615,000

3,458

$1,913

$91,670,040

4

5

Green Book

$4,711,000

2,641

$1,784

$75,920,611

16

6

Fighting with My Family

$4,691,284

2,855

$1,643

$14,945,905

3

7

Isn't It Romantic

$4,645,000

3,325

$1,397

$40,299,003

3

8

Greta

$4,585,000

2,411

$1,902

$4,585,000

1

9

What Men Want

$2,700,000

2,018

$1,338

$49,641,004

4

10

Happy Death Day 2U

$2,516,000

2,331

$1,079

$25,282,610

3
The James Cameron-produced, Robert Rodriguez-directed, manga-inspired Alita: Battle Angel dropped 43.3% in its third weekend, earning $7 million and bringing its North American total to $72.2 million. Alita has done much better overseas, where it has earned nearly 80% of its $350.5 million global total. While some Fox sources are indicating that the $170 million production has now broken even, that seems unlikely since nearly a third of the film's worldwide earning come from China ($112.5 million, of which the studio receives roughly half the percentage it earns here in North America). While Alita is inching closer to avoiding the "loser" label (it should pass John Carter's domestic total next week), it will face stronger competition in the weeks to come.

In fourth place The LEGO Movie 2 earned just $6.6 million in its fourth weekend, giving it a domestic total of $91.7 million. While it should make it to $100 million, this sequel has to be seen as a disappointment both here and abroad, where it has earned just $61 million so far.

Fifth place went to Oscar Best Picture winner The Green Book, which saw its total jump 121% in the wake of last Sunday's ceremony, as it earned $4.6 million to bring its domestic total to $75 million. The Green Book has earned $32 million of that total since it was nominated for an Oscar in January, a clear demonstration of how much nominations and awards can mean to a film's box office performance.

Debuting at #8 was Neil Jordan's psychological thriller Greta, which stars Chloe Grace-Moretz and Isabelle Huppert. Middling reviews (57% positive on review aggregator Rotten Tomatoes) and a lousy "C-" CinemaScore from opening weekend audiences appear to have doomed the theatrical prospects for Greta, which earned just $4.58 million from 2,411 theaters for a poor debut average of just $1,902 per venue.

In limited release in just 120 IMAX theaters the documentary Apollo 11 earned $1.65 million. The moon mission documentary, which currently as a rating of 100% positive on Rotten Tomatoes, will lose its IMAX screens to Captain Marvel next weekend, but it will expand nationwide on regular screens next weekend, providing the only "new" competition for Disney/Marvel's Captain Marvel.